MUSLIM STUDENT ASSOCIATION 
One notable culture club is the Muslim Student Association (MSA) which meets every other Tuesday. 
"It is not just Muslims, but people who are also advocates for Muslims," senior Abid Khan, one of the presidents, said. "Everyone comes and has fun."
According to Mr. Kevin O'Neill, MSA's advisor, the club is "a chance for Muslim students and their friends and supporters to get together and support each other [and] have a sense of community and belonging in the school."
MSA is also an opportunity for non-Muslim students to learn about another culture. 
"It's a chance for them to broaden their horizons to see how another community looks and carries themselves," Mr. O'Neill said.
MSA has done several fundraisers for different events and tragedies, such as flooding in Libya. The club has also participated in a variety of festivities. 
"We do all the homecoming [activities] like window painting," Mr. O'Neill said. "We try to get down to the cooking studio once a semester and just make some sweets. We've done board games, scavenger hunts, and those are just our weekly meetings. Sometimes we'll have a bonfire."
Khan joined MSA because he "wanted to help foster a strong Muslim community." 
Khan saw the importance of helping the club bond. 
"I wanted to get involved in creating fun activities for us to bond and not just [the] Muslim community but also just beyond that in our greater LHS community and spread awareness and be able to advocate for Muslim Rights in our school," he said. 
Khan believes that MSA has been able to achieve a lot. 
"We've been able to do several fundraisers and make a decent amount of money for different issues such as we're doing one upcoming for Palestine," said Khan. "We've done some fundraising for Pakistan in the past and raising money for Syria one time, too."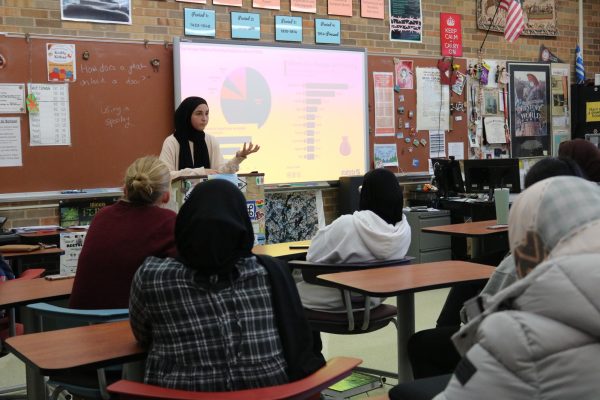 BLACK STUDENT UNION
The Black Student Union (BSU), another culture club here at LHS, focuses on "learning about and celebrating Black and African American culture in all its forms," according to BSU advisor and English teacher Mrs. Sharra Powell. 
BSU allows Black and African American students to feel included. 
"It can be a little bit isolating to feel like you're the only one in the class," said Mrs. Powell. "Or maybe throughout the day you don't really see very many people that look like you. But we're all here together at the high school. So I hope that people understand that this is a nice support for Black and African American students, especially to make sure that they always do feel a part of things that are going on at LHS."
Ms. Powell hopes BSU students will not only connect more with themselves, but also with other students and staff. 
"I hope that they feel more empowered and more knowledgeable about themselves and I hope they make new connections at school and across the district because we frequently do activities with BSU at Vernon Hills," said Ms. Powell. "And I also hope that they just know that they have a nice support system as they pursue the rest of their academic goals at Libertyville High School." 
One social event that BSU did was a family dinner which allowed meaningful relationships to form as people enjoyed a meal together. 
"[The dinner] was something that was part of our Black History Month activities," said Ms. Powell. "Students from Vernon Hills and Libertyville BSU invited their families. We had [the dinner] one evening at Vernon Hills High School so that was nice to not just make connections with the students and make connections with their parents more directly." 
BSU is an open space for discussion among students. 
"Sometimes there are topics that students want to discuss that come up and they just kind of want to have a place where they know other people have had a similar experience and we can kind of talk about it," said Ms. Powell. "…Sometimes I have a plan for what we're going to do for that meeting. But then they really want to talk about something and so then we put my plan on hold and then we talked about something and said, so it just kind of depends." 
Junior Damarion Baker recounts a positive experience being part of BSU, primarily due to the club's variety of activities.
"It's been helpful to my personal life," said Baker. "I met new friends and gained a closer relationship with teachers. And we get to go on field trips." 
One of Baker's favorite activities was bringing in Black speakers for BSU students to listen to.
"[The speakers] give us a sense of encouragement [like to] be comfortable in your skin no matter where you are," Baker said. 
Baker's advice to future BSU students is "Don't be afraid to join or [don't] be afraid to talk about it or feel like you've been in a group [that] is only focused towards your color. It's fun and you can learn a lot and it's more than just being around people of your color."
LATIN AMERICAN STUDENT ORGANIZATION
The Latin American Student Organization (LASO) is another culture club at LHS, meeting every other Thursday, which is "for students who either identify as Latina or Latino or Hispanic and for those who want to learn more about the culture and embrace it" according to LASO advisor Mrs. Adriana Espinoza. 
Junior Kasandra Medina joined LASO during her sophomore year. 
"I thought it'd be nice to have a little group where you can share about what it's like to be a Latino student in school," Medina said. 
One of Medina's favorite activities at LASO was when she created an Ofrenda which is printing out and decorating pictures of loved ones who have passed on.  
"I thought that was really cool, especially since the last time I did that was like when I was a little kid in Mexico," Medina said.
Another LASO student, junior Zoe Osornio, joined because "there's a small community of Latinos. And I feel like it's nice to have a little safe space with everyone who understands. Also, it's just really fun to share your experiences and have people in common that know your culture and know how it is." 
Osornio sees the club as a way she can unwind after a hard day.
"I've made some new friends from my club, and they're besties now," she said. "When I have a stressful day, and I have a test during eighth or something, it always brings me such joy that I'm like, 'Okay, one more class and that I have LASO.' It's the highlight of my day." 
While each club celebrates a different culture, each club shares a commonality: having an inclusive place for students to share experiences and make new friends.
Mrs. Powell's remarks about BSU could apply to all three clubs.  
"[It's] a chance for students to see other students that look like them in a small group setting and there might be an experience that they don't normally get throughout the day," Mrs. Powell said. "It's an opportunity for them to discuss ideas and experiences that they all have in common."