It's early June. You're in your bedroom taking down all your posters. Your dad is one step behind you, filling the holes in the walls with spackle and a fresh coat of paint.
Your room is bare, except for the air mattress and backpack on the center of the floor. Inside that backpack is your life for the next week; a couple outfits, some cash, your laptop and a phone charger. All you can smell is the overwhelming aroma of cardboard, pizza and sweat.
Downstairs, you hear the screech of packing tape and your mom frantically directing strangers on what to put in which box. You hear your cat meowing from your bathroom – and you know it's only gonna get worse for her from here. On top of that, your best friend is coming over in 30 minutes so you can hold them and say your last goodbyes. If you're lucky, it won't be the last time you see them.
This is what it's like to move as a military kid.
This is a constant reality for many kids, not only here in Libertyville but all across the world. The average person moves 2-3 times from birth to eighth grade.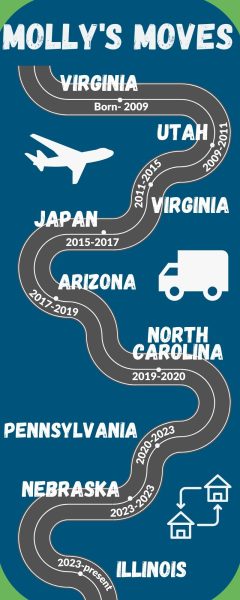 But for military kids, that number is much higher. By my freshman year, I had moved eight times. Imagine what I just described, times eight. Over and over again.
Moving from Nebraska to Illinois five months ago was the most significant and difficult move I've had to make. Leaving my friends has always been one of the most heart-wrenching aspects of moving, but this time it was especially difficult. I lived in Nebraska for three years, the longest I've stayed anywhere. The bonds I created with people in that time were stronger than any I had formed before. It's hard to let go of the unique connections I had and impossible to replicate them with different people. Never before had I known anyone for as long as I knew my Nebraska friends – and I didn't get the chance to say goodbye to the vast majority of them.
For most high schoolers, hanging out with friends means a drive to their house or meeting up at football games.
For me, hanging out with my best friends means an expensive flight over 500 miles – and it takes months to plan. Chances are, I will move nine times in my life because of being a military kid. After my sophomore year, I'll make the trip again. We don't know where and we won't for a long time.
This all sounds terrible. And a lot of it is; it's easy to see the worst and it's easy to list off every bad thing about being a military kid – it's a long list.
Being a military kid, it's hard to see the advantages of this nomadic lifestyle when moving is all you've ever known.
But if I weren't a military kid, I would've missed out on so many life changing experiences. Not many teens can say they lived in another country, let alone one that they aren't even remotely native to.
Military teens tend to be more empathetic and open because they know what it's like to feel lonely in a school full of people. We are able to find comfort and bonds between other military kids. Although we aren't able to grow roots where we are, we grow them among each other.
To the readers that share a similar story or saw themselves in my experiences, you are recognized and appreciated. From saying goodbye to best friends and familiar homes, to embracing new cultures in every duty station, our lives are roller coasters of change.
The struggles are immense, but so are the life lessons.
No matter where we've been or where we're going next, we will always have a sense of belonging in the deep connections we have with each other; we are each other's roots.