LHS finishes road to spring break with the 2023 Writers Expo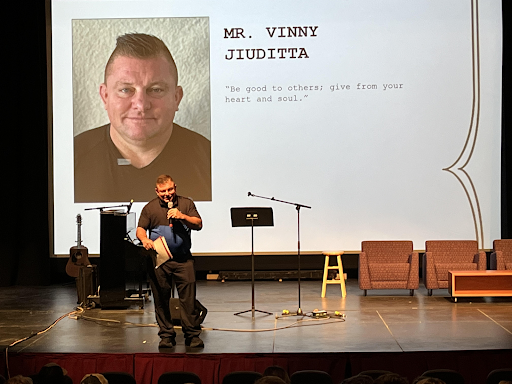 From Thursday to Friday, March 23-24, 2023, students and staff were able to showcase their prowess with prose at the school's annual Writers Expo. Over two days, one designated as Community and the other as The Professionals, and sixteen class periods, a variety of writers showcased what they had to offer in the auditorium.
One feature of Thursday's sessions were the 2 Truths, 1 Lie demonstrations performed by LHS staff members, including Principal Dr. Tom Koulentes. As a part of his role, Koulentes, in his sixth year as the school's principal, told a story around five minutes in length that could be one of two truths, or entirely fabricated. Koulentes posed a story in which two childhood friends of his finally became a couple, later marrying, following feelings suppressed since their eighth grade year at opposing middle schools.
"I always participate in Writers Week, one because I always want to do the different events that students are involved in," Koulentes said, "but two because I believe writing is such an important skill that I want to model it for students and also practice and keep developing my own writing skills."
Koulentes' story, along with that of Ms. Judi Neuberger, a school counselor, was the truth. A story told by English teacher Mr. Craig Schmidt, on the other hand, was in fact false, wrapping up the 2 Truths, 1 Lie portion for Thursday's third period session.
Faculty and staff, however, were only one part of the event. Many student voices also contributed to the celebration of writing that took place, including that of senior David Joseph, who cited the previous year's writers expo as an inspiration for him.
"Last year during the writers expo, I saw another student who presented a poem, and I was like 'I want to do that,'" said Joseph. "I got the idea for the first poem I'd ever write."
Joseph also spoke on the highlights of being a student speaker for a mainstream event that fosters creativity.
"I really like that we got to perform for a little audience," said Joseph, "and we get to inspire other people and give our own opinions and stuff like that, which is awesome."
Another student who presented was sophomore Elisa Drouhard, who presented during the second period on Friday of the expo. Drouhard also spoke highly of Melissa Albert, a New York Times bestselling author of young adult fiction who was a part of the expo for periods 1-4 on Friday. In addition to taking interview questions, Albert gave several students copies of her newest book, a 2022 release titled Our Crooked Hearts.
"I really liked hearing from a published author," Drouhard said. "We did that last year too, but last year was poetry and this time it was fantasy style. Kind of a combination of magic and horror style novels. And I thought that was really cool."
The event, which has been an annual tradition for over a decade, will return to LHS during the 2023-24 school year.
Leave a Comment