Winter sports finish strong with astounding state performances
At the high school level, a wrestling match will take approximately six minutes from start to finish. LHS senior Cole Matulenko brought that down to 31 seconds, a state record. This would have been impressive on its own at an early-season meet, but the fact that it was the state championship match made it all the more impressive.
Representing a much different sport, senior Anna Becker, capping off a fifteen-year gymnastics career, outscored everyone at her state meet in Palatine, achieving an all-around score of 38.175 out of 40 possible points.
So what do the Class 3A 195-pound winner and the all-around champion have in common? Both made Libertyville proud with their state finishes, and both finished their last season with one of the highest honors possible for a high school athlete to earn: being a state champion.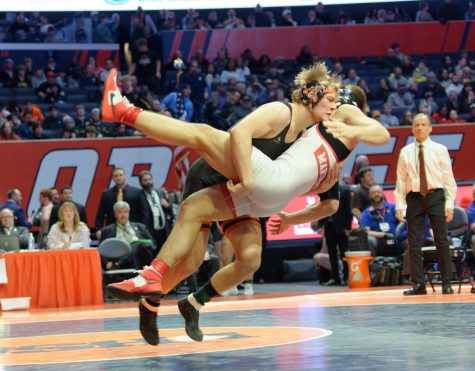 COLE MATULENKO: FOCUSED ON THE GOAL
For many, the path to becoming a state-level varsity athlete starts at a very young age and requires a commitment that takes a great deal of passion, talent and discipline. Matulenko is a great example. Matulenko, who has been wrestling since the sixth grade, is a three-sport athlete, competing as a member of the football team in the fall, wrestling in the winter and throwing for track and field in the spring. He is also a member of Fellowship of Christian Athletes, a school organization and community to which he credits his success.
"What I attribute my success to mostly is being religious, giving credit to the Lord," Matulenko said. "It's definitely helped a lot, success in the weight room and success out on the mat."
Matulenko also described the hard work and discipline that goes into being an athlete at his level. A key value he attributes his success to is focus.
"You have to be focused on the goal, shut everything out," Matulenko said. "It's easier said than done, obviously. A lot of people say they want to do something but they don't want to put the work in. They do one workout and they're like, 'God this sucks. I'm not going to do this anymore.' It's a focused pursuit."
When Matulenko's final match of his LHS wrestling career came up, all eyes were on the 195-pound future state champion. His opponent, a top wrestler for Marist High School in Chicago, was senior Peter Marinopoulos, and it was guaranteed even before the match kicked off to be an exciting display. After 31 seconds, a state record, it was over. At first, Marinopoulos appeared to be injured following the earth-shaking throw and pin that brought Matulenko victory. Thankfully, he recovered quickly, and would later take a top-six slot on the podium alongside his Libertyville opponent.
Matulenko achieved a fitting end to his wrestling rampage that had dominated several matches. He not only set a state record for his pin of Marinopoulos, but brought Libertyville their fifth individual state title for the school's wrestling program.
With his final season of wrestling for Libertyville over, Matulenko, who was on the freshman team his first year and varsity for every year after, is now planning to wrestle at the University of Wisconsin-Eau Claire. However, like every athlete, he admits to mistakes that have held him back and that he has learned to overcome.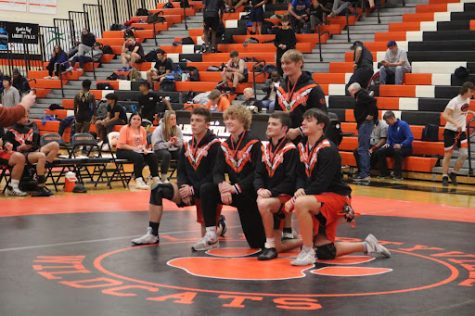 "My junior year, going to state was my mindset, and it was not good," Matulenko said. "My mindset was, 'Oh, I made it to state this year. I can just kind of relax now. Next year I'll work on placing. I feel like if I had really worked in sectionals, I could have gotten a better seed in state and I could have at least won a few matches in state, but I got destroyed in state last year, and I was off because of my mindset."
Matulenko is just one part of a successful school wrestling program that saw a total of five wrestlers qualifying for this year's state tournament from Feb. 16-18. Juniors Matt Kubas (170) and Owen McGrory (220) each finished in second place in their weights at the sectional tournament to advance, while junior Luke Berktold (120) and sophomore Caleb Baczek (182) finished in fourth.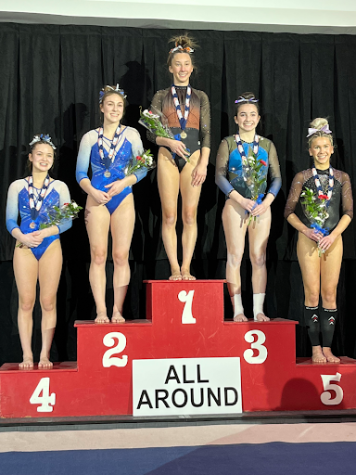 ANNA BECKER: PRACTICE MAKES PERFECT
Representing the girls gymnastics team, senior Anna Becker, in her last year of her gymnastics career, became the state champion in her final meet in Palatine. Becker, who has been on varsity every year she competed for Libertyville, attributed her success to the community atmosphere of her team.
"I definitely think the team environment is so uplifting," said Becker, who outscored her second-place opponent, Vernon Hills junior Annika Chudy, by 0.55 points in the all-around placing. "It's nice to have my teammates always there for me, always pumping me up."
In addition to bringing a significant amount of skill and passion for her sport to the table, Becker also brings a good example for rising gymnasts. "I'm really happy with my sportsmanship and just always being happy for my teammates, not just thinking about me individually, but always thinking about this team," said Becker.
Head coach Tiffany Owens, a science teacher at LHS who started her career as a coach at Libertyville in 2009, said that Becker is very focused at practice. "She has extremely high expectations of herself and she practices for perfection," Owens said. "I think a lot of athletes just kind of practice to practice but she, you know, perfect practice makes perfect. She has an extremely high work ethic. She's the last one to leave practice. She's always asking for advice on what and how she could be better and she follows through. She listens to different ideas that coaches have on how to be mentally and physically prepared for meets."
Although Matulenko has chosen to commit to collegiate wrestling at the next level, Becker has decided not to continue gymnastics as a college sport. This decision makes her victory in Palatine all the more important for her, her team and LHS. It represents the tail end of a long, tiring and rewarding career.
"Keep working hard and pushing for your goals and your dreams," Becker said. "It will pay off in the end, and it's just nice to have that."
"I am so proud of her growth in her confidence level," said Owens. "Over the past four years, she just has really grown as a person, and it's fun and exciting to just watch her confidence level explode and really turn into a leader on the team."
Leave a Comment