Student Non-Profits
Loop of Hope: One student's mission to break the stigma
When Marcie Langtiw was in eighth grade, she went through a month-long treatment program for mental health. Now, as a senior at LHS, she runs Loop of Hope, a nonprofit with over 400 followers on Instagram.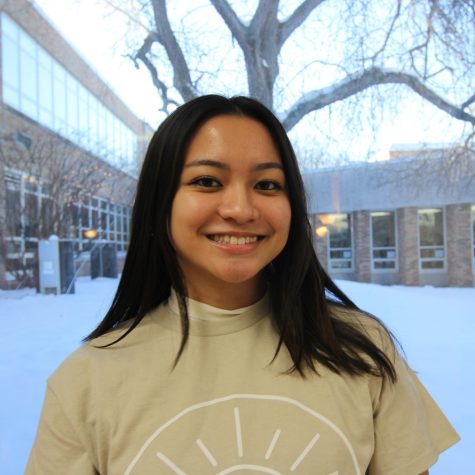 "What really inspired me to create Loop of Hope was the stigma that I saw after I got out," Langtiw said.
Perhaps one of the biggest challenges facing high school students today is mental health issues. According to the Center for Disease Control (CDC), the number of adolescents reporting problems with their mental health is increasing. Disproportionately affected by these issues are members of communities that face more serious hardships. 
For example, almost half of lesbian, gay or bisexual students, and nearly one third of students not sure of their sexual orientation, reported that they had seriously considered suicide. Meanwhile, in 2019, the number of black students who reported attempting suicide rose by almost 50%.
With so many people, especially young adults, facing these hardships, mental health is becoming of utmost importance to many. However, while more and more people are becoming aware of its existence, few are taking the next step forward to break the stigma. An exception, of course, is senior Marcie Langtiw and her Loop of Hope organization.
Described on its Instagram page as "a student-led movement on mental health advocacy," Loop of Hope is an organization created with passion and empathy by Langtiw, with an overall mission of spreading hope and comfort to those in the world who need it most, while working to end the stigma that mental illness is not a serious illness.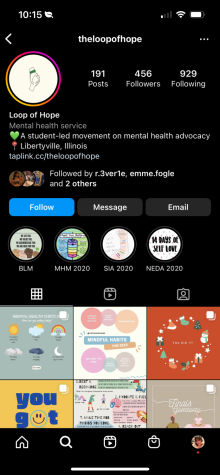 "I graduated eighth grade and I entered high school with a mission to empower the conversation about mental health," said Langtiw.
Loop of Hope is more than a message; it's action. The page has nearly 200 posts, which range from emotional issues, such as the Black Lives Matter movement, to motivational posts, to infographics about ways to take care of yourself.
While there are many different organizations already in existence devoted to protecting the mental health and well-being of others, Loop of Hope is made unique by its authenticity and the care taken by a creator who's still a high school student.
"The thing that's most powerful is to recognize that even somebody who's a teenager can have a really big impact in the world," said Dr. Brenda Nelson, the prevention and wellness coordinator at LHS.
Another feature employed by Langtiw is that the page also raises money alongside awareness to make a physical contribution to other mental health groups.
"I think it's really fun and cool that I get to design shirts, sell them to the Libertyville community and fundraise for suicide prevention," Langtiw said.
As a current senior, Langtiw will be graduating at the end of the 2022-23 school year, and will take Loop of Hope with her to new places to reach new heights of success.
Overall, Loop of Hope offers just what its name implies: hope. Langtiw and her organization are proof that even young people can have big voices and make real change.
"My vision right now is to really just expand it," said Langtiw, "hopefully to a point where the nonprofit can start holding training for teachers and employees, for how to proactively prevent suicide and [perform] mental health first aid."
New Life: Bringing bikes to the people of Lake County
Commuting to work, driving to school and carpooling to various activities, Americans drive roughly 30 to 40 miles per day on average (according to the US Department of Transportation). Cars are expensive to own and maintain, but seemingly a necessity in today's busy lifestyle. 
Those who cannot afford a car must rely on sometimes unreliable and inconvenient public transit to get them place to place or other alternatives like walking.
That's where senior Chase Houser comes in, having recently started a non-profit charity called New Life Bikes. The charity is dedicated to refurbishing used bikes and donating them to adults in Lake County who lack ways to get around.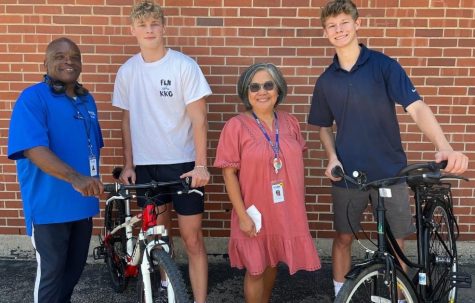 In a predominately privileged area like Libertyville, many residents have bikes sitting in their garages unused, except for the occasional summer bike ride. New Life Bikes provides the opportunity for people to donate their rarely used bikes and give them to someone in need, providing an independent means of transportation for someone. 
Before they are donated to people in need, the bikes are first refurbished by Houser, who learned how to fix bikes when working in a bike shop. His previous job there was also one of the main inspirations for his charity.
"I wanted to keep working on bikes somehow," he explained. "I had done reselling of bikes and that was fine, but I thought it would be cool to help people so it'd be meaningful."
With the idea in mind, he reached out to PADS Lake County, a local organization that provides resources and shelter to people without housing, and the local Veterans Affairs center to see if they were willing to give bikes to adults in need. Both organizations enthusiastically welcomed the refurbished bikes, emphasizing the impact they would have. 
"The first time I donated to PADS, we brought the bikes over and the donation coordinator was super appreciative," Houser recalled, "She could not stop talking about how these [the bikes] were going to be so useful and the clients were going to use them right away."
The emotional satisfaction of his work doesn't mean it's not without its challenges though. The first challenges he faced were actually the logistics of getting a business off the ground. 
"You have to do filing to incorporate if you are going to be a charity," he explained. "To be able to tax exempt or do any fundraisers you have to have [certain paperwork]"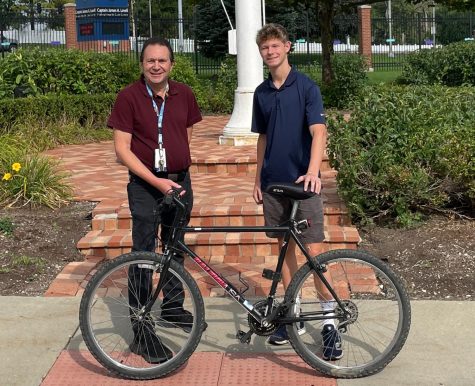 Once the paperwork aspects of the business were taken care of, Houser then struggled with the balance between school and his charity. A track and cross country athlete, it's hard to find extra time during the day to work on New Life. 
"I definitely need to really be locked in and focused with homework," he said, "Because oftentimes, I'll go on TikTok for two hours and that just doesn't work. I need to really focus so that I have that extra time".
Despite the challenges, he still maintains a positive attitude when it comes to his nonprofit, as it has provided new opportunities to learn and practice.
"I'd like to have my own company in the future," he explained, "It [New Life bikes] is like a little practice of what goes into running a business, like all the filing and making connections."
Making a difference is also an incredibly rewarding part of running the charity, allowing him to get a glimpse into how others live their lives and just how privileged people in Libertyville tend to be. 
"I think we often take it for granted, the fact that we have rides, we have cars," he said. "But some people don't have that, and it's cool to be able to see that this is helpful to somebody."
Got a used bike? Reach out and donate at newlifebikes.org, or on instagram @newlifebikesofficial. 
Want to help Langtiw in her mission to promote mental health advocacy? Follow @theloopofhope on Instagram and explore the page to learn more.
Leave a Comment