Hope for peace: The story of four Ukrainian refugees
Ten months ago on Feb. 24, Russia Invaded the Ukrainian capital of Kyiv. Since then, thousands of Ukrainians have been killed and millions have fled the country. BBC News reports at least 12 million people have fled their homes since Russia's Invasion, more than 5 million have left for neighboring countries and the other 7 million are likely displaced inside Ukraine itself. It has been a year of immense difficulty and perseverance for the Ukrainian people.
As a result of the war, four Ukrainian teens have enrolled at Libertyville High School after arriving in the United States seeking refuge. All four are learning English through the school's English Language class. Similar feelings of uncertainty and fear were shared among the four students, when the war began. 
"I was shocked but not really surprised because tensions between Russia and Ukraine were high," said senior Daniil Klochkov, who arrived mid October.
Junior Olexandr Chornopyskyi, who came to LHS this year in mid October, recounts his initial uncertainty when the war began.
"On the first day it was very scary because no one knew what was going to happen," Chornopyskyi said.
Sophomore Damir Kashevich, who has been at LHS since early January of 2022, was affected by the unpredictability of the wellbeing of his loved ones. 
"We just didn't know what to do," Kashevich said. "I was worried about my family and friends. I try to stay in touch."
The process of traveling to the U.S. was incredibly challenging for all four of them. Freshman Vlad Oslavskyi, who started at LHS this August of 2022, had to go through the process of getting a Visa for the United States. 
For Chornopyskyi, getting to the States was more than complicated, and included traveling through several countries.
"The process was hard because the plane wasn't flying [straight from] Ukraine," said Chornopyskyi. "We needed to go to Poland and from Poland we flew into Germany and from Germany we flew here."
Although the process itself was tasking, Klochkov looks back on it with appreciation.
"It was challenging because I needed to collect all the documents to go from Ukraine to America, but in the end, it's all worth it," said Klochkov.
According to the four, having other Ukrainian teens with shared experience has helped a lot with the transition to American public school.
"I always have people to speak with, [I] almost feel like I'm at home," said Klochkov.
According to Chornopyskyi, there are close to 40 Ukrainian students at Vernon Hills High School that he is able to meet with once in a while. But here at LHS, there are only the four of them.
"It's actually not good because you have to make friends by situation," explained Chornopyskyi. The language barrier the four students face can make it increasingly difficult for them to make friends with people over similar interests.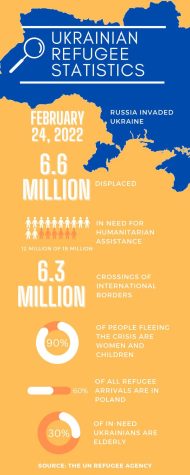 Many of them had begun to learn English in Ukraine, but have never had to use it until now. The transition from learning in school in your own language, to learning a new curriculum in a different language is a unique challenge. 
"[Learning in English] is hard but it's okay because teachers try to help," said Kashevich.
For Chornopyskyi, his time here so far in the United States has improved his English significantly.
"I started learning English in Ukraine," said Chornopyskyi. "[We often] forget what we learned because we don't speak [English], but here my English is actually very good, because when I come here, I can't speak Russian."
Fortunately, regardless of the language barrier, the four have felt welcomed by the school community. 
"People are friendly, even more friendly than in Ukraine," Chornopyskyi said. "This is excellent, for example, even without language, I can make new friends."
Chornopyskyi wants LHS students to understand the challenges they have faced as to better empathize with them. Klochkov explains even the smallest action can help them feel supported.
"The only thing that you need to do is just listen," said Klochkov.
A war happening across the globe can feel incredibly distant and foreign until we are faced with four students who have experienced the consequences. Being aware of the resilience these four have shown when facing the adversity that is leaving your country and your family can help us support and empathize with Oslavski, Kashevich, Chornopyskyi, and Klochkov.
The unique experiences of these four boys reflect only a small percentage of those affected by the Ukrainian war. To the millions of people in Ukraine, we cannot begin to understand your pain. We can only hope for a peaceful future soon to come.
"Цінуйте свій час, сім'ю та друзів і намагайтеся жити з надією на краще майбутнє."
"Value your time, family and friends, and try to live with hope for a better future."
– Daniil Klochkov
Leave a Comment