Collegiate commitments: Current seniors to play college sports
Playing sports is a path that many take throughout their lives, especially high school. However, even the best of the best face some stiff competition and falter from time to time, but it's how they get back up that defines them. Those who prove resilient enough may, at some point, find themselves embarking on the next part of their athletic journey: the collegiate level.
A school like Libertyville High School has had many great alumni go on to play their respective sport: football star Riley Lees and basketball player Drew Peterson are notable examples of these alumni. But with signings becoming more and more prominent as the years go on, it's time to consider the future of collegiate athletics. Specifically this year's signing seniors, the class of 2023.
Although playing sports at the collegiate level is no easy undertaking, several students in this year's senior class at LHS have already committed, in some way, to take on this challenge. One example is senior Margaret Forkner, a tennis player. Forkner recently committed verbally to Lehigh University, a Division I (D1) school in Bethlehem, Pennsylvania on Sep. 22, 2022. While Forkner has been very successful in her sport, to the point of DI recognition, the road she took to get there is certainly one that is difficult to traverse. 
"I would say it's pretty competitive," Forkner said. "I mean at all times, you're trying to get noticed by colleges and you're trying to prove that you want to go to their school, or that you're going to be able to make a difference at their school." 
Forkner expressed that the commitment to a college, be it verbal or during the official signing, which nationally took place for her and others on Nov. 9, 2022, is more or less an equal partnership between the school and the student. 
"Really, it's like a dance," said Forkner. "They're looking at you, but you're also looking at them. Both of you have to want each other to a certain degree.
Another senior who has committed to the collegiate level is senior Trenton VanBoening. VanBoening, a current member of the LHS football team, recently committed to the football program at Eastern Michigan University as an offensive lineman. Like Forkner, VanBoening expressed how incredibly competitive and selective the decisions made by D1 universities truly are. 
"It's probably in terms of difficulty, the most difficult thing I've ever done in my entire life," VanBoening said. "It's the most selective process I've ever been through. When you sit down and think about it, every conversation you have with a coach from one of those schools is an interview." Also like Forkner, VanBoening expressed that the things you say and do matter to these universities, who base their decisions on your character, not just athletic prowess.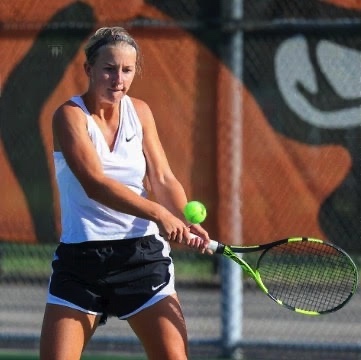 "Every time you communicate, you send a text, you talk on the phone, they're analyzing you," said VanBoening, "not just as a football player, which they know a lot about, but as a person, because they're potentially spending, over the course of five years, upwards of $180,000-200,000 in scholarship money." 
VanBoening also noted the influence that Libertyville and LHS have had on his ability to play and be noticed by colleges such as Eastern Michigan University, the same school that recruited him. 
"Libertyville did a pretty decent job of giving me an ability to compete and put myself out there because of the competition we play in this conference," said VanBoening. "Not every kid gets to play against other D1 recruits. Most recently when we played Yorkville, I played against two D1 defensive ends, the exact type of people I would be playing in college," VanBoening said, referencing Libertyville's first-round playoff game against the Yorkville Foxes, the last game of their season. "They do a good job of giving you an opportunity to put that out there and show that, yeah, I can compete with the big dogs," VanBoening concluded.
One person with perhaps the best knowledge of the transition from high school to collegiate sports is athletic director John Woods. Woods, who has served as an athletic director for 21 years, including five at LHS, and his administration employ a rigorous precept through their high school athletic organization known as PROGRAM, a seven-letter acronym representing adjectives that include passionate, respectful, one, grit, reliable, accountable, and mindful. Woods noted that each component of PROGRAM plays its own special role when it comes to preparing athletes for the next level. 
"You gotta have passion for what you do," Woods said. "And you've got to bring that to what you do every single day, not just in season, but when you're not in season, or when you're between seasons, [because] many of these are multi-sport athletes."
Outside of PROGRAM, Woods expressed that other values not directly linked to the acronym have an important place in athletics as well, including, according to him, courage. 
"I think two things that hold people back from becoming the best they're capable of becoming are fear of failure and fear of judgment from others," said Woods,  "and in order to be able to overcome those things, you have to have a tremendous amount of courage to one, have self awareness that those two exist, and then two, to have the courage, the strength to not only have the awareness,  but also to overcome those, and I wouldn't even say overcome, I'd say embrace."
When all is said and done, sports are a huge part of high school, and those talented and brave enough to take the next step and pursue their passions at the college level deserve the recognition that their signings give them. This year, it's time to recognize the extraordinary talent, perseverance, and grit of the class of 2023, and its committed athletes.
Leave a Comment