Grease is the word
After two months of rehearsal, the LHS Theater Department performed "Grease" for a full house October 27th-29th. The seniors were especially excited to share their hard work with a live audience.
Senior Cris Montero plays heartthrob Danny Zuko, leader of the Greasers at Rydell High. Although Montero has been a part of all three musicals leading up to this year, it's his first year playing a lead role.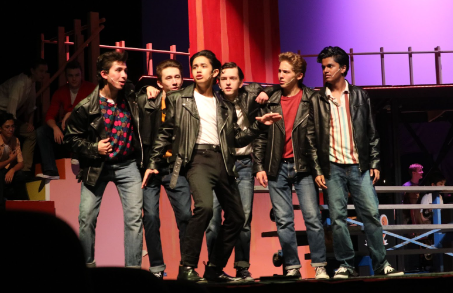 "I don't normally play lead roles so it's fun to try and really get in the mind of the character and see how I interact with everybody," explained Montero.
The musical was a mixture of both the broadway musical and the 1978 film. This had an effect on the way Montero portrayed his character.
"People want to see a John Travolta kind of character, but then also the show itself is different than the movie," said Montero. "So kind of blending, you know, the different personas he has. It was a challenge, but it was fun."
Senior Sophia Rynes plays good-girl-turned-bad-girl Sandy Dombrowski. Like Montero, Rynes has been involved in theater during all four years of her high school career. It was also her first year playing a lead role in the musical.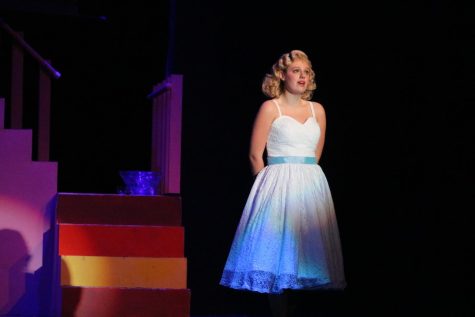 "It was just kind of crazy, I've never really done this before, but it's been so much fun to be able to do this, especially with all my friends," said Rynes.
While the experience is certainly exciting, the cast members have put in a tremendous amount of work.
"[We] started off with just doing the songs, then we started adding in some dance, and then you're blocking and working really hard the whole way through," said Rynes.
Senior Isabelle Rudolphi, who has been a part of theater all four years, plays Betty Rizzo, the spunky, confident leader of the Pink Ladies. One of the ways Rudolphi made Rizzo come to life was through her costume.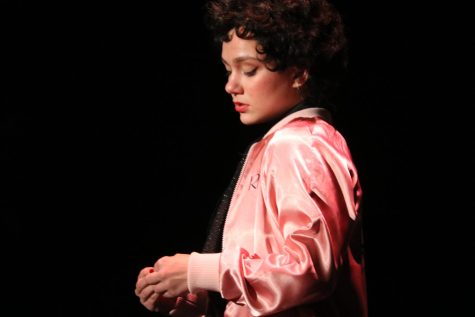 "I have sunglasses in the first scene," Rudolphi said. "It just gives me this confidence and persona that I felt like I like I needed." For Rudolphi, the overall preparation for the musical has been more exciting than nerve-wracking.
"It's really time consuming, so that part's stressful, but other than that, I felt like we were really prepared," said Rudolphi. "I've just been so excited for everyone to come see it."
Junior Louie Perry performed alongside Rudolphi as Kenickie Murdoch, Danny Zuko's best friend and Rizzo's flame. Not only was this Perry's first time playing a lead role, it was his first year as a member of the cast.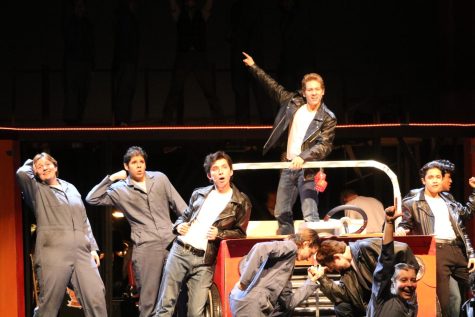 "I just wanted to be part of the musical for something to do or to find some new people to get to know," said Perry.  "And then when I saw the cast list, I was really surprised."
Similar to Rudolphi, the process of connecting to the character took getting used to, but was worth it in the end.
"The character of Kenickie is so not me and so I was so uncomfortable to act like some sort of cool guy," explained Perry. "Just put yourself out there and don't hold back because you're uncomfortable or you're scared what other people might think."
Senior Alena Dzierozynski, another four year musical cast member, plays Frenchy, an adoring friend and aspiring beautician who plans to drop out of high school.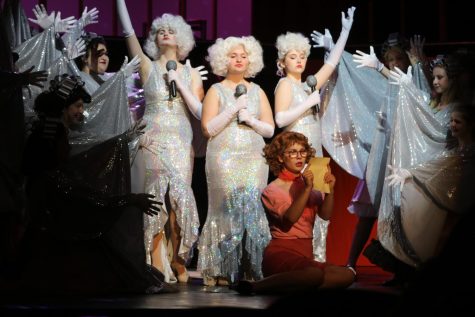 Dzierozynski has also developed a strong connection with her character during the process of creating the musical.
"She really resembles a certain side of me for sure," said Dzierozynski. "I just take so much pride in my feminism and just feeling like a pretty girl. Oh, I just love it so much."
While it's hard for Dzierozynski as well as the other senior cast members to be finishing their last musical, she plans to continue what she loves after high school.
"I am definitely going to want to try out for musicals in college," said Dzierozynski. "It's so darn fun and it makes me happy. Why wouldn't I want to do something that makes me happy?"
Seniors David Joseph and Audrey Clemens play Roger and Jan, a Greaser and Pink Lady duo who enjoy "mooning" in their spare time. Both were very excited when they got their roles.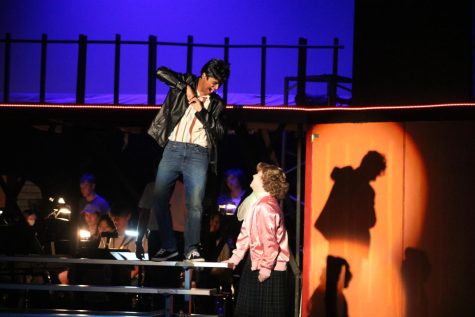 "It was just surreal and amazing," said Clemens. "You put on the wig and you're like, 'Oh my god, I'm a Pink Lady and we're doing Grease my senior year."
"I had a feeling that I was going to be Roger because I felt like I fit the role the best," said Joseph. "It was such a good experience and I'm so grateful I got chosen."
Senior Marcie Wright, who played Shirly, has been a part of one-acts, plays, and musicals at LHS. She believes all the preparation for the musical this year, though time consuming, was worth it.
"It was really exciting because now we're in makeup and wigs so it's all been building and we're all super proud of it," said Wright. "It's what we do, and we love to do it."
Matching the intensity and enthusiasm of the actors in the lead roles were the members of the ensemble. Junior Hope Wagner who has been a part of LHS Theater since freshman year as a member of crew, instead tried out for a role this year and joined the ensemble.
"The biggest goal was bringing energy to the show, and making sure that we created an environment in which the leads can thrive off of the energy," explained Wagner.
Although crew and ensemble are different, Wagner said, "I like both equally. Production week definitely comes with stresses, like audience and other things to worry about, but overall, it's been really exciting."
Junior Olivia Morgan is another member of the ensemble this year. It's her second year being a part of a theater production.
"To make a show a show you need everyone," explained Morgan. "You don't need just the leads, you need everyone to make the feel of Grease."
Of course, there would be no show without the moving pieces behind the curtain. Crew creates the scenes from props to set pieces.
Junior Mila Kvasnicka is an assistant stage manager and paint head. This year is her second year on crew. There are a variety of different routes you can take being a part of the backstage group.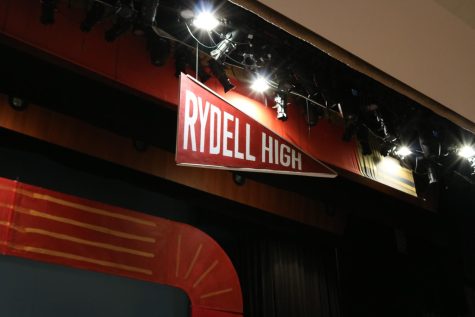 "Leading up to the show, you're either building sets you're painting," said Kvasnicka. "You can be in charge of lighting, you can be in charge of sound, but when the show actually comes on, you can be involved backstage running things on and off again."
Senior Becca Hardy has been a member of crew all four years during her time at LHS.
"I have made my best friends ever here," explained Hardy. "It takes a lot of hard work and dedication, and you spend hours on end working every single night up until the show, but it's amazing."
Leave a Comment