CRC: The place to find your future
The College Resource Center, or CRC, is a 'one stop shop' where you can explore all of your pathways after high school.
Even though a place like this could be essential to a student's future, not everyone knows what goes on in the room. The CRC is all about exploring one's future. No matter what your post-graduation plans are you can always find your needs here!
Ms. Cardinale has been working in the CRC for four years, and she has seen how hard it is for students to choose a career path.
"Many students don't know, and that's totally okay! We like to listen to their ideas and by the end we can help them find their own path," said Cardinale.
The best part about college exploration is the collaborative aspect. In the CRC, you can easily meet with staff or other students to talk about your interests. This allows you to create a list of colleges that allows for both dreams and reliable options.
Although many believe that the CRC is only beneficial to upperclassmen, it is also of great value to underclassmen.
Every fall, underclassmen come together to complete the Naviance quiz and talk about career paths for their future.
Naviance partners with high schools to help provide students with college planning and career assessment tools. This software can help one reach their goals in developing skills critical for whatever your postsecondary plans may be. With a roughly 10-minute quiz, Naviance can help guide you through possible career choices.
However, for juniors and seniors, this process is quite different. Despite experiencing the same steps with Naviance their freshman and sophomore years, juniors begin to have serious talks about college visits, and the overall direction about where they want to take their careers.
ndividual talks with a CRC staff member begin on December 5th, while college visits and speaking with representatives have already begun!
Students can check when a specific college they want to apply for is coming to LHS on the CRC classroom. With over 200 college admission reps coming in, it's the perfect opportunity to meet the people who will likely read your application.
For seniors, college talks with the CRC have already begun. Since school has started, seniors are able to sign up for an individual meeting to finalize their application or pathway plans. Ms. Murphy describes the experience as "getting in the nitty gritty of things."
"It's a rush trying to get everything ready for applications and scheduling meetings, but despite that, one thing I like to mention in every single meeting is that, remember that you're the prize," Murphy said. "The campus that you are going to will be brighter and better because you're there."
Don't wander. Don't Google. Every question is a good one at the CRC. And remember, staff and interns are always there to help. Their doors are always open and it's the perfect place to take a deep breath, consider possibilities for your future after graduation and enjoy the company of others.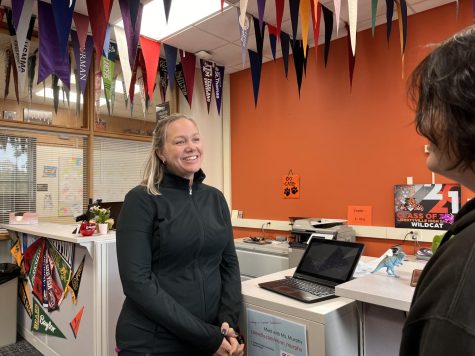 Leave a Comment