New club creates safe space for Latin American voices
The brand new Latin American Student Organization (LASO) club is up and running. Meetings, which are supervised by school counselor Ms. Adriana Espinoza, Spanish teacher Mr. Avila-Miranda and Spanish teacher Mrs. Monica Feeney, are held in room 006 every other Thursday.
The club's mission is to support anyone in, or anyone who wishes to support, the Latinx community and culture. As the club gains its footing, around 40 students have attended meetings to discuss what they hope to see out of the club.
The overarching purpose of LASO is to help students connect and have a safe space to embrace the uniqueness of their personal Latinx identities and cultures.
"My goal is for [members] to get to know each other," Espinoza said. "Then work on what we can do as our small knit community for the greater good of LHS, and then outside of [the high school] in the community as well."
So far, LASO has painted and decorated the library windows for Hispanic Heritage Month. In the library,members set up a book stand with texts that highlight Hispanic heritage. Additionally, club members sold churros on Sept. 28 during lunch periods to promote awareness and raise funds for the club. Student board members were also elected by vote: Senior Lauren Rollins and senior Carolina Chavez-Calderon were voted co-presidents.
With her mixed Hispanic heritage, Rollins took the initiative to run for president based on the lack of Latinx representation within LHS and the desire to celebrate Hispanic culture.
"Being part of a club community grounds you," Rollins said. "It gives you something to fall back on when you're feeling uneasy. You get to learn more about yourself through food, music, dancing, and anything else that feels connected to you and your culture."
This parallels the voices in discussions held in the Chica's group, an affinity group for Latina girls (who are a minority) here at LHS. This group, run by Espinoza last year, expressed a need for a space for Latinx students to come together, which prompted her to create LASO.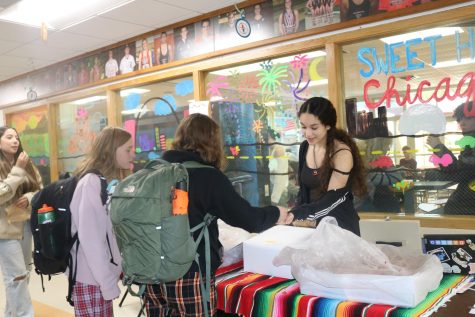 "I have never gone to a school that wasn't pre-
dominantly white," sophomore Chica's participant and LASO member Yizel Aranda said. "I always speak Spanish at home, but at school, I had to put a filter on. Now, though, at LASO, I don't have to put a filter on
[myself]."
A mindset that LASO hopes to dismantle is that there is only one "type" of Latinx identity. The club aims to emphasize the fact that everyone's journey is unique, and that everyone belongs.
"Sometimes within our own cultural identities, we tend to put barriers on others that are similar to us and say, 'Oh, you're not Latina enough,' or 'You're not black enough,' 'You're not Asian enough,'" Espinoza said. "We're trying to dismantle that."
This welcoming atmosphere is why junior Olivia Balos, a LASO member, decided to join the club.
"It's easy to get mixed up with your identity every day and it helps to take some time after school to come together with people who identify with you and just have fun and talk about things," Balos said.
Regarding future plans for the club, ideas like educational cultural presentations, karaoke, culture days, cooking competitions and dance lessons have been floated. The club will be a stress-free, fun environment.
"It's a low commitment," Rollins said. "Just come, check it out, and have a nicetime. And we'll see you again."
If you are interested in joining LASO, email [email protected] and/or feel free to use the Google Classroom code: 7aecu47.
Leave a Comment