High Kicks and Hockey Sticks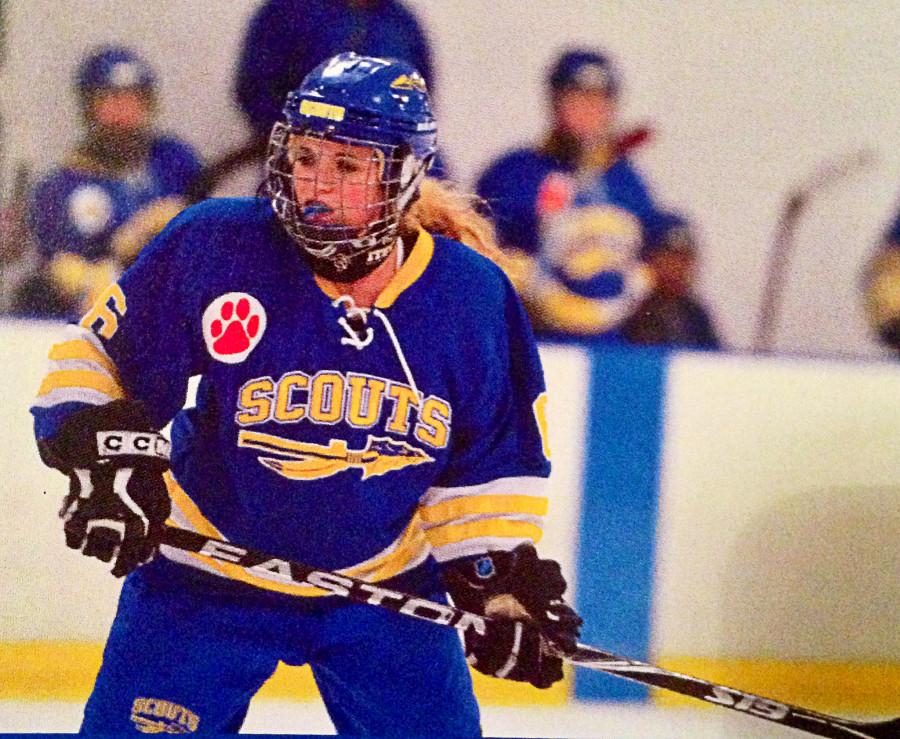 Abigail St. Claire
April 30, 2014
Whether she's skating on ice or dancing center stage, junior Shannon Miller is fully committed to two very competitive sports.
Being a part of two intense activities may scare some students, but not Miller. She has found the balance between both hockey, poms, and school. She has been playing hockey since she was seven and dancing since she was nine, so these activities have become a huge part of her life.
Throughout her hockey career, she has been involved with two different teams: a travel league and a school league. She plays on all girls teams, but has also played on a boys team for fun. Her Falcons travel team shares practice spaces with other boys teams, so they would get the opportunity to play against them occasionally. Miller has put a lot of hard work into both of these leagues, and they have led to great success in the past. This year, she's only participating in the school hockey team due to her busy schedule.
With hockey spring tryouts, summer camps, and returning to the ice in August, it may seem hard to participate in poms. The Libertyville High School dance team is a very committed sport, spanning from May to early March. Her team calculated 28 hours of practice time a week heading into competition season, and an average of three practices a week for three hours, not including football or basketball games.  Hockey usually plays one or two games a week, and practices two or three times a week. The practices end as late as 9:15 at night, but Miller says, "although it is late, it is nice because then I am able to make it to practice from poms."
However, Miller always checks with her coaches heading into hockey tryouts on whether or not they would like her to participate due to the strict schedule poms holds. Her coaches are very understanding of her role in dance, and are aware of her practice and performance hours ahead of time. Head coach of Miller's hockey team, Elizabeth Zorn, values Miller's attitude and positivity.
"As a player, she works hard both offensively and defensively and she is an excellent playmaker. She plays on the penalty kill for us, which is largely based on her speed and work ethic," said  Zorn.  Miller is also respected and adored by both her coaches and teammates. Poms head coach Ms. Jaqueline Newman said in regard to Miller, "Shannon is about the best teammate you could ask for…she rallies her teammates to pick themselves up when they are run down, and encourages them to finish each practice and performance with energy and enthusiasm. Shannon is a very focused, dedicated, and inspiring athlete…She is always asking me, her coach, ways she can improve an already very strong technique."
Miller gets the best of both worlds from these two sports. She enjoys the intense workout that comes with hockey and how focused she gets while playing. Her hockey season starts with two days a week dedicated to off the ice workouts: "I don't know if the coaches work us super hard at the beginning of the season or if we are all just super out of shape, but it always takes a week or so to be able to have practice and not be super sore," said Miller. "If you don't keep practicing or take time off of the sport, you are sore after getting back!"
Since poms is through the high school, Miller loves being involved with school spirit, performing at the football games and pep rallies. She said the poms team is like a family, and they get a lot of extra time to bond together: "We bond a lot during team sleepovers, pasta parties, and the summer camp in July." Even though she has separate groups of friends, her dance team members showed up at one of Miller's games with posters, screaming her name as she skated across the rink.
Miller also likes having another group of friends outside of her school friends, "It's nice to have different people with different views to talk to," Miller said. Her hockey teammates appreciate the high level of enthusiasm that she brings practice. Miller always puts a smile on her friends' faces, even after coming from school and dance classes. Not only is she postive on the ice, she is also a skilled and versatile player. Fellow hockey player and friend, Mary Claire Newton, said, "She's super strong on the ice and can pretty much knock anyone down. She's also really fast and always there for you to pass to when you need it."
Her poms and hockey experiences have been filled with much success. When Miller was 12 years old, her all-girls hockey team entered in a tournament with all boys, and her team ended up getting first overall. According to Miller, "…All the boys cried. It was super cool to beat them because we would hear the boys' parents saying 'Why are there girls in this tournament? This is a waste of a game,' and then we won!"
In 2012, her hockey team made it to the state championship at the United Center, something the team strives for every season. Although her team lost, it inspired them to win the next year: "We did tons of bonding activities like having team sleepovers, and the night before, we all got together and watched 'Miracle,'" she said.
Her team came back and won the state championship in 2013. Miller's Falcons Under 19 travel team made it to nationals in San Jose, California, in 2013 as well. Even though the team did not get a very high place at the end, they came back from losing 0-2 to win their last game within the last 3 minutes.
This past winter, the poms team got the honor of performing at state. They placed second after the first day of competition, moving on to the final day: "We've never [made it past the first day] before…we were all super excited," Miller said. They placed sixth overall on the final day after performing two routines.
Apart from a few bruises and scrapes, she has never had a serious injury that has stopped her from playing hockey. Unfortunately, this year, her scoliosis got in the way of her dancing. Due to the numerous hours of practice leading up to competition, "I got this huge lump on my back. There would be a shoot of sharp pain, so I wouldn't do the dance full out until we performed it," she said. Thankfully, it has never stopped her from playing since the curve of the scoliosis isn't big enough to get surgery.
Miller is still fully committed to her school work and is enrolled in two honors classes. Most of Miller's days are packed full with school, then poms, and then hockey or outside-of-school dance rehearsal. She has gotten used to a late bedtime and getting all that she needs done. Miller makes sure that she finishes her school work in the few hours she is at home, and is determined to get it all finished:
"I have to have all of my homework done and all of my tests studied for, so I will stay up no matter how late," she said, "Advice for people who do two sports is just make sure that you manage your time well and make sure to get all of your work done. It's hard being committed to two very competitive sports, but it pays off in the end."