Varsity badminton takes a victory against McHenry on senior night
On April 21, Varsity Badminton beat McHenry High School 18-0. This win occured on senior night, which made the victory a great way to celebrate. The team played six doubles games while also playing 12 singles games, and won all of them.
The varsity team has eight senior players. Most have played on the team since their freshman year, including Ella Baffico who spoke about how nostalgic she felt.
"It is surreal being a senior because I remember freshman year I was like, 'Oh my God, I'm so excited to be a senior!' But now looking back I'm like 'I wanna be a freshman again.' I want to go back because there's just so many memories," said Baffico.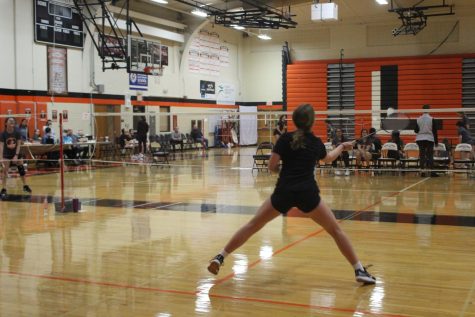 Senior Alexandra Berns was also "really excited" before the meet, remembering what senior night was like for the seniors during her own freshman year.
"I was really excited because it was senior night and it was crazy to be able to celebrate the seniors when I remember being a freshman watching the seniors," Berns said.
Senior Evelyn Tarman was proud of her performance against McHenry. By the end of her match, her racquet had actually broken from how well she hit the shuttlecock  with it.
"A highlight from today's meet I would say would be playing with my partner," Tarman said. "The best part would be when I broke my racquet because that means I worked hard for it to get a point."
Baffico, Berns and Tarman all made the JV team their freshman year, which taught them a lot of important lessons and skills early on.
"I was so excited to be on the team," Baffico said. "I got to be with all the older kids and learn from them. Not a lot of people get to do that."
Varsity team members got to write down their goals in the beginning of the season to keep track of them. 
"Improving on my backhand was one of my main goals," Tarman explained. "Communication with my partners was another thing that I had to work on. Because in my previous years, communication was a struggle for me."
Other varsity members had different goals such as getting a higher ranking on the team's level, doing their best in every match, and working on specific racquet techniques.
"I'm trying my best to help the team in any way I can and I obviously want to make new friends and stuff because it's my first year," added Freshman Lyn George.
George has been practicing in a badminton club not affiliated with school since fourth grade, which has taught her a tremendous amount of skills that shone her path to varsity.
While this meet's victory was a great way to celebrate senior night, team members wouldn't say it was their favorite compared to other invitationals they have had throughout the season.
"I really like the Saturday Invitational meets, because those are the ones where I get to play five or six matches of singles," George said. "I really like singles so those are definitely my favorites." 
"It wasn't as competitive of a meet today," Berns emphasized. "So some of our better meets I feel like are the ones that are a little bit closer, but every week you can get good practice and you can learn new things."
Baffico is continuing her education at University of Colorado Boulder and plans on joining badminton intramurals there as well.
"Being part of the Evans Scholar, I have to do an extracurricular activity and I was already like 'badminton!', so I already knew I was gonna play," Baffico said. "I love it, even out of college I want to go play." 
Berns will soon be playing on the tennis team at St. Olaf College, but also wants to maintain playing badminton there.
"I would try to do the club," explained Berns. "I'm going to be on the tennis team in the college I'm going to so I don't know how much time I'll have. But I would definitely be interested in playing for it."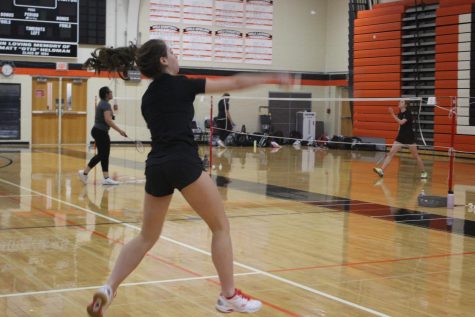 As the season is coming to an end, the seniors are experiencing many different emotions.
"It's bittersweet," said Berns. "It's crazy that it's my senior year and the season is almost done. So that's really sad because I enjoy it so much. I look forward to every practice and meet. So it's kinda sad and I'm gonna miss my team and the coaches."
Last year, the varsity team was able to make it to the state championship. Berns played No. 1 singles then and is hoping to be able to compete at state this season too. 
Next Tuesday, April 26, will be the final meet for varsity, a triad at Yorkshire High School, followed by sectionals at Warren High School on Friday, April 29. The results of sectionals will determine whether or not the team makes it to the state competition.
View Comments (1)