Boys Track wins against Mundelein but loses to Warren
On Monday, April 11, the varsity and freshman/sophomore track teams competed against Warren and Mundelein High Schools at the LHS stadium. This meet was a triangular meet, meaning it was essentially three separate meets in one. Libertyville beat Mundelein; however, the team lost to Warren over the course of the night.
Junior Rocco Lavista starts the first leg of the 4×100 relay for the Wildcats. Lavista was followed by Freshman Damarion Baker, Senior Joe Freedman and Sophomore John Weisneth in the rest of the relay.
Senior Andrew Finch passes the baton to Sophomore Oliver Allen in the 4×400 relay. Finch and Allen, along with Sophomore Scott Johnson and Senior Alec Kearns, ran a time of 3 minutes and 55 seconds, giving them a second place finish.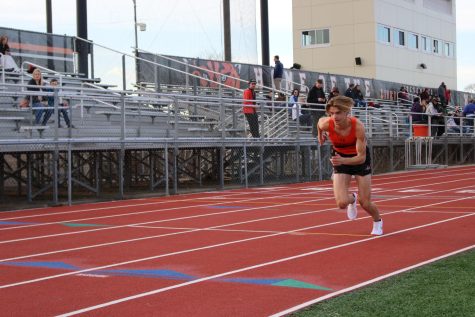 Senior Peyton Erdal jolts off the line in the 400 meter run for the Wildcats. Erdal placed first with a time of 52 seconds, defeating five other runners from Mundelein and Warren.
In the first picture, Senior Ali Faiz leads the pack during the third lap in the 1600 meter run. Faiz earned first place in the 1600 meter run with a time of 4 minutes and 32.3 seconds. In the second picture, Libertyville's Jack Hamilton fights through a pack of Warren and Mundelein runners during the 1600 meter run.
Leave a Comment