The Next Level: LHS Athletes Playing Sports In College
Many athletes have achieved incredible success at LHS. However, a select few have taken their talents to the highest levels of college athletics, the Division I Power 5 conferences. Drops of Ink followed up with former Wildcat athletes who are currently playing sports at a university in one of these conferences to discuss their experiences in college athletics and how LHS prepared them for the next level.
Drew Peterson, Basketball, University of Southern California
Drew Peterson graduated from LHS in 2018. Three years later in 2021, he played in March Madness.
Peterson played basketball throughout his youth, but once his freshman year of high school rolled around, he developed a "realistic goal" of playing in college. "I kind of saw that if I work hard, I can see myself playing this to the next level," he said. "I've just got to stay the course."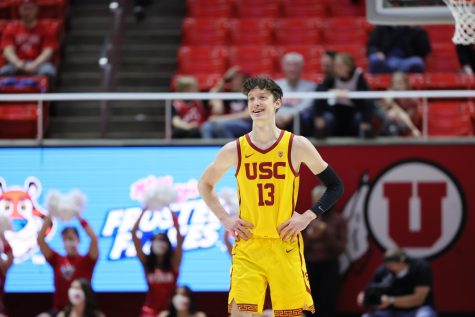 After a successful Libertyville career, which included scoring 26 points per game and making a buzzer-beating game winner in the regional final of his senior season, Peterson committed to Rice University to play basketball.
"I ended up committing to Rice because I really focused on academics and athletics as a combination," he said. "I really wanted to make sure I got a good degree."
In his two years at Rice, Peterson appeared in all 64 of Rice's games, starting 55 of them. In his sophomore year, he led the team in rebounds and assists. However, before his junior year he decided to enter the transfer portal.
"There were a few moving pieces and I thought it'd be best for me, after having a pretty good year, to kind of weigh my options and take the next step," Peterson explained. "I knew I wanted to transfer to a bigger school."
After many coaches reached out to him, he decided to commit to the University of Southern California (USC). Peterson calls this, "the best decision I've made. Being in LA and playing basketball is one of the best things I can imagine."
Peterson started 30 out of 33 games last year, averaging 10 points and 5 rebounds per game. "It's awesome to have a big impact on the team and be in a spot where my coaches and my teammates trust me to play well," he said.
His favorite aspect of playing basketball in college has been "having a team that you can bond with and hang out with on a regular basis. It's almost like another family away from home."
USC made it to the NCAA March Madness Tournament in his first year on the team. Peterson and the Trojans won three games in the tournament to make it all the way to the Elite Eight.
"As I was getting ready to leave my room before the first game [of March Madness]. I think that's when it kind of really hit me. It's definitely something you dream of as a kid, a once in a lifetime type of opportunity. And we went on to make a deep run. So I got to play in a few different games. It was really cool. It was an experience I'll never forget."
Evan Rasmussen, Soccer, Michigan
Evan Rasmussen graduated from LHS in 2019. While he attended, he helped lead the boys soccer team to incredible success. During Rasmussen's junior and senior seasons, the Wildcats made it all the way to the state championship.
"That's something I'll never forget," he said. " It was such a fun experience to do that with some of my best friends and my brother."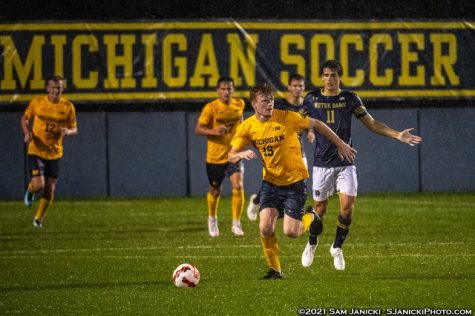 After high school, he set his sights on playing soccer in college, which had been a dream of his for "as long as I can remember." He also grew up a fan of the University of Michigan and called it a "dream come true" when they offered him a scholarship to play soccer.
"The [Michigan] coaching staff emailed me early into my junior year, saying they thought I did really well at the camps I had been attending and that they'd like to chat more about recruiting me. So we set up a few phone calls and a visit. They made me an offer during my visit and I accepted it right then and there."
Rasmussen spoke highly of his time so far at Michigan, despite the packed schedule.
"When we are in season during the fall, we spend 20 hours a week training and usually travel 1-2 times a week for 2-3 days at a time. For the first few weeks of the offseason in January, we only spend 8 hours a week training but that quickly jumps back up to 20 hour weeks in February for the remainder of the year.
"The hardest thing about being a collegiate athlete is finding the time to balance school work with my soccer schedule while still trying to have a somewhat normal social life. It is certainly challenging at times, but it is 100 percent worth it."
In Rasmussen's junior season, which took place in the fall of 2021, he started 13 games and scored his first career goal against rival Notre Dame. A few weeks later, he earned Big 10 Offensive Player of the Week after his performance against Indiana. In that game, Rasmussen scored the game-tying goal to force overtime and then assisted on the game winning goal in the extra period.
"That was the first time we have beaten Indiana since 2013 so it was a huge accomplishment for myself, as well as for the program," he said.
Looking back, Rasmussen believes LHS prepared him for college "in more ways than [he] could have imagined" both athletically and academically.
"Their soccer program has been dominant for years and they were able to keep me competing at a very high level in order to be ready for collegiate soccer," Rasmussen said. "LHS is also such a strong school academically. I've learned that the resources and staff at LHS are unlike the majority of public schools across the nation."
Emma Gleason, Swimming, Notre Dame
Emma Gleason graduated from LHS in 2020. She had been participating in competitive swimming for years, but between her sophomore and junior years of high school was when she believed the option to swim in college "opened up" to her.
"After I started dropping time, my coach told me, 'This is something you could do if you wanted to,'" Gleason said. At LHS, she set the school record for the 100 Butterfly and was a state finalist in two seasons.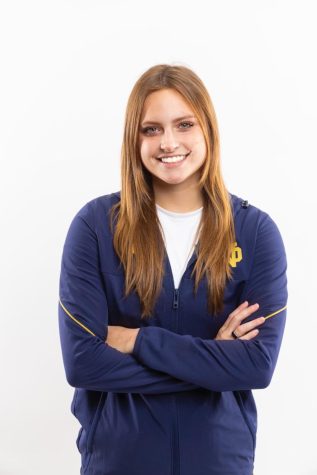 When recruiting began, Gleason felt "overwhelmed. Especially since it was junior year which is already very stressful." A short time into the process, she'd set her sights on Duke University and was "very convinced" she would swim there.
However, upon going on a recruiting visit to the University of Notre Dame, Gleason fell in love with the school and realized "this is exactly where I need to be. I kind of had an aha moment."
Since arriving at Notre Dame and beginning her college swimming career, Gleason has enjoyed the "attitude of collegiate sports. Everyone has that mindset of, I want to be here and I want to succeed. Everyone is always on their top game and it really brings out the best in themselves and others."
Being a student at a prestigious university and an athlete in a Power 5 conference can have its challenges. "I do think that a lot of people, including myself, did not realize the difficulty of doing athletics and academics at the same time in college. We practice 20 hours a week on top of doing schoolwork, recruiting weekends and of course meets and competitions. It is a lot and it's something that I preach to people who are wanting to do sports in college."
In her freshman season, Gleason placed 19th in the ACC Conference Championship in the 200 Butterfly, with a blazing time of 1:58. Her performance helped Notre Dame place fifth in the conference and earned her a spot on the ACC team.
"I think it is definitely the highest achievement I've had," she said regarding this title.
Danny Pucino, Wrestling, Illinois
Danny Pucino graduated from LHS in 2020, but he knew his future plans well before that. Pucino committed to the University of Illinois for wrestling during his sophomore year. llinois demonstrated interest in Pucino after he placed third in the state as a sophomore.
"I was only 16 years old, but they said we're going to put an offer on the table that is not going to be on the table much longer. And what they ended up offering me was just too hard to turn down," Pucino said.
In high school, Pucino saw great success. "Winning in the semi-finals at the state tournament and making it to the finals was a dream come true." One meet that meant the most to him was "the home meet where I was ranked 13th in the country and my opponent was ranked second. I ended up beating him pretty good and that was a lot of fun to do it in front of people I knew and my home crowd."
All of this helped him commit to Illinois for wrestling, which he says was "the best decision I've ever made."
Pucino continued his success into his freshman year as he was one of the few guys in the Big Ten getting to start as a true freshman." In his debut, he started against Ohio State and beat a top 25 wrestler in the conference to seal the meet for the Illini.
"It was the best wrestling feeling of all time," Pucino said with regards to that moment. He finished his freshman year with a 7-1 record.
Pucino has realized some of the difficulties of transitioning from high school to college athletics. "No one in college is just naturally good," he said. "You have to work so hard to be the best. We're training all day. In the morning, I do a hard cardio workout for an hour and then we have a two hour practice. And later we'll have a two hour lift in the evening. If you're not getting the right sleep and nutrition in between practices, you're not gonna feel good for the next one. It's basically a lifestyle."
Pucino is currently taking a redshirt year for his sophomore season, where he will practice with the team but not compete in the meets. Due to this and the extra year of eligibility awarded to all college athletes from pandemic disruptions, he still has four years of eligibility left starting next season for his junior year. "I have four more years and I'm going to be a four year starter. Basically, I haven't started my college career in a sense."
Ethan Richter, Track and Field, Auburn
Ethan Richter graduated from LHS in 2021 and has recently started his career as a track and field athlete for the University of Auburn. Despite his college journey just beginning, his discus throwing career began many years ago.
"My parents put me through every single sport when I was little," Richter said. "But for me, nothing really stuck until fifth grade, which is when my dad suggested track and field because he threw in college. I tried it out, and loved it instantly."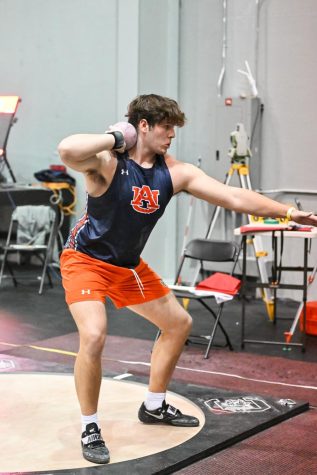 At LHS, Richter continued his discus success. At his senior night, he threw 172 feet, which he said was "exactly 100 feet further than how far I threw my first meet ever when I was in fifth grade." He finished his high school career by placing fourth in state his senior year. With this success, he drew the attention of recruiters.
"I went into the recruiting process completely blind," he said. "But it was actually much more streamlined and less intense than I thought it would be. It's just you talking to normal people. And all you have to do is put yourself out there."
Richter drew interest from Notre Dame, Illinois, Alabama, LSU and many others. However, he ultimately committed to Auburn University.
"I was interested in Auburn because the coach is one of my dad's former college teammates," he said. "And when I visited, I knew it was home. I fell in love with the place and the people here."
Since arriving at Auburn, Richter says he is "most proud of the fact that I've been able to surround myself with people who make me a better person." He and his new teammates have begun with success in the indoor season. This is no easy feat, competing in the SEC, which is seen as the top track and field conference in the country.
Richter echoed the same ideas as others about the amount of time college athletes spend on their sport. "When you're competing, during the season, which is January to June, three to five days out of the week you're traveling, so 24 hours a day it's track track track, that's all you're doing and thinking about. And you've got to put academics first, even if athletics takes up most of your time."
Richter believes he owes much of his success thus far in his life to his time at LHS. "All the teachers that I've literally ever interacted with at LHS seem like they really love the students," he said. "Having that passion where the teachers want to help the students achieve their best academically, really set me off on the right foot."
Leave a Comment