Boys Track Scores Second on Senior Night
On Monday, May 10, the varsity and freshman/sophomore track teams competed against Stevenson and Waukegan High Schools at the LHS stadium. Stevenson won the meet, with Libertyville taking second. This was the last home meet of the 2021 season, and it was also senior night. 
Many personal records were set at this meet. One highlight for the team was Senior Mark Michelotti beating his all-time 100-meter and 200-meter dash records. Liam Tucker and Ali Faiz also beat their personal records on the 1600-meter dash. 
Beating personal records was one of Head Coach Stuart Mendelsohn's goals for this meet.
"[One of the goals was to] improve from the last meet, which was a varsity invite," he said.
Michelotti, who has been doing track since he was a freshman, was proud of his accomplishments over the years and how the team came together this year.
"It's really nice to spend [senior night] with a lot of the guys that have been with us for the past four years and see all the progress they've made and all the hard work they've put in," he said.
Junior Ali Faiz was sad to see the seniors go but was thankful for what they have done for the team.
"The seniors really laid the ground for us when we're lower classmen and really showed us what passion is and how we can show our passion to the sport," he said.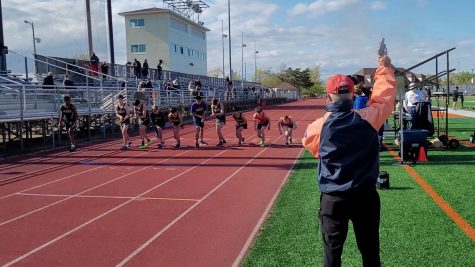 Coach Mendelsohn congratulated all of the athletes but especially the seniors for making the most out of a weird season.
"Congratulations on finding your way through this. This was a crazy last two years," he said.
"I wish nothing but the best to the seniors, and I hope that the four years you've been on track have been enjoyable, and I wish nothing but the best for your future endeavors, and I hope you've enjoyed your track season as much as I've seen you grow throughout the years," he added.
The team will participate in one more regular season meet before going to the Lake County invite on May 22, 2021. The conference championship, sectionals and state (if qualified for) will follow.
Leave a Comment