As Seen on TV: How Marketing Affects Teens
The practice of marketing has left some experts wondering about the extent of influence that companies have on the behavior of teenagers. According to the American Psychological Association (APA), companies attempt to tie a teen's identity with materialistic culture and specific brands to sell their products.
Bill Reichert, an LHS marketing teacher, believes that it is essential for companies to target their marketing to certain age demographics. The type of marketing that is most effective towards teens changes from generation to generation.
"Big business advertising through traditional channels, like TV, magazines, newspapers, billboards, paid endorsers, all of those things are not only ineffective but actually repulsive to the [teenage] demographic," Mr. Reichert explained.
A non-traditional channel that companies utilize includes a variety of social media platforms. Mr. Reichert stated that teenagers are more receptive to these channels because they are selecting the platforms where they view ads.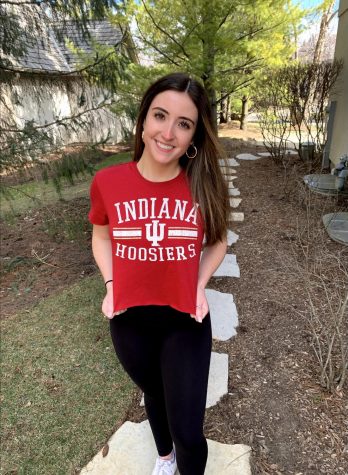 Senior Emma Fields, who plans to major in marketing at Indiana University this fall, explained that social media
platforms influence her spending habits the most. Instagram is the most effective platform, according to Mr. Reichert.
"[An advertisement] on Instagram, it'll come up in your feed and then it will literally give a link at the bottom to the products, so it's so easy to just see something you like and then press on the link," Fields commented.
When she watches advertisements on television, Fields doesn't feel as engaged as she does on social media. However, even if teens are passively watching a commercial, their brains are still processing the advertising messages on a subconscious level, as reported by NPR.
According to Mr. Reichert, another effective marketing strategy towards teens is guerilla marketing, which is when products are carefully placed in TV shows or movies, for example. This type of marketing is "under the radar," which means it doesn't appear as in-your-face as advertisements on TV.
Mr. Reichert explained that teenagers are an important age group to focus on for marketing because teens are educated, informed and discriminate where their money will be spent.
"If [companies] don't put concerted effort into designing their business around appealing to [teens], they're just going to be missing out on an untapped wealth of potential customers," Mr. Reichert said.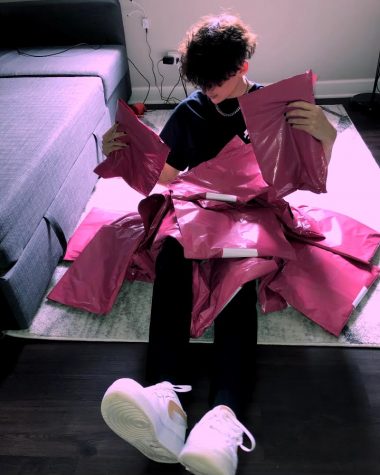 Sophomore Jeremy Trigg markets specifically to the 14-20 age group for his two clothing line businesses: "JNF" and "JNF Kickz."
"[Teens] are more interested in fashion, and they are more emotional people, and I feel like clothing does say a lot about someone's personality," Trigg commented.
Trigg markets through social media platforms and has obtained almost 100,000 views on TikTok videos and 14,000 followers on his Instagram account.  
His main business, "JNF," is his personal clothing brand. In addition, Trigg designs clothes for mainstream artists, such as 24kgoldn, Lil Mosey and Iann Dior.
Each of these artists have millions of monthly listeners on Spotify. The music platform contains links for the artist's merchandise, which then helps advertise Trigg's brand.
Trigg direct messages Instagram accounts that follow popular brands to pitch his products and promote his business. He uses this communication to directly engage with customers on a personal level, which he said has helped him network and connect with artists' managers.
Lil Mosey was appreciative after Trigg sent his merchandise to the popular rapper. (Video Courtesy of Jeremy Trigg)
Through one of his businesses, "JNF Kickz," Trigg resells sold-out products that contain streetwear brands in order to turn a profit.
"Once you research a little bit, you'll see the top five or six brands other people want," Trigg said. "For example, everyone knows Louis Vouitton is a designer brand, and their demand is really high."
Mr. Reichert explained how well-marketed companies establish a brand with which teenagers desire to be affiliated.  For example, teens are more likely to buy a Patagonia jacket because of the company's prestigious brand, rather than the jacket's quality.
However, teenagers have higher expectations for companies to maintain a social conscience than past generations.
"That really matters to younger consumers: companies that actually stand for something that is not simply a profit motive, that they are willing to be concerned with the environment or leave a smaller footprint," Mr. Reichert expressed.
Advertising does have negative effects on teenagers, however. In Mr. Reichert's opinion, marketing makes teens purchase more items that they don't need, which can contribute to financial distress. Fields explained how companies often utilize filters and models to make the products look better than they actually are.
 The APA reported that companies attempt to alter what teenagers consider "cool," and often inadvertently discourage differences in culture and identity. According to ABC News, for teens, peer influence is the most influential component to their decision making.
Mr. Reichert used the example of purchasing a toothbrush to explain how peer influence affects teen spending habits.
"My teeth will look better, my smile will be wider, my breath will be better and whoever it is that I'm interested in, might find me more attractive through this toothbrush," Mr. Reichert stated. "Those messages are obviously shielded or concealed within a scenario."
He noted that he also teaches Personal Finance and Consumer Management, which are classes that instruct students on how to avoid the manipulation of certain marketing strategies.
On the other hand, Mr. Reichert acknowledged the recent strides that companies have made in becoming more accepting of different people. He believes that companies should focus on the best interests for consumers rather than profit.
According to Mr. Reichert, marketing is a career that can apply to a variety of people with different skill sets.  
"Marketing is the chance to be in business … but it also gives a chance to be creative," Fields explained. "I think I have a creative mind, which is why I think marketing would be good for me."