First-Ever Wildcat Summit to be Held on Feb. 24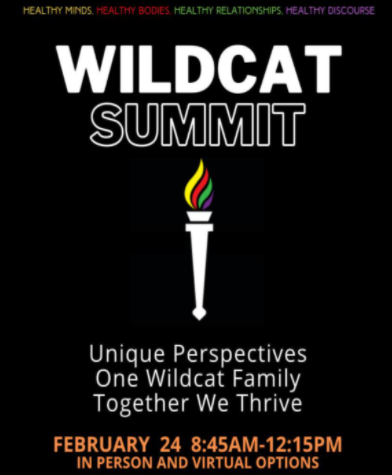 The Wildcat Summit, an event designed to benefit the school community, will take place on Wednesday, Feb. 24. Focusing on concepts such as physical, mental, and social health, welfare and well-being, the event is designed to aid students in their overall health and wellness.
"The school has never done an event like this before!" said Cece Babat, a student planner for the Wildcat Summit, in an email interview. "The event welcomes all grades and combines people of all grades into groups in order to have conversations and gain an understanding of each other's perspectives. We drew inspiration from several of our school activities, such as Link Crew and other clubs, but nothing has been done [before] to combine all these ideas on such a large scale!"
Occurring from 8:45 a.m. to 12:15 p.m., this summit is a student-led conference, involving up to 200 students. 
According to Babat, the event will be covering four different topics: healthy bodies (physical health); healthy minds (mental health); healthy relationships (how to effectively communicate and strengthen relationships; and healthy discourse (how to acknowledge and understand different perspectives).
"People will rotate through four different stations based on the four topics. It's more of a group of spaces where conversations will take place, rather than a tour," said Prevention and Wellness Coordinator Brenda Nelson. 
"I think the thing that I'm most excited about is the fact that this was entirely a student idea," said  Dr. Nelson. "It really came from students' inspiration. Really, they have been the huge driving force behind planning it. This is where the effectiveness comes from."
Babat, one of seven students who collaborated to plan the event, added, "One of the main inspirations for creating Wildcat Summit stemmed from the question, How do we reconnect with each other following the pandemic and our time apart in quarantine and remote learning? We're hoping to help strengthen relationships amongst students of all grades and ages. We are one large diverse group of LHS Wildcats, and it's time we had an event to acknowledge and appreciate that!"
Due to the ongoing Covid-19 pandemic, the leaders have needed to plan on keeping those who attend safe, healthy and distanced, Because of this, attendees have the option to participate remotely or in-person. Both of these options will allow for students participating to work together towards a common goal: unity.
 "The vision is a sense of more unity," said Nelson. "We've come through this whole experience of a pandemic together. We want to know if we can capture the moment and move forward in a healthy way."
This theme is also evidence on the flyers around school for the summit, which feature the phrases, "Unique Perspectives," "One Wildcat Family" and "Together We Thrive."
Senior Dillon McDonald is another student who helped plan the event.
"The Wildcat Summit was our idea to come together and be grateful for LHS, especially after a relatively terrible year with the Covid-19 pandemic," he said.
Leave a Comment