All In This Together: How An Athlete's Support System Can Help Motivate And Inspire
The journey of an athlete is not one they tread on their own. All around them, there exist groups of people that help mold and shape an athlete into the person they want to be. Ultimately, it is through these supports that an athlete can rise to their potential.  
A team is one example. Bonding with a team can be one of the best feelings in the world. Teammates are often there for each other out on the field, whether it's to celebrate a win, to hype each other up before the big match or to motivate each other through a rough patch of losses. 
Not only can teammates be an important confidence booster during a game, but they can become an athlete's source of happiness and serve as a stress reliever.
Even in sports that have solo events, such as fencing or gymnastics, the team matters just as much, as a team's chants and cheers from the sidelines can boost an athlete's confidence and help them perform better.
The effects of a strong team bond aren't just limited to the field, as a team can also help to cultivate vital values. According to the NFHS, a leading high school sports organization, students who work towards the same goal tend to develop a greater appreciation for and understanding of their peers. This in turn helps to inspire athletes to be hard-working and collaborative. 
Hanging out with their team after a successful game or event can help an athlete relax from the day. Senior Faith Roberts, who has committed to Carthage College for soccer, recounted how one of the best parts of soccer was being able to enjoy a victory with her teammates. 
"My favorite memories were [of] winning a game and then coming back on the bus and we all [were] screaming different songs at the top of our lungs," she said.
Such experiences of teamwork and camaraderie can help an athlete maintain focus on their dream of athletics and self-improvement. An article by Edutopia, an educational website, explains that team sports in particular are said to help bolster the five C's: competence, confidence, connections, character and caring, and that such an environment is imperative to the vital growth of one's self-esteem. 
Another important aspect of an athlete's life and support system is their coach(es). While they are there to ensure that drills and practices run as planned, as well as keeping everyone in check, they can also stand as important role models and pillars of character for athletes to look up to. 
"We have our overall vision, and our vision, really, is built on building and maintaining relationships with our athletes and giving them the leadership skills to be contributing members to our society," said varsity dance team coach Casey Dugan. She continued, "Yes, we want to win. Yes, we want to do well. But that's not our value as a program. It is that we are working to be better people and be there for our teammates every day." 
Coaches also serve to remind athletes of the importance of being a team player. Boys bowling coach Robert Sweno expressed this when discussing values he teaches his athletes.
"Sometimes, people get caught up on the individual side [of their game] and only focus on that, and so I've always tried to encourage the kids to think big picture and [on how] what we're doing helps out the team," he said. "If an individual is having a subpar game, they get upset, but if we take a second and say, 'you know, forget about your individual game. Focus on getting as many pins as you can to help out the team score because you know your individual score is only a piece of the team's score, so you got to focus more on, what can I do to help the team?'"
Behind the scenes are also the athletic trainers, who can be found on the sidelines of practices and home events. In their line of work, they aid in an injured athlete's recovery through the implementation of a therapy plan that includes active recovery, while also listening to any problems an athlete might have outside of sports.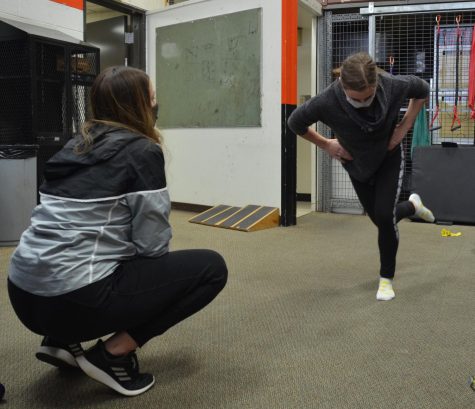 Megan Hutchins, the head athletic trainer in her first year at LHS, expressed that some athletes she has helped over the years have often come asking her assistance. 
"They might come to you for something totally non-injury related, seeking your advice just because you're a safe person for them to come on and talk to," Hutchins said. 
While an athlete may not see an athletic trainer as regularly as a team or coach, the athletic trainer can be a great source of support, especially for those with concerns regarding an injury. 
Additionally, family can serve as a big source of support in an athlete's life.
For Sweno, his passion for bowling began through a family tradition that started at Fair Haven Lanes in Mundelein with his dad and younger brother. 
"So my brother is four years younger than me. Him and my dad joined [a bowling league] a year before I got into it…and I said, well, I got to do this too, so I had to join as well, but yeah, it became a big family thing," Sweno recalled. "It was something that, you know, the three of us would do together and then kind of grew into family parties and stuff."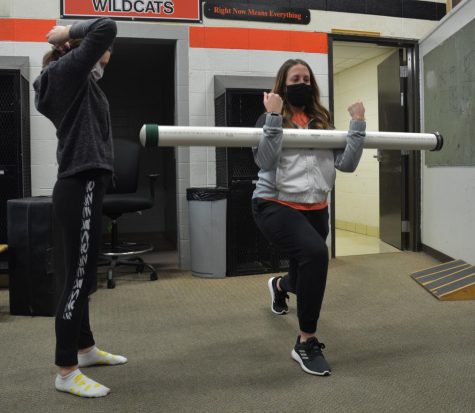 Aside from potentially being an athlete's first glimpse into the world of their sport, families can also be an athlete's biggest motivation.
Senior basketball player Lauren Huber, who has committed to Holy Cross, said that her parents and brother have always motivated her. 
"My parents have always pushed me to just find things I love," she said. "My brother, who's a sophomore right now, got into basketball before me, I think. He's been playing forever, so I kind of saw him start playing basketball and I thought, 'Oh my gosh, I need to start playing.' So he's really helped influence me and we compete all the time, we play one-on-one, so he's definitely helped me."
There are many support groups out there for an athlete, ranging from their own teammates to family waiting just beyond the sidelines. It is through these connections that athletes are able to not only gain further insight into their own goals and potential, but to learn valuable skills and make lasting relationships with those around them.    
Leave a Comment