Coronavirus spreads in Illinois, affecting the reopening of LHS
Similar to many other states in the U.S., Illinois has been struggling with battling Coronavirus, especially recently. In the last month, the case count has been rising dramatically. As of Nov. 10,  Illinois has had a total of 511,183 cases and 10,289 deaths since the beginning of the pandemic. Lake County alone has had a total of 25,789 cases 534 deaths over the same period.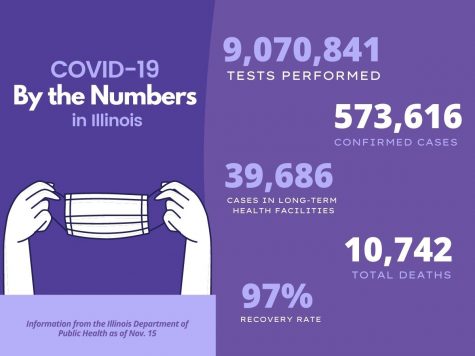 Due to the rapidly increasing positivity rates, Gov. J.B. Pritzker recently announced that most of the state's regions will be prohibited from indoor dining in public restaurants and bars. The positivity rate increased in Lake County from 4.2% in mid-October to 15.1% as of Nov. 10, according to Covid Act Now, an independent, nonprofit website. 
Many restaurant and bar owners have made it clear that they are unhappy with the governor's decision and have taken to social media and sued in the courts to express their anger and frustration with the governor's mandate. 
In Libertyville, Mayor Terry Weppler announced that he will not enforce the indoor dining ban. In late October, Mayor Weppler told the Daily Herald, "I believe the restaurants are being made scapegoats on this issue and [I] do not want to stand by and see us lose our local businesses." 
Recently, District 128 provided free, drive-thru COVID-19  testing on Oct. 21 and 31. Hundreds of tests were given to anyone in the district's communities.
For LHS specifically, the return-to-hybrid plan has been twice delayed due to the increasing COVID-19 numbers. As of now, the current plan is to begin the hybrid model on Nov. 30.
"As a public health person…I have lots of concerns about us doing [hybrid] now because I know, you know, listening to the experts, the trustworthy and reliable national experts out there, that we're all seeing and predicting numbers to continue  to increase," said Cameron Traut, one of the school nurses. 
Even though there are health concerns, the LHS staff has been working to implement many safety measures at the school for when it eventually is re-opened. 
"I'm going to contribute to creating an environment that is as safe as it can be," Ms. Traut said. "But I have a lot of concerns about it."
Every family has many decisions to make relative to COVID-19 that include the choice about returning to LHS when the hybrid model begins. 
"Everybody has a story and so we need to really move on from judging each other as to our actions and just say, 'Okay, let's see what we can do to stop the spread in this scenario,' or 'what could we do differently moving forward?'" Ms. Traut said.
Ms. Traut has several tips for students and staff to help keep everyone safe. "It's those three W's of wearing a mask, washing your hands, and watching your distance." 
She added, "I know the staff is working really hard to be here and to try to do this juggling…of being remote and then being in-person."
Leave a Comment