Therapy Inside and Outside of LHS
There is a good chance that you, or someone you know, goes to therapy. Bradley University conducted a study in 2014 that found that, for people above the age of 18, 36.9 percent of men and 39 percent of women partake in therapy. 
THERAPY OUTSIDE OF LHS
Despite the fact that nearly two out of every five 18-year-olds attend therapy in some capacity, there is often still a negative stigma around therapy, evident in the different names that psychologist Dr. Dana Gionta has heard associated with her profession: "hocus pocus, mental brainwashing, and head shrinking." Dr. Gionta, "a clinical psychologist in Connecticut, where she works as an educator, clinician, and consultant in the area of health and wellness," according to  Psychology Today, also pointed out that "most people who initiate counseling do not have a serious mental illness."
Freshman Michael Wells said that a lot of people see therapy as "a crutch" and that "it's saying you're not strong enough to handle your own feelings." However, Psychology Today states that therapy "is a laboratory for you to explore, experiment, and practice behaviors that are scary in the rest of life." Wells believes that therapy is meant to show you that you are strong enough to handle your emotions and not to show you that you're weak.
Wells attends his sessions once a week for 45 minutes and said he's able to talk about anything that may be bothering him or he might want extra advice on. He's stated how it's helped a lot with his grades, bettering his school experience so far.
Another LHS student, junior Melissa Ji, also participates in therapy. She started her sessions in eighth grade after both she and her family decided that it would be the best course of action for her. Typically, Ji sees her therapist every other week, but sometimes she receives extra sessions depending on her stress levels.
Ji is an example of the type of person most view as someone who doesn't need therapy. Ji stated that she is an extrovert and even said that she's "not your stereotypical depressed person. I try really hard in all the stuff I do, I get good grades and I'm involved in a lot of activities." 
Even though it might seem like Ji is the outlier in all this, she's not. As stated by GoodTherapy, an online therapist directory, there has not been any research done to prove that extroverts are more or less likely to have a mental illness. While there have been studies that show extroverts have more positive attitudes, "it should be noted that these studies do not indicate that extroverts are happier than introverts," said GoodTherapy.
Ji and Wells both believe that therapy can work for anyone. It doesn't matter if you have a diagnosed mental illness like anxiety or depression, or if you just want to vent to someone knowing that no one else will know what you say.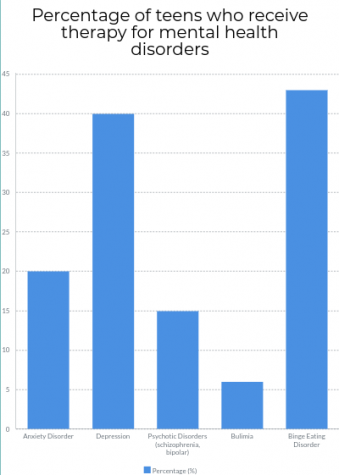 "I think everyone who feels like they need somebody to vent to should go. It's helpful in day-to-day life, and anyone who needs a little bit of extra support [can go to] at least one therapist for a little bit of time," Ji said. She added that if you don't like your first therapist, you can always switch to another, emphasizing that not everyone clicks well with the first person they talk with. 
Shannon Skinner, a junior, has been going to therapy for a year, and she also believes that anyone can attend sessions if they decide to. "Therapy isn't just something you go to if you're having serious struggles because…the severity of issues varies for everyone," Skinner stated. 
Skinner even explained some of what she shares with her therapist: "most [are] normal situations and drama that all teenagers face every day." Skinner believed that, during one's teenage years, "everyone should go to therapy, like they go to [their] doctor." 
Currently, with the COVID-19 pandemic sweeping the world, many people are unable to see their therapist in person. As a resort, people have moved to telemedicine. As stated by VSee, a video chat software tool, "telemedicine refers to the practice of caring for patients remotely when the provider and patient are not physically present with each other." Whether it's Google Hangout, FaceTime, Zoom or another communication platform, the patient is able to talk one-on-one with their provider and do so in the comfort of their own home. 
Before the outbreak, telemedicine was not covered by most insurances, however, according to the webpage for the Centers for Medicare and Medicaid Services, telemedicine is now covered by insurance, as long as it's a continuance of what insurance was covering originally.
THERAPY WITHIN LHS
In addition to students' counselors, each LST at LHS has a social worker for students to go to whenever they may feel they need to talk with someone. Mr. Greg Loika is the social worker in the A-F LST; Mrs. Emily Eichmeier is in the G-P LST; and Ms. Samantha Avila is in the Q-Z LST. Mrs. Julia West is the school-wide social worker. Some of these school social workers also conduct groups throughout the week for different students. These groups include Changing Families, LGBTQ+, Boys' Group, Girls' Group and more.
Mr. Loika is in charge of several of the previously mentioned groups, including Changing Families and Boys' Group. He stated that "each group has their own personality for how it taps into the issue that brings those students together." Some groups talk explicitly about what it was created for, while others bring in other issues that might not relate exactly to what the group was designed for. It all depends on the kids in the group, and how they connect with each other, Mr. Loika shared.
Even though some students take part in the different groups, Mr. Loika knows that there are students who might benefit from one of these groups but aren't necessarily interested in them "because of the topics that we cover sometimes [are] uncomfortable." 
Mr. Loika added that some students may also be reluctant to join because they might be worried that someone else would share their personal secrets. "But, we've had a lot of success where that hasn't been the case, but that takes time to kind of build that rapport and that trust," Mr. Loika further explained.
Even in these unprecedented times, Mr. Loika and the other social workers are still able to keep in touch with students who might need them while stuck at home. Mr. Loika even believes that teletherapy "may be a lot easier for a lot of younger people who have been reticent or hesitant to go into a counselor's office and talk about what's going on."
When asked about finding therapists outside of the school, especially for those students graduating, Mr. Loika stated that he and the other counselors will help their students find out "what are the resources on [their college campus] that students are going to." He also pointed out that each college campus has their own specific resources. 
However, if someone wants a therapist that isn't affiliated with a college, then the counselors would help do research to find several different therapists, and from there, they help pick who might be the best fit for each student. 
As Mr. Loika put it, "Mental health is health. It is as much a part of being healthy as eating well and exercising and all the other things that everybody tells us to do to take care of our bodies. Our mental health is important."
Leave a Comment