A Glance at Some Lesser-Known Sports
Sports are a well-integrated activity in modern life. Some sports are known and played all around the world while also generating a massive fanbase, such as soccer, baseball, cricket and basketball. While these sports are highly advertised, there are a variety of other sports that aren't as highlighted or talked about.
One of those sports is pickleball, a game that combines aspects of tennis, badminton and table tennis. All that's necessary to play is a pickleball court, a paddle and pickleballs.
According to a 2019 NBC news article, pickleball is one of the fastest-growing sports in the U.S. There are multiple reasons for its growth.
For one, the game appeals to all age demographics. Whether someone is 8 years old or 70, people of all ages can play the game. This is because the sport is relatively easy on the joints and involves a court that is a third of the size of a tennis court, meaning less exertion is used to maneuver and run.
Secondly, the game requires fast, mental strategies to outsmart the opponent(s). The game is also quick and fast-paced, with the typical league game being around 15 minutes, making it easy to play multiple games and to get in a bit of exercise. Currently, there are over 12,000 pickleball courts (at least one in each state), and over 200,000 pickleball players in the U.S. Nearby, the Libertyville Sports Complex has pickleball courts for use.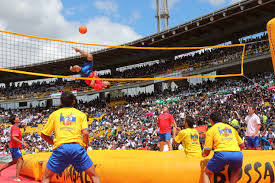 Another sport that isn't as well-known is bossaball. Like pickleball, the sport is a combination of three other sports: soccer, volleyball and gymnastics. There are two teams, four players on each team, who play on an inflatable court with trampolines. Teams score points by hitting the ball to the opponent's side and having it hit the floor, just like in volleyball. The big difference is that you are allowed to use your feet as well as your arms to hit the ball. The trampolines, positioned close to the net, allow players to jump as high as they can to spike the ball.
Just like pickleball, the game has its benefits. It provides a workout that can improve cardiovascular health, flexibility and coordination. It is also a game where flips and acrobatics are advantageous skills that can be utilized, unlike most sports.
The game is primarily played in Europe, Spain and the Middle East. Most courts are found on beaches due to the massive size of the inflatable court, but bossaball can also be played indoors.
Lastly, there's Octopush, a game featuring hockey that's played underwater. There are teams of 12, ten being able to play in any one game, with six people from each team able to be in the water at one time, while four wait to sub in for a teammate. Once the referee sounds the buzzer, the players swim to the center of the pool to gain possession of the puck, which is underwater. Players score by delivering the puck with their short, hockey-like sticks to the indented tray on the opponent's side of the pool.
The sport heavily focuses on team efficiency. Unlike most sports, athletes have to constantly hold their breath underwater and must be able to pick up the puck from a teammate if they resurface for air. The game is considered a non-contact sport, meaning players cannot use their free hand to push or shove others.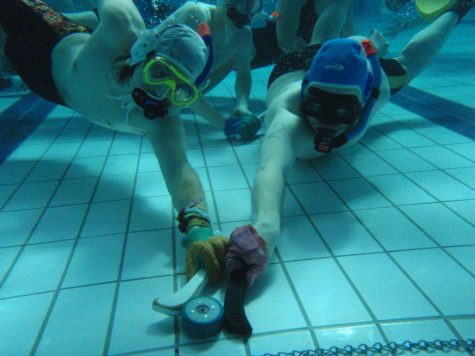 People of all ages can play the game. Health benefits include an aerobic workout that boosts the cardiovascular system, and the absence of tripping or falling-related injuries.
Octopush is commonly played in New Zealand, Australia and South Africa, and is played in more than 20 countries, including the U.S.
Sources used for this article: usapa.org, thesportsdigest.com, bossaballsports.com, cmas.org, moon.vn