Senior conducts art therapy study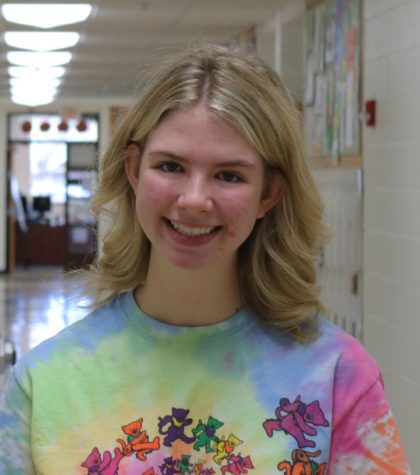 Throughout this school year, senior Rachel Bond is evaluating the effects of art therapy on LHS seniors' stress levels to complete her required AP Research project.
Art therapy is utilized by professional psychologists and medical doctors to treat and aid patients, such as those with post-traumatic stress disorder (PTSD) and breast cancer, according to Bond.  Art therapy is "using art and art-making processes to feel and express your emotions," she stated.
Bond was required to conduct a study second semester for her AP Research class.  While many of her classmates chose to produce surveys, Bond decided to create a five-week study in which participants stay for 45 minutes to an hour after school on Fridays.
In AP Research, "you actually conduct your own original research, so you're contributing to that database [of existing research]," Dr. Paul Reiff, the AP Research teacher, explained. "You're creating that experiment."
Bond distributed a survey to LHS seniors, inviting them to participate in the study. Eleven people replied, and many of her friends also contributed to the project.
"Coming out of eighth period classes, usually I'm still pretty stressed from just being in a classroom environment and trying to perform really well, so winding down with art for a little bit, it kind of takes you out of that [more stressful] headspace," said Maggie Hutchins, a participant in the study.
First, the participants fill out a pre-survey on the likert scale to quantitatively measure their emotions.  Five on the scale is extremely stressed while one is not stressed at all.  
The 11 students then perform an art-based activity such as painting, drawing, coloring mandalas, collage making and clay-building, sometimes with yoga music in the background.  Explaining that Bond took a supervisory role during the sessions, Hutchins recalled how she complimented their drawings and distributed paint to the students, creating a positive atmosphere.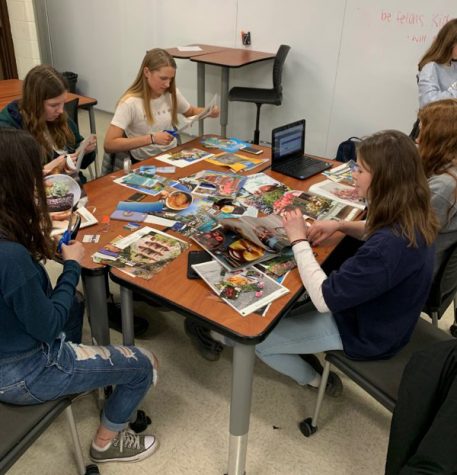 Painting was Hutchins's favorite art activity because she doesn't typically paint.  After the sessions, Hutchins said she will continue to practice art therapy because "taking a minute to distract yourself from homework and doing art is good for your mental health."
At the end of the session, the students complete a post-survey so Bond can collect data.  She then compares these results to those from her pre-survey, where students generally report having less stress.
"I noticed that people feel a lot calmer, a lot happier. Just more good vibes in general," Bond described.
Interested in a pre-med track in college, Bond plans to major in neuroscience and biochemistry.  Since she can't evaluate brains in a laboratory at LHS, Bond believed that a project assessing people from an outside perspective was the next best project.
Bond also described the high levels of stress she noticed at LHS, especially amongst her fellow seniors.  
"It's a timely and relevant topic.  Everybody's talking about mindfulness now, so she's contributing to that conversation," Dr. Reiff stated.
Conducting the study is only one of the chapters in Bond's academic paper for her project.  During the first semester of the class, she presented on this topic and formed the introduction of her paper.
Dr. Reiff described his role as the teacher of the AP Research class is to "empower the students" and "intervene as little as possible" in order to create independent and student-led research.
Other students in the AP Research class are also completing projects that align with their interests.  These include senior Jessica Schrag, who is exploring police tactics and how effective they are in Libertyville, while comparing crime statistics to interviews with police officers.  Senior Will Moore is focusing on the productivity of LHS's concussion protocol, and senior Thea Graur is observing the effects of dance on patients with dementia by visiting a nursing home and leading them in dancing activities.  
In May, Bond and her classmates will then complete their studies and turn their  academic paper into the College Board to be evaluated for potential college credit.  The AP Research students must also complete a 15-20-minute in-class presentation graded by Dr. Reiff, which accounts for 25 percent of their AP score.
Leave a Comment