Gaming Revolution: The Rise of eSports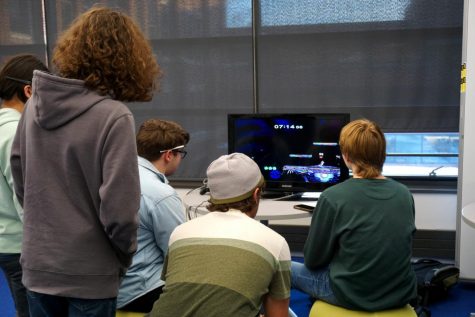 Brightly colored lights illuminated the massive arena, as kids, teenagers and adults alike watched the games commence. Echoing with hollering sounds, the venue was filled with fans cheering for their favorite team. An astonishing 100 million people from across the globe streamed the live competition online. This popular event was not the Super Bowl, the World Series nor the NBA Finals: welcome to the world of eSports.
eAthletes On the World Stage
Believe it or not, this competition was none other than the 2018 League of Legends Championship in Seoul, South Korea. eSports are organized competitions in which teams face off in popular video games, such as "Overwatch," "Call of Duty," "Counterstrike," "Madden NFL" and more.  
Generally, eSports refers to professional teams competing for millions of dollars in well-known venues such as the Staples Center in Los Angeles or Madison Square Garden in New York City.
Senior Ben Leonard explained the two different types of eSports events. "Land events" are large championships played in person, where players compete in an arena and utilize the company's consoles. In contrast, "online" events are when teams compete on the Internet, sometimes to qualify for a future land event.
Video gaming has transitioned from a dream occupation into a viable career option for professional eSports teams around the world. According to USA Today, eSports players at the highest level have an average salary of $320,000, more than most surgeons and lawyers.
Some professional teams choose the "grind" culture, completing repetitive actions in a video game in order to gain experience, as their practice method.  Living under the same roof, the teams work intensely for 12-14 hours almost every day of the week, while only sleeping four hours each night, as reported by CBS News.
Other high-ranked teams prioritize sleep and hire performance experts to keep the eAthletes mentally sharp and prepared for competition. As stated by The New York Times, these professional services can include massage therapy, sports psychology, nutrition advice and physical therapy.  The performance team provides specific gameplay enhancing exercises and methods for dealing with the pressure of being under the spotlight.
More teams are choosing the health-driven option to avoid "burnout": a physical or mental breakdown caused by overwork or stress from their rigorous schedules. Since competitive video-game players usually retire in their mid to late 20s, they need to maintain their physical and mental acuity for as long as possible.
Many professional eSports players develop their fan base through Twitch, a live video game streaming service, in which players record themselves along with play-by-play commentary.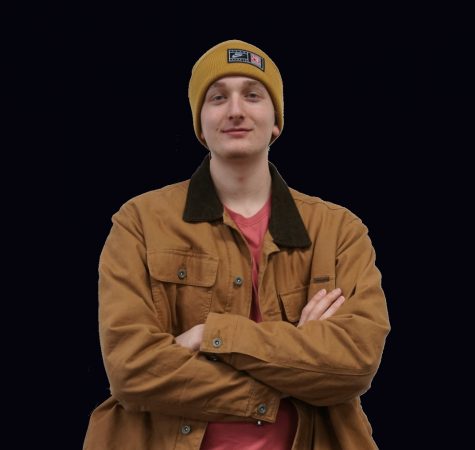 Not only do players earn money from sponsorships, subscribers and brand deals on Twitch, they also have the potential to win millions of dollars from prize pools at major tournaments.
Online videos are utilized as a form of entertainment and to learn tips to play better. Leonard uses Twitch and YouTube to stream his favorite players competing in video games such as "League of Legends," a competitive and strategic battle video game. He and his friends sometimes have watch parties to view major championships together.
Leonard described that he belongs to a dedicated fanbase, cheering for eSports teams: "It's in a sense like how you would root for the Patriots or the Steelers or whatever: you have that feeling like, 'My team is the best and I want my team to win' and when they lose, you're sad, like if some [team] lost the Super Bowl and you're rooting for them."
From Couch to Arena
Video gaming is the largest entertainment industry in the world, surpassing music, movies and television, as reported by Reuters. Business Insider states that the video game industry has accumulated over $120 billion in 2019.
eSports has gained so much popularity that rapper Drake co-owns the eSports brand 100 Ninjas. Starting in 2018, the NBA 2K League drafts 102 professional eSports players each year onto different NBA-sponsored competitive teams.
The video games in major competitions, such as "Overwatch" and "Rainbow Six Siege," have become prominent with the millions of players who participate in these games at home.  
However, one-player video games are also extremely popular. Junior Wren Rojas enjoys video games with a storyline basis, such as "Portal One" or "Life is Strange."
"It's kind of like reading a book to me. You get to explore the story, you get to see this new world with new characters, and [story-based video games] are more interesting because you get to put yourself into it, and the choices you make and the actions you do have an effect on the story," they explained.
Rojas described completing the storyline of the video game as "really fulfilling" after the hours and amount of effort put into the game.
Coming to a High School Near You
Although expanding across high schools in Illinois, eSports is not officially sanctioned yet by the Illinois High School Association. According to the IHSA, at least 10 percent of high schools in Illinois need to have eSports teams before they will offer a state series. Their board of directors has also not determined if eSports should be categorized as an activity or as a sport.
"A lot of people misunderstand eSports and say it's not a real sport, but to counter that, these [eSport players] grind a lot of hours just to get up there," Leonard said. "It's growing just like any other sport."
Vernon Hills High School's eSports club advisor Mr. Brandon Watters believes eSports should be considered a sport. He described how, despite lacking a physical component, eSports requires mental capacity, teamwork, communication and dedication.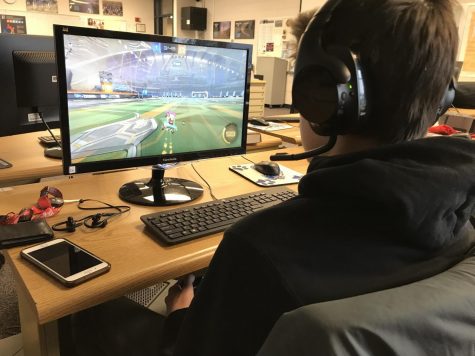 The VHHS eSports club was founded last year by Mr. Watters. The eSport teams in the club are selected by video game interest, skill level and how well they work together. Due to low funding, students must play on PCs, bring their own Nintendo Switches or other consoles.
Once a week, the club meets to discuss gaming strategy, play video games and perform team-building activities.
"The [players] have to get along because otherwise, if they don't get along, one person gets mad [and] the whole team falls apart, so we do a little bit with team building. They meet with us [advisors] and see how things are going on, trying to work through the problems," Mr. Watters explained.
The club uses online platforms to compete against other high school eSports teams throughout the Midwest. The VHHS eSports players have participated in tournaments against students in places such as the Chicagoland area and Texas.
Scholarships in the Digital Age 
eSports has reached the college level as well, with Division I, II and III teams at colleges across the U.S.. Division I eSports teams include those at Georgia State, Miami University of Ohio and the University of Oklahoma. High school students can actually earn scholarships to play on the teams.
Mr. Watters explained that many colleges are attempting to build their eSports program so they are reaching out to interested high schoolers. 
 Through tournament platform sign-ups, VHHS eSports players are asked if they would like to be approached by colleges. Many of the platforms have incentives that give out points to eSports players that they cash in for scholarship money.
"You have a way better chance of getting a scholarship in eSports than you do in traditional sports, just by the nature of the beast," Mr. Watters said.
Tucker Rawles, a former VHHS student, was No. 1 in the power ranking of the Smash Bros. Club at the University of Whitewater, Wisconsin, in the fall of 2016.  Since his childhood, Rawles has played "Super Smash Brothers Melee," a fighting game involving a variety of Nintendo characters, so he decided to join the club his freshman year.
"There would be a bracket of six teams and then everyone would get seeded depending on how good you are and then you'd play and basically fight [by] yourself to the top spot," Rawles explained.
While mostly competing within the club, Rawles and his friends also played against other schools.  Each player would contribute $5 toward the entry fee and in larger competitions, had the opportunity to win as much as $200.
Leave a Comment