Bring Your Child to Work Day Every Day
Picture this: You're walking through the hallways of LHS when your mom suddenly comes around the corner.
For some students, they don't need to imagine this scenario — it happens all the time! Some of these LHS students and parents recently opened up on what it's really like to have your mom at the same high school, or even in the same class.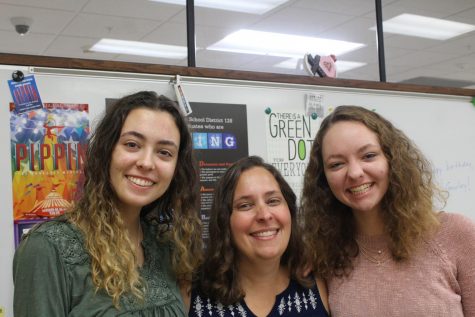 The Gourleys
Mrs. Sara Gourley, who teaches Algebra I and AP Statistics, enjoys having her daughters, junior Abby and senior Amanda, at LHS. She describes her work as a balance between "home life" and "work life."
"It's just a nice way to combine being a mom and being a teacher all at the same time. I get to have everything happen right in one place, which is awesome," Mrs. Gourley articulated.
Amanda and Abby have been coming to LHS since before they were students through the Learn to Swim Program and Bring Your Child to Work Day, where they still receive a free lunch each year. Their childhood helped create an easier transition for them to LHS, since they both already knew the staff and their way around the school.
Amanda is in Mrs. Gourley's AP Statistics class this year. Amanda expressed that she sometimes wonders if she should call Mrs. Gourley "Mom" in class, although she chooses to clear her throat or raise her hand to get her mom's attention instead.
"I said [to Amanda], 'You know what, if that happens, that's okay.' There have been years when people have referred to me as 'Mama G' and they're not biologically related to me at all," Mrs. Gourley said.
Amanda said that she likes having her mom as a teacher. She laughed while discussing how, when Mrs. Gourley creates math problems in class, her mom uses their own cars or Amanda's favorite memes as examples.
On the other hand, Amanda worries that if she performs poorly on a math test in the class, her mom may be disappointed.
Abby, who likes to visit her mom frequently during the school day, feels similar pressures at LHS: "A lot of people are like, 'Yeah, you have to be good at math because your mom's a math teacher' and I'm like, 'Well, no.' I happen to be, but it doesn't really relate," Abby expressed.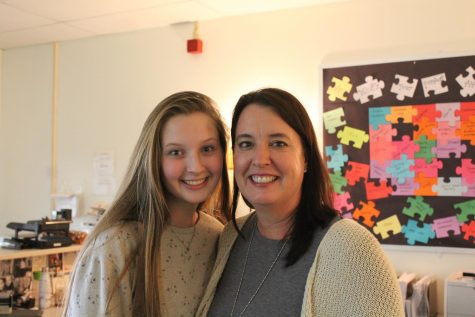 The Cashmans
Sophomore Chloe Cashman is glad that her mom, Mrs. Katherine Cashman, a secretary in the G-P LST, is at the same school as her.
Chloe explained that "it's nice having a family member in the building because if I need something, I can just come [to the G-P LST]… If I just need to tell her about something, she's right there and it's fun to come get candy."
Although Chloe considers candy a major benefit, she also likes that her mom is the assistant director of Orchesis, which Chloe participated in last year.
Chloe recalled the experience, laughing, "If [Mrs. Cashman]'s watching our rehearsals, our practices, and I'm not paying attention, she'll be like, 'Stay on task' and she'll stare right at me and I'm like, 'Don't target me like that.'"
However, having her mom at school does come with some drawbacks. Chloe mentioned how her mom checks PowerSchool more frequently because the website is part of Mrs. Cashman's job. She also arrives at LHS at 7:30 most mornings with her mom, which Chloe describes as her "hour-long study hall every morning."
Chloe is very enthusiastic when she sees her mom at school. Mrs. Cashman remembered one day when she was running passes to one of Chloe's classes, "[Chloe] stuck her tongue out at me and I just instinctively stuck my tongue out back at her and I thought, 'Oh no, the other kids in this class probably think that I just stuck my tongue out at a random stranger; they don't know I'm her mom.'"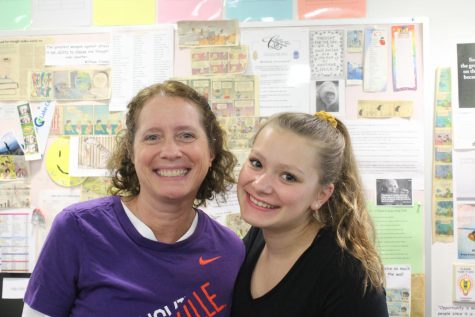 The Neubergers
This is Judi Neuberger's 25th year working as a counselor in the A-F LST. She has three children: junior Grace Neuberger and two others who have already graduated from LHS.
Grace and her friends frequently come to the A-F LST before school. Grace enjoys the snacks there and how she can drop her belongings off in her mom's office, which Mrs. Neuberger called "their locker."
Some teachers and students frequently recognize and comment on Grace's last name.  "Sometimes people will just connect the dots that she's my mom and then they'll be like, 'Oh, I love your mom!' and I don't really know what to say to that, so I'm just like, 'Me too!'" Grace laughed.
Mrs. Neuberger loves that she is more involved with her kids' lives by seeing Grace and her friends throughout the day or when she helped out with a prom ask for her older daughter, Claire.
"Oh my gosh, [the prom ask] was a huge scavenger hunt thing! There were five other teachers involved. There was a piano song on the stage in the auditorium. I mean, it was the most elaborate ask I've ever seen in my life, but I was happy to help out," Mrs. Neuberger exclaimed.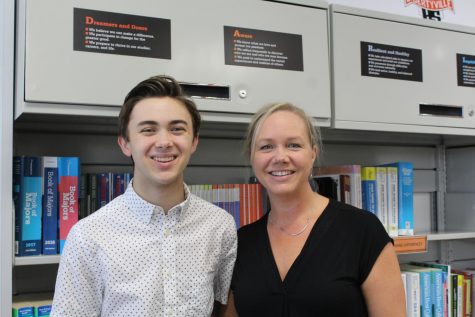 The Cardinales
Tony Cardinale, a senior, was very supportive when his mom, Mrs. Sara Cardinale, received the opportunity to work as a College and Career Resource Center secretary at LHS. As this is her first year, she has enjoyed becoming a part of Tony's high school experience and understanding his perspective, rather than just having a typical parent's point of view.
Mrs. Cardinale added that when meeting new people, talking about her kids — Jordan, who graduated from LHS, and Tony — works as a "nice icebreaker." Mrs. Cardinale helps Tony with his college search and answers questions about Naviance, a website that helps students discover colleges.
"It's kind of nice to have her [at LHS], especially because I'm a senior this year and she's working at the CRC, which is someplace I have to be involved with a lot," Tony voiced.
Although Tony stops in at times to say "hi," Mrs. Cardinale explained that her distant location and their busy schedules make their lives at LHS still very separate from each other. Tony emphasized that he has a good relationship with his mom and was excited that she can now better understand him when he discusses LHS.