Majors and Minors
As students conclude their 2018-19 school year, many are beginning to discover their passions and future career interests. For some, the sciences are the foundations for their passions; maybe they aim to study engineering or medicine. For others, social studies are the driving forces behind their goals for future careers, like history or international affairs.
But for a select number of graduating seniors, their futures are paved by different paths. These students have found their passions in the arts, whether it be in graphic design, the trumpet or even fashion. Let's take a look at the unique education of these artists and musicians, starting with their majors and minors.
Pursuing Their Passions
For senior Elias Anderson, studying music after high school was something he found interest in after his experiences in pit orchestra. A dedicated trumpet player, Anderson knew that he wanted his studies at Valparaiso University to not only consist of an engineering major but also a music minor.
"Throughout high school, I've had really great experiences playing in the pit orchestra, wind ensemble and jazz band. I just want to keep on [playing music] past high school," he explained.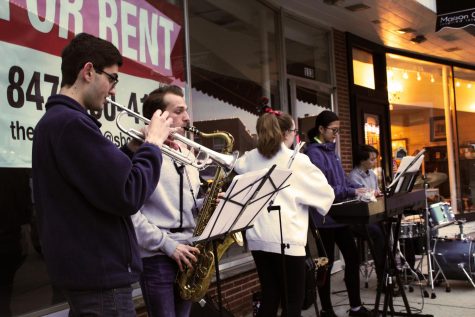 Anderson underlined how important it is for him to keep on playing music, and he noted that "getting a minor [in music] would allow me to further my education, which would also make me a better musician. If I want to keep playing in other groups after college, I would have a stronger foundation to do so."
Senior David Lee, a clarinetist, emphasized a different inspiration for furthering his musical career. Lee, who will be double majoring in clarinet performance and chemistry at Northwestern University this fall, explained that furthering his musical education is one of his top priorities because of his teachers.
"One of my biggest inspirations is my band director, Mr. [Adam] Gohr. I've never seen someone with so much passion in teaching music, and he just really inspired me. I really wanted to continue my education in music because of him," Lee noted. "I always wanted to go into the medical field, but I decided to double major with music because of my private lesson teacher, Ember Miller, and Mr. Gohr constantly supporting me."
If Lee decides to pursue music after college, he hopes to use his major towards performing for professional orchestras, though he emphasized that "the most important goal I have in regards to music is loving music more and just spreading love to others."
And while Anderson and Lee aren't the only students who are studying music after high school, they are just two of the 13 LHS graduates pursuing a music major or minor in college. Mr. Gohr, the band director at LHS, noted that many students do not choose to study music at the collegiate level because of how difficult it can be.
"I'll always tell my students, you will have days in college where the last thing you want to be doing is waking up and playing your instrument. A music major is work; it is hard work. If there isn't a day where you want to go and just throw your instrument against the wall, you're not working hard enough," Mr. Gohr added.
However, all of the music students interviewed individually emphasized that their all-encompassing love and passion for studying music is truly what drives their motivation for hard work. For Anderson and Lee, having the opportunity to practice their instruments every day in LHS band directed them towards their majors and minors in college. For senior Ally Kline, pursuing a major in music education at Carthage College stemmed from her family's constant involvement in the musical arts throughout her childhood.
"I've been around music my whole life. My mom was a music major, she did piano performance, so [music] is something I've always done," Kline explained. "It's what I'm passionate about, and I knew that I wanted to do something with music, but I also really like teaching too, so it's kind of the best of both worlds."
Mr. Matthew Karnstedt, a band director at LHS, also majored in music education in college and emphasized how well his studies worked for him because "music education [has] good career options: you can go into teaching, you can teach lessons, you can go into arts advocacy. There are a lot of things you can do with a music education degree that you wouldn't necessarily be able to do with a music performance degree."
Mr. Gohr noted that any and all studies in music are important to humans, not just because of what music has provided individuals in the past but for what music will continue to provide in the future.
"Music makes you a complete person. It's something everyone needs to have. We seek it out as humans; we seek out music," Mr. Gohr concluded. "It's something that makes us whole as people. It is fundamental to our human nature. I think we have a cultural obligation to continue playing music, to continue moving forward."
Art in many Forms
The artistic majors that some LHS students will be studying aren't solely limited to music. In fact, some seniors will be dedicating their tertiary educations to the visual and physical arts, such as film and even fashion.
Kate Speer, who plans on majoring in apparel design and merchandising at the University of Minnesota, explained that her aspirations towards art and fashion were influenced quite heavily by her grandmother.
"What started my love for art was my grandma. She always liked to do arts and crafts with us [grandchildren] when we were younger, and I guess that's why I love it," Speer explained. "[Fashion] is something I'm really passionate about, and I love doing it, so why not turn something I'm passionate about into a job?"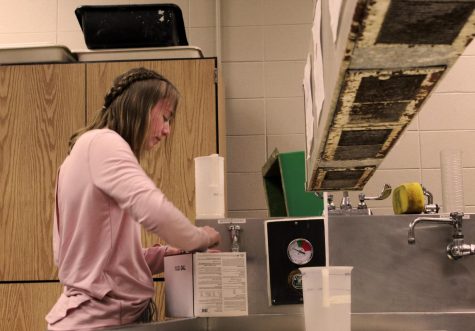 Kelsey Kurz, a senior who will be studying film and television at DePaul University, joked that growing up, she always emphasized that she would attend an art school, but her love for film and cinematography inspired her to enroll at DePaul.
Kurz didn't know exactly what specific art she wanted to study until her senior year of high school, when she began to dedicate much of her time to exploring cinematography.
"It kind of started when I finally became comfortable going to the movies alone, and that was when I really started to fall in love with film. It's like its own little world or universe," she described.
Kurz explained that she has big dreams for her future and hopes to work in film in New York City someday. She emphasized that her love for everything art-related is truly what shaped her decision to study film and television.
Senior Ashley Pignone feels the same about her future as an art major. As she prepares to study graphic design and visual communication at Montana State University, Pignone explained that many of her future career aspirations are inspired by her wishes to involve art into her everyday life.
"I didn't want to choose a major that I knew I wouldn't be satisfied in," she emphasized. "I thought that graphic design was the perfect in-between. I'm able to do something I'm interested in, and [graphic design] is up-and-coming, I know I'm going to be able to be productive in that field."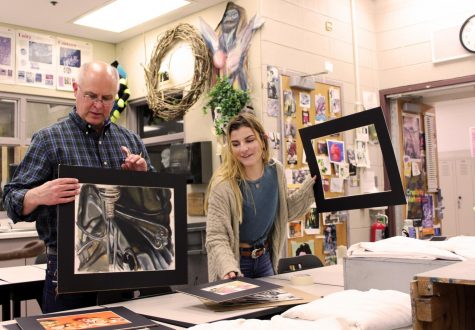 Despite the variety of art majors or career opportunities colleges across the country have to offer, artists like Pignone feel that many people don't understand how complex such studies can be. Mr. Ray Gossell, an art teacher at LHS, expressed similar sentiments.
"As an artist, you have to be on social media, you have to promote yourself, you have to keep on developing your portfolio, you have to send out the right things to the right people, you have to network — you have to go out and sell yourself," he explained.
And for Pignone, many people don't take art seriously to begin with, let alone understand its complexities as a career path.
"I get so annoyed. I just think it's so pathetic that people think their idea or opinion of success is what's right. You can never predict an artist's success," Pignone concluded.
Though, Mr. Gossell noted, despite what others may say, all different forms of art make up the world around us.
"Most jobs today have some sort of art background. Everything is visual, the internet, everything is visual, so you have creative visual artists creating all of this stuff. Anything you touch is industrial design; everything you use, it's designed by someone — it's art" he concluded.
Leave a Comment