Behind the Scenes at LHS
Mr. Chris Stancil, the building and grounds supervisor, wakes up at 4 a.m. every morning. He takes care of his son and dogs, then he's out the door. His son, Jack, was recently involved in a traumatic motorcycle accident where he suffered severe injuries to his brain and leg.
"He was on life support for about seven days. We didn't know if he was going to live or not," Mr. Stancil said.
Jack, who is a senior in high school, had eight surgeries performed, including brain surgery and four surgeries on his leg. Jack also had a couple of strokes, so the right side of his body isn't fully functioning. Mr. Stancil took 51 days off work, over the summer and at the beginning of this school year, to spend time with his son in the hospital.
The drive to LHS from the north side of Chicago takes Mr. Stancil about an hour depending on the traffic. He speaks with what he calls "a Chicago biker accent," and he carries certain joviality to his voice. During his drive, he listens to "old time rock and roll" to pass the time in traffic.
Mr. Stancil takes pride in his work, and he has a map of the school prominently displayed on his office wall that he proudly shows visitors. Mr. Stancil feels that he has a special relationship with the school. "I have 2,500 bosses," he said. He considers everyone in the building his boss, including "administration, front office staff, coaches and kids."
Half an hour after Mr. Stancil wakes up, Mr. Ron Curtis is up and about, getting ready for work. Mr. Curtis, the first-shift supervisor, is a soft-spoken man who enjoys his job and thinks that the lack of a routine schedule due to the job's unpredictability "makes it interesting." However, whenever possible, he does try to end every day with a routine: putting away his tools and making sure that everything is neat and orderly. More often than not though, Mr. Curtis's day consists of odd jobs and doing whatever is needed of him.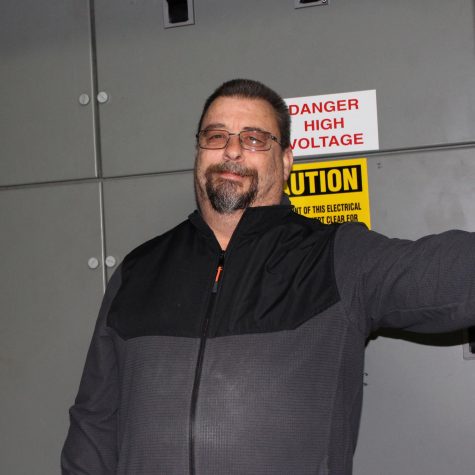 Mr. Curtis has been working at LHS for 27 years and has experience in both maintenance and plumbing. On the morning that an interview was conducted with him, he had just cleaned a smoke detector, which may sound like a simple job but actually is quite an ordeal. First, Mr. Curtis said, you have to identify the individual ineffective smoke detector; since there are at least 1,000 smoke detectors in LHS, finding the right one can be a challenge.
Once he finds the right detector, he calls the fire department and renders it out of service. Then he has to manually turn it off. Next, he uses a clean rag and canned air to clean the detector. "You do all this," Mr. Curtis said, because "when you're putting it back in, the electric current [can be enough to] put the whole building on fire. That's why we go through the process. You don't want to empty the building to clean a smoke detector."
The staff often has to go out of their way to make sure not to disrupt the day-to-day life of the school. This means taking extra steps to keep the students safe, and being extra careful when doing potentially dangerous things.
Half an hour after Mr. Curtis wakes up, Mr. Bernarve Ramirez gets out of bed and drives 10 minutes to his job here at LHS. He enjoys cracking jokes and often laughs at his own jokes. On nice days, Mr. Ramirez will ride his bike to school, but recently, the cold has forced him to drive. He has worked here for 13 years, and after working the third shift for a couple years, he is now working on the first shift from 7 a.m. to 3:30 p.m. He said he loves his job and likes seeing students as well as working with his peers. He mentioned how much he enjoys working with people, even if sometimes they can get on his nerves.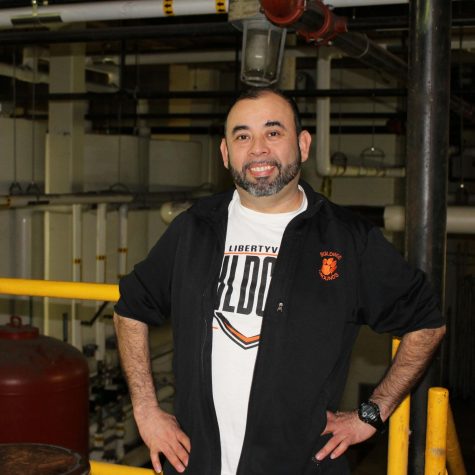 Unlike Mr. Stancil and Mr. Curtis, Mr. Ramirez doesn't actually work for District 128. He works for a company that District 128 subcontracts out to called Aramark. Aramark is a food, facilities and uniform services provider based in Philadelphia that often provides services for correction facilities and schools.
For Mr. Ramirez, it doesn't matter who is signing his paychecks, this job means feeding his family and putting his four kids through college. He and his wife work full-time to make ends meet. To Mr. Ramirez, everything he does is for his family.
"That's why I gotta work every day. I gotta work… [the district gives] me weekends, I go weekends," Mr. Ramirez said.
One thing Mr. Ramirez does notice is how little time off he gets compared to his district counterparts like Mr. Curtis. "The district has more holidays than us," he said. "Sometimes the district is not here but we have to [be] here. Sometimes the district lets them go home early, but us? No, we gotta stay the eight hours."
He mentioned that sometimes it makes him feel like he's not a part of the LHS family and that he thinks "it's not fair 'cause [they're] working for the same school." Despite how he feels, Mr. Ramirez needs the job and he enjoys it, so he does the work.
Mr. Stancil, a D128 employee, echoed his sentiment, saying that the staff "would feel more like a family if they were district employees." He also dislikes the fact that part of his staff is subcontracted out. He wishes that he could hire all his employees because it would give him more freedom over who he hires. Both Mr. Stancil and Mr. Curtis mentioned that more employees would be beneficial for the building and grounds staff. Mr. Curtis joked, "I don't know if we're understaffed or overworked," when asked about the number of staff members in relation to workload.
However, despite that, the staff members interviewed said the district helps them every step of the way and has always stood behind the building and grounds team.
The Building and Grounds department is made up of multiple teams. Grounds employees take care of the exterior grounds, sports fields and makes up part of the LHS Snow Command, which is in charge of keeping the school safe during the winter season. Maintenance also makes up a significant part of the staff; they are in charge of facility upkeep, both on the interior and exterior, which includes all the equipment in the building, like lighting, plumbing, locks, and windows. The third team is the custodial staff, which, according to Mr. Stancil, "is an integral part of building and grounds." They are in charge of the cleanliness of the building.
The custodial staff is made up of three shifts. The first shift takes care of all the bathrooms, locker rooms and the cafeteria all day. They also clean up spills, bloody noses, and the occasional throw-up. The second shift is in charge of setting up for after-school and athletic activities. Setting up is more than just cleaning, but the team usually ends up cleaning most of the classrooms as well. They also prep wherever the activity is going to take place. Finally, the third shift is in charge of athletic facilities and keeping those clean.
The building and grounds staff is in charge of most behind-the-scenes work that makes LHS run smoothly. One of the main difficulties the staff faces is how old certain parts of the building are. The building and grounds staff have to maintain some equipment that is up to 67 years old according to Mr. Stancil, and often the compatibility between old equipment and new equipment is difficult.
The campus is large. It has 55 separate roofs, 46 entrances, and 16 separate canopies, Mr. Stancil said. The LHS facility is only going to get bigger with the new addition of the pool, which is scheduled to open sometime this spring. Mr. Curtis noted that "there is always something that isn't working right."
Similarly, Mr. Ramirez noted that the older parts of the building are more work. The older things get dirtier and break down easier, he said, so the staff has to work harder to maintain everything in the building.
One of the ways that the staff keeps up with all the issues is a preventative maintenance program that ranges from checking the fire extinguishers and smoke detectors to roof cleaning and replacing motors.
Mr. Stancil remarked that "when everyone is off on breaks, that is when my staff gets most of the large work done … deep cleaning, preventative maintenance. Things that we can't do when the students and staff are here." He let out a little chuckle and added, "so I think when the students and staff come back, it makes it easier on us."
Even after school, it's hard for maintenance to get done because, as Mr. Stancil put it, "It's a madhouse!" After-school activities prevent any meaningful preventative maintenance or routine cleaning from getting done because of the number of people and the activities occurring in the building.
During the summer there are a large number of projects that disrupt many aspects of the building. Parts of the building are replaced, and other parts get massive updates. According to Mr. Stancil, it always comes down to the wire on summer construction completion, but the school is always ready to open.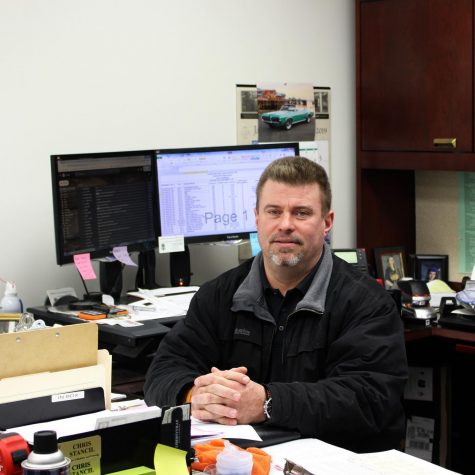 A preventative maintenance project the staff has been working on is replacing a 75-horsepower motor and pump at their chiller plant. A stand-alone building outside the fieldhouse, the chiller plant houses the hydroponics system that heats and cools the building. Three years ago, the district added the system, and now, according to Mr. Stancil, "[the school] is saving money hand over fist." The system works by not using steam to heat and cool the building, but instead using just water.
The staff only has so much money that they can spend on projects like this, otherwise, they have to open them up for bids. This means that they tell companies what they're looking for, and these companies give them price ranges and estimates on how much it will cost. Then the district picks the bid that they find the most cost-effective and beneficial for the school.
This particular motor project was small enough that there was no need for it to go out to a bid, but because of the benefits of the bid process, they did open it up. Mr. Stancil said they use this process to make sure they aren't overpaying for a product. Although big projects like this can be time-consuming and difficult for the staff, they are few and far between. Most of the jobs that the staff does aren't so big. They're smaller, like moving tables around in the cafeteria or prepping for a basketball game.
The polar vortex in late January caused extra work for the staff. With wind chills reaching down to -30 degrees and below, the weather became an around-the-clock undertaking for the staff. The building and grounds staff was on the campus braving the cold during this time. Regarding the work on days that the school ended up being closed, Mr. Stancil remarked that "I had guys here [at] 11 p.m., 12 a.m.,  2 a.m., 3 a.m., and stayed all day to keep the school open."
The school has Kubotas, which are smaller utility vehicles, that they use help keep all their facilities clear from the snow or other weather. They have to clear the Brainerd parking lot, Dymond parking lot and the walkways leading from both of those to the high school. They also clear the path to the parking lot across Butler Lake, even though they aren't required to.
While the staff sometimes faces much larger tasks, like snowstorms and the polar vortex or replacing the chiller plant's motor, for most of their jobs, it's the small tasks that take up the most time. Whether it's salting the sidewalks, replacing a smoke detector or setting up for after-school activities, the LHS building and grounds staff is always working just behind the scenes.
Leave a Comment