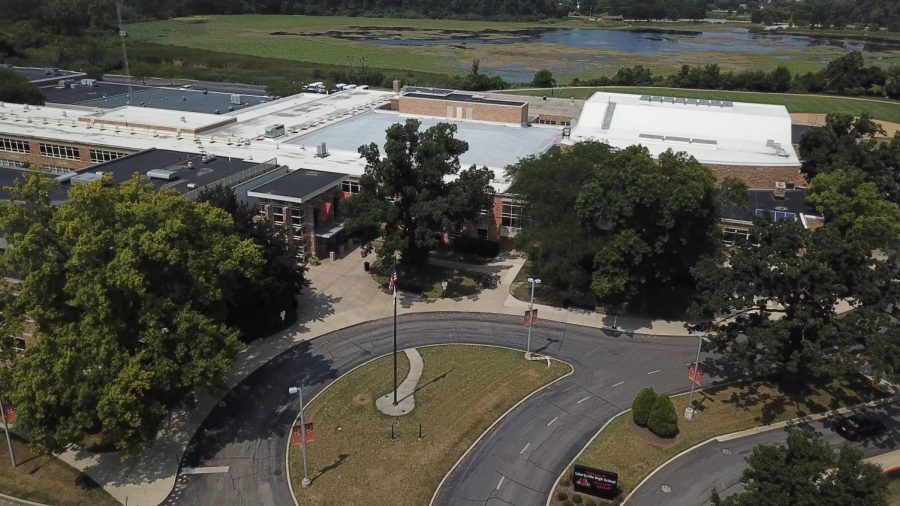 Libertyville's Environment: Making the Change
March 7, 2019
When walking through the halls of Libertyville High School, orange and black dominate the building, but many Wildcats have begun taking the extra step to make a difference, evoke change and help LHS go green. From recycling to planting native species, these students and staff are doing their part to leave a positive footprint on the environment.
Jake Short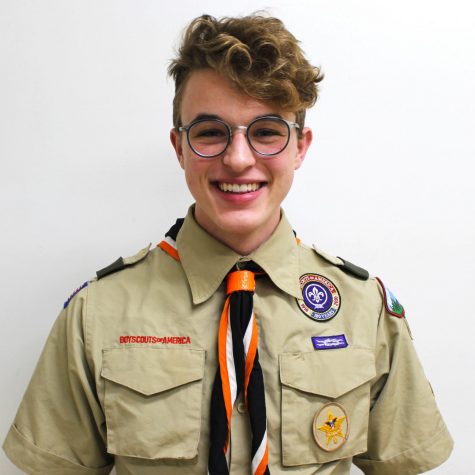 Sophomore Jake Short, a prospective Eagle Scout and football player, who is also involved in both Wind and Jazz Ensembles and the Symphonic Orchestra, hopes to remove invasive species behind the beach volleyball courts off of Route 176 next to LHS later this spring.
The effort is Short's Eagle Scout project, a service project showcasing leadership that must be done in order to achieve the Eagle rank, one of the most prestigious recognitions to earn in the Boy Scouts program.
"I knew I wanted to do something for the school to help better the environment [and] better the community," said Short, who has been discussing this project with Principal Dr. Tom Koulentes since August.
Eagle Scout projects must be approved by a Boy Scouts of America council before beginning, and to be approved, they must prove one's capability to organize and communicate with people. "It's not necessarily the size of the project, but it has to demonstrate your leadership abilities, so how you can assemble a group of people and give them instructions on how to complete the project," explained Short.
Currently, the area near the volleyball courts is overgrown with buckthorn, an invasive plant not native to Illinois, which Short will be removing in order to allow indigenous species in the area to flourish.
"[Buckthorn] is so aggressive that it's actually illegal to have on your property in some areas of Lake County because it just chokes out all of the native plants," said Mike Graham, owner of Landscaping Concepts, who will be teaming up with Short on the project to clean up the land.
Short explained that they plan to "clear it all out and make a nature walk with some benches where teachers can take their classes or students can go out there for study halls and hang out or do homework." He added that the benches will be made out of recycled composite boards and the woodchips for the nature walk will be made from the roots of the buckthorn that is removed.
Short will also receive help from the LEAF club, the AP Environmental Science classes and his Boy Scout troop.
"It's always kind of nice to know that there are some spots on campus that are just nature, no artificial or man-made stuff, and so once we clean this up, it can become a really beautiful spot," expressed Short.
Added Graham, "It's a very small section [of land] that we will be restoring but it is abundant with plants that, given the opportunity to grow and getting rid of the invasives, it can be like a mini nature preserve back there."
Before breaking ground on his project, Short must still receive approval from the Boy Scouts committee and the Village of Libertyville, even though he and Dr. Koulentes have agreed upon a budget and timeline. Since his project is visible from Route 176, it affects the community and must have approval from the village and from homeowners in the area before starting any construction.
Short hopes that the community thinks the project will benefit them as well as the environment, and he hopes to start removing the buckthorn in late March and complete the project in May. After that, the AP Environmental Science classes and LEAF club will help to maintain the native species.
LEAF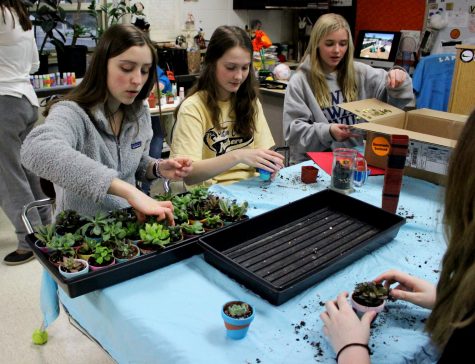 For more than 30 years, the club LEAF — Libertyville Environmental Action Force — has been promoting eco-friendly habits to LHS, along with the community. Many know LEAF for the recycling process they organize every other Monday, but their role has expanded from when it first started.
According to the LHS website, "LEAF's objectives are to promote environmental awareness and encourage environmental activities at LHS while networking with existing programs locally, nationally and globally."
The group has become more innovative in creating different ways to help the environment while being under the advisement of English teacher Mr. Dave Lapish for the past 15 years. He's a believer in the idea of doing "any little thing to make something better" and often encourages his own students in class to join LEAF.
One of those members is junior Megan Higgins, who has been in LEAF since her freshman year.
"I always thought [environmental efforts] were important but I never really got into it [before LEAF]. Mr. Lapish was my teacher [at the time], so he suggested that I join," Higgins explained. "Once I joined, I actually really enjoyed it and … I found my love for [the club]."
Higgins is now one of the four co-presidents who help lead and organize the club's activities. The leadership roles allow the students to contribute by researching potential projects or heading up fundraising opportunities.
Currently, LEAF is responsible for collecting the school's recycling bi-weekly either during second period or after school.
"Actually, one of our concerns is [if] people [are] putting the right stuff in the right place. People don't realize that somebody [at the recycling center] needs to separate the bad stuff out [of the recycling]," Mr. Lapish explained.
Last year, LEAF created posters that were hung in a majority of the classrooms that highlighted items that shouldn't be recycled as a way to raise awareness of the issue. According to Mr. Lapish, many items that are put in the bins could potentially elongate the process down the road by forcing workers to sort out what isn't feasible to reuse.
"I feel like the trash keeps building up and even at lunch people have empty bottles … but they don't think about [recycling]," Higgins expressed. "It's just things like that where people should find it simple because there are lasting effects."
Those involved in LEAF care about making environmentally-friendly changes in and around LHS but also strive to continue spreading awareness that will allow others to better understand our planet and its needs.
"I've always just felt like, wherever I am, I live, and wherever we are, we live, and that place should always be as clean as it can be," Mr. Lapish said.
AP Environmental Science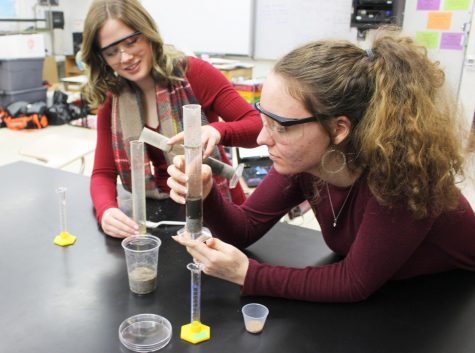 A global and local awareness of the environment may be critical to high school students as they shape their personal views. A new class at LHS this year ties these ideas together in order for students to examine how humans interact with the environment.
AP Environmental Science focuses on solving environmental problems around the globe while sharpening students' scientific thinking and application of knowledge.
"I love teaching [AP Environmental Science] because it really does combine all of the sciences together. Plus, the ethics and social sciences I've really enjoyed teaching as well because it's a part of our curriculum to teach what our ethical obligation to the environment is," stated Mrs. Jennifer Kahn, the class's teacher. She added that environmental science is a "unique science because it's not only science. We do politics and we look at philosophy so [the topics] are very broad and it extends certainly beyond the sciences."
Mrs. Kahn explained that environmental science and the social sciences have a lot of naturally integrated overlap and affect each other directly, which is why the class encourages looking at issues from multiple perspectives.
"There are many ethical dilemmas that we run into when we ask ourselves, 'What are the needs of humans?' versus 'What are the needs of the environment?' and then, 'Where are those overlapping?'" said Mrs. Kahn.
She emphasized that as the next generation inherits pressing environmental issues, it's as important as ever to be able to filter through misinformation in order to address some of the environmental problems being faced.
Senior Sophia Fisher's passion for the environment is what enticed her to enroll in the class, but it is through the curriculum itself that she has really come to grasp the current situation of the environment.
"I thought the environment was in trouble, but I didn't know how much in trouble it was until I took this class," explained Fisher. "I think it's really important to know about our environment because we're the generation that's going to see the most dire effects … we need to be prepared to know why and how [climate change] is happening so we can try to prevent it, [along with] creating solutions to reverse or prolong the effects of it."
Mrs. Kahn explained that the course is very lab-intensive and her students enjoy using Butler Lake as their "backyard laboratory." She added that "since our property really lends itself to being an outdoor lab, we really try to take advantage of that."
Mrs. Kahn also emphasized that the term "environmental science" is separate from environmentalism. "Environmental science looks from a scientific method standpoint at what are causes and effects of different interactions with humans and the environment," whereas environmentalism "conjures kind of a thought of activism."
Taking Action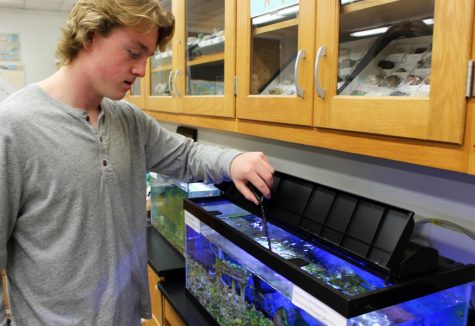 Many of the previously mentioned individuals and groups at LHS are collaborating together in order to broaden their spectrum of influence.
One of the ways that LEAF is attempting to expand their influence is by adopting larger projects that will impact more aspects of the school and community. They began by joining forces with the AP Environmental Science classes to work together with the hopes of creating outdoor classroom environments. LHS has four courtyards on campus, but most don't get utilized by students and staff members often.
"There are several courtyards here that are not really developed and they're kind of mangey as far as what's in there, with a lot of weeds," Mr. Lapish explained. "The courtyard that has the gazebo in it is the one that is going to be our first focus as a club, where we will be getting rid of all the grass, most, if not all the plants in there, and replanting them with native [plant species]."
Mrs. Kahn also added that the courtyard across from the gazebo is currently a memorial garden, and they are looking to make it "a more peaceful area of reflection but still as a memorial for students that have passed."
The groups hope to start the reviving process this summer by first killing the grass and invasive species, then replanting throughout the fall, although timing is still tentative.
Members of LEAF and AP Environmental Science are also striving to help more than just the humans at LHS have comfortable nature environments.
"We would like to have a monarch butterfly sanctuary. We plan on planting a bunch of milkweed and other plants that would be a habitat for monarchs to come eat and lay their eggs," Mr. Lapish explained.
The open area where they hope to create the butterfly habitat is by the tennis courts and JV softball field, though no official plans have been set.
"Having a property that's this size, we have some kind of obligation to manage it in a way that's sustainable and in a way that incorporates native plantings," stated Mrs. Kahn. She explained that native plants help to sustain biodiversity in local ecosystems and help to sustain native organisms that rely on these systems.
"With all of these [projects], it gives my students an opportunity to apply some of the skills that we have learned and to collect real data to use on these projects," explained Mrs. Kahn.
Fisher has found some of her daily habits have been revised after spending time learning about environmental science.
"I used to be really lazy with recycling … but now I walk around school with my empty water bottle waiting to find a recycling bin because I don't want to throw it away, because now I've seen the impact it has on the ocean ecosystems and the world as a whole," stated Fisher.
Through teaching this class, Mrs. Kahn has been reflective on her own environmental practices as well as the importance of teaching subjects like this. She explained that teaching environmental science helped her appreciate "the importance of passing this information down to the next generation and making sure that, as a member of society and one day as a voter, students are given the appropriate depth of knowledge in order to understand some decisions they'll have to make as consumers and as voters."
LEAF also has its sights set on helping LHS become more eco-friendly in other areas, such as water usage and energy conservation, along with pairing with an outside group called Destination Imagination — a volunteer educational group that, as its website states, teaches "'21st century' skills and STEM principles to students through collaborative problem solving challenges" — to add recycling into our cafeteria.
If and when some of these changes are implemented, they have the potential to greatly impact LHS's environment and possibly even make green one of the official school colors.