Not just a game
The squeaking of shoes. The high-pitched whistles of referees. The yelling of the players.
A spectator may think it's another nail-biting boys varsity basketball game — but they'd be wrong. It's an intramural basketball game.
Even with no student section, the players create their own roar. With fast-paced games going on throughout the main gym, the competitiveness is felt on every court. While the teams are playing amateur games, not for a regional title or a state championship, the competitions are still treated as such.
The hype is in the gym; it gets the players ready to go. The competitiveness and seriousness of intramural basketball is contagious from player to player and team to team.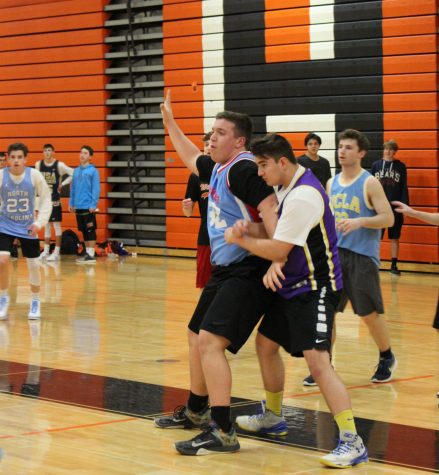 Back to Basics
While it is unclear exactly when intramural basketball began at LHS, it has gained more popularity in the past four years. Freshmen and sophomores participate in the first half of the intramural season, which takes place in the winter months of first semester. The junior and senior players participate during the early months of second semester.
This past winter, there were around 70 freshmen and sophomores who joined, creating 10 teams. About 90 juniors and seniors are currently playing, making up 11 teams.
Each junior and senior team roster features eight or nine players. Teams are often named after NBA or other famous teams, such as Team USA, and some teams wear coordinated jerseys to represent their team. Players pick the name of their team, and a handful of teams carry on their team name from previous years.
Coaches are not required in intramurals. "Players can put themselves in or pull themselves off at any time; we all trust each other," expressed senior Zachary El Ghatit, a three-year member of Lakers Purple, over email.
However, some teams, including El Ghatit's, have a coach if a  player is injured.
Coaches "give [the team] a nice pep talk before the games and get [them] inspired to go out there and try to get the [win]," voiced senior Matthew Gaines, a Lakers Purple player. Gaines's coach this season is injured senior Logan Sides.
The games are regulated by the basic rules for basketball and officiated by the boys varsity basketball players. Players come into the gym and shoot around to warm up before their game. They play two, 12-minute halves each game; games start every 30 minutes, just in case of issues or overtime. On Tuesday, Wednesday and Thursday nights, the games start at 6:30 p.m., running to 7:30. Games are commented on and run by assistant athletic director Mr. Christopher Davis.
In all seriousness
Intramural basketball defies the typical intramural sports expectations of laid-back competitions. It takes competitiveness to another level.
"[The competitiveness] adds a lot of spice to the games and trash talk is always fun. At the end of the day, it's all friendly though," voiced junior Samuel Paden, a three-year member of Team USA, over email.
Usually, if teams are waiting to play or have already played, they'll watch, scout and support other teams. No student section? No problem. Players keep the energy up by making their own cheers, acting as their own student section for every game.
Despite what some may think, some teams practice in preparation for their upcoming games. For example, some meet a couple days a week at Centre Club or at the Libertyville Sports Complex to fit in some time to improve their skills.
Lakers Purple "usually [goes] after school to [the Libertyville Sports Complex to] just have fun and get ready for the game," shared Gaines. Practicing beforehand gives players the energy that they hope will pay off on the court for the true competition.
There are many ways players get ready for their games. Junior Aidan Holmes, a member of Team USA, talked about his pre-game rituals: I "usually shoot … some threes and then [my teammates and I] kinda push each other around."
Most players play another sport, often with athletes from multiple grades, so a friendly connection exists between many competitors since some are familiar with each other. In part due to this, there's no real concerning tension with players.
"Besides in-game conflicts … There [are] fights, but fights over fouls and stuff," remarked Holmes.
Reffing the games: from players to officials
The referees for intramural basketball are not the typical ones you would expect to see in a black-and-white striped uniform. Basketball shorts and jerseys are more suitable to them. That's because LHS's own varsity boys basketball players control the game with a whistle in hand.
The referees know the rules of basketball, given that they spend a whole season playing by those rules. It gives them a different perspective on the rules and makes them understand calls referees make in their games, according to senior Travis Clark. There is no training they have to undergo because they play the game every day.
For each game they referee, they earn $5. While getting paid is a part of refereeing intramurals, it is all voluntary. Intramural reffing typically takes place after a practice for the boys basketball team. So for Clark, with a night of less homework, he'll stay and ref the competitions. Nine of the varsity basketball team's 15 players choose to ref during the intramurals season.
Some refs have friends who play intramurals. For Clark, that was a factor in why he chose to referee. Most of the referees are seniors who are reffing alongside fellow classmates. "I've played with some of [the intramural players] in different sports, [so] it's fun to watch them," voiced Clark.
Having friends in the league would lead some people to think it's a problem of favoring one player or team over another. But according to Clark, the referees don't let bias get in the way of their job — most of the time: "I mean, it happens, because the nature of the sport," he said.
Leave a Comment