Behind the Counter
With 400 business members as part of Mainstreet Libertyville, Libertyville's small businesses thrive because of invested owners, customers and community members. Mainstreet Libertyville is an organization which purpose is, as stated on their website, "to enhance our community identity and heritage, to foster a center of activity, and to ensure economic stability in the heart of Libertyville through concentrated efforts of education, design, promotion, organization, and economic revitalization."
Indian Motorcycle of Libertyville
A year is deemed successful for an Indian Motorcycle dealership when around 300 motorcycles are sold; this is comparable to a motorcycle being sold nearly every day of the year. In order for the business to achieve those results, co-owner Mr. Don O'Shea, said that they have to individually stand out from other dealers.
"It's important to differentiate yourself and to have products that other Indian Motorcycles don't have: custom paint and performance pieces. You have the tendency to attract people that could go to another dealer," O'Shea said.
The dealership, located at 416 N. Milwaukee Ave., was opened in June 2015 by the current co-owners, O'Shea and Todd Gaines.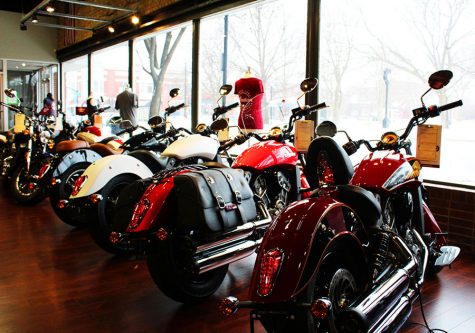 Opening this business was not the first accomplishment in Mr. O'Shea's life. A former college football player and executive for a multitude of information technology firms, it was only after retiring from the IT field that Mr. O'Shea decided to open a business. Although owning a business comes with responsibility, Mr. O'Shea said that it still allows him more freedom than he previously had; this freedom allows him to spend more time with his family and two sons, one of whom is an Olympic pairs figure skater.
When O'Shea considered opening a franchise, it wasn't the concept or prospect of riding a motorcycle that appealed to him but the quality of the product and the company's history.
"[Indian has] gone through bankruptcy and problems, but Polaris bought [the company] in 2011. They put a lot of money into the product and came out with a brand-new, re-engineered product that's high quality and has that iconic look like the old Indian," Mr. O'Shea said.
Before opening in Libertyville, the business partners renovated the building, which was previously a furniture store, from the inside; they added productivity and business improvements, as well as Indian branding and marketing.  
It was the Libertyville community and potential for high customer traffic that drew the co-owners to the location.
"A lot of motorcycle people like to ride to a destination and [the store's location] was perfect because you have other reasons to come here," Mr. O'Shea said, expanding upon the different restaurants and shops in the store's proximity.
O'Shea further described that with maintaining the business comes maintaining relationships, which sometimes even turn into friendships.
"You have to build a positive reputation with customers and to us, customers are everything. That's how we pay our bills," O'Shea said.
Heather's Gym
Originally intending to make her impact on the world with a law degree, Heather Fahrenkrog practiced law as a prosecutor for 19 years before retiring to follow different aspirations. Those aspirations were in fitness, and Fahrenkrog chose to pursue that by opening multiple gym locations in the Libertyville area.
"I like to have fun, but I'm also very disciplined and organized. I feel like all of my best attributes shine here," Fahrenkrog reflected on her career change.  
Although Fahrenkrog opened her first studio in June 2016 and another in September 2017, she has prioritized fitness throughout her entire life.
Fahrenkrog's parents were involved in the fitness industry themselves. Her father, a bodybuilder, claimed the title of Mr. New Jersey, and her mother taught at one of the earliest aerobics gyms. This exposure from a young age provided her with the experience to teach impromptu classes while in college and pursuing her career in law, as what she described as a fun side job.
Despite starting on a completely new path just a few years ago, Fahrenkrog intends to accomplish even more than just her fitness studios. While teaching multiple classes a day, on top of running a business and having responsibilities as a parent, Fahrenkrog has set time daily for personal growth and development.
"You're always going to be learning and growing. You're not going to reach some point and be like, 'I'm done, I achieved it.' You're always going to be looking at the next thing," Fahrenkrog said.
In that same mindset, Fahrenkrog expressed that, in the future, she would like to write a book and host a podcast to inspire and empower women alongside speaking opportunities outside of her classes.
Fahrenkrog instills these same goals for her 12 instructors by investing in them.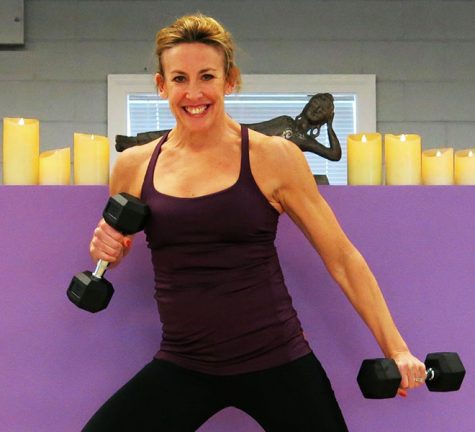 "I've surrounded myself with smart, hard-working, creative women who work for me, but they're also members. I trade them, their classes are free and I pay them on top of that, depending on what they do," Fahrenkrog said.
Along with her instruction team, Fahrenkrog also employs someone who controls the business' marketing. This employee works on Facebook, Instagram and Twitter to promote and spread the word about the gym and its various events.
Some recent marketing of the business was a collaboration on Facebook with Pizzeria DeVille. This was a video that introduced a raffle that customers who were dining in at Pizzeria DeVille could enter to win a six-month membership to Heather's Gym.
Fahrenkrog expressed that she remains content with her career change.
"I've found my dream [and] I'm living it. Working harder than I ever worked as a lawyer, that's for sure," Fahrenkrog said.
The Picnic Basket
On the corner of Milwaukee and Cook Avenues lies The Picnic Basket: a corporation founded in 1980 by Catherine and Ahmed Amin with the help of their friends and family members, who made up their original stockholders.
The Purdue alumnae and then-newly married couple bought the business, which previously held a Sicilian bakery. After briefly being a bakery, Picnic Basket was rerouted to be a deli and sandwich shop.
Both Amins expressed that the first days, months and years of the business were a challenge. The difficulty level of owning a business even drew parallels for Ahmed to the Olympics, as he was an Olympic swimmer who competed for Egypt in the 1972 Olympics.
"When I do something, I have to do it right, and I have to do it perfect, and I can't sleep unless it's done right," Ahmed said.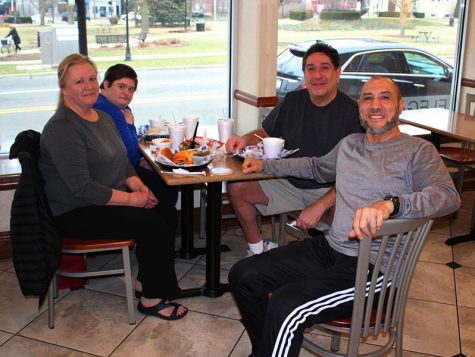 When training for the Olympics, Ahmed would swim in the Lyon River because of the strong current and mud, which helped him form into a stronger athlete.
He went on to earn three gold medals, two silver and one bronze in his career. Alongside those awards, he set the world record twice (in a row) for marathon swimming in 1974 and 1975. A professional circuit career allowed Ahmed to travel the world to places throughout Africa, Europe and North America. Because of the fact that his only pace was his fastest, his teammates nicknamed him "bizerk".
It wasn't until 1978 when Mr. and Mrs. Amin met that he ended his competitive swimming career.
The couple described that they worked constantly to improve and grow their business for the past 38 years.  
"Now we've been here long enough that we've established things. With that said, we have to be on our toes 24/7 with everything because things can change like that; a reputation can change so quickly," Catherine said.
In 2010, Picnic Basket expanded into the building next door, now increasing their space with two store fronts. Catherine explained that they never used to have seating, which they now do, because of the renovations. There is also a better flow, traffic pattern and a larger kitchen that helps with their catering business.
The couple has three children, all of whom grew up working and spending time at their business; Mr. and Mrs. Amin described that because of this, their children learned how to budget their money and the value of a dollar.
As for the exact future of the 38-year-old business, that's undecided.
"I don't know what I'm going to do but I don't plan to work forever — three, four or five more years. But it's really an institution in town. I think we're about the longest, single-owner business in town, and I'd like it to continue," Catherine said.
Singalila Gallery
For the year prior to opening Singalila Gallery in November 2011, owner Carley Matyas, a Madison, Wisconsin, native, traveled throughout Asia while living in Kolkata, India.
The inspiration for the clothing and jewelry store, which occupies a storefront on Libertyville's Milwaukee Avenue, came from a national park in India. The store opened just three months after Matyas and her husband, Kevin Matyas, returned.
"When we came back from India, [I] felt empowered because there are just so many opportunities here. I think as women, we don't take advantage of them sometimes," Matyas said.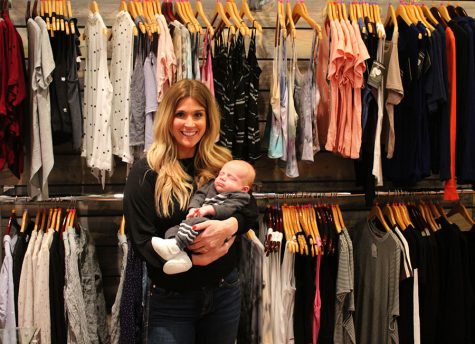 The couple found themselves in India because of Kevin's job. During their time there, Carley described the humbling experience of witnessing areas of intense poverty amidst the city of 15 million people.
"You just can't ignore it. It's everywhere you look," she said.
Being open for the past seven years, Singalila has evolved from selling home decorations to more clothing and accessories alongside their own jewelry brand: Sparkle For The Soul. Sparkle For The Soul started with Matyas as designer and her mother, Jen Laufenberg, as jeweler; they co-own both Singalila and Sparkle For The Soul.
For Matyas, the success of her business is directly related to her love for her work, the business and her relationships with customers.
"I do everything with love. If you love something so much, it's only going to succeed," she said.
Singalila is open five days a week and specifically not on Sundays so that Maytas and her employees can spend time with their families. With a newborn son, Beckham, the work-life balance is important to the Matyas family.
Looking forward, Matyas expressed how she would like to expand the business online. Currently, the only way to purchase from Singalila is either in-store or over the phone.  
"The community is what makes us. It's why we're here. Without that, we would have nothing. I wouldn't want to be in another location. The people are amazing and it's just a really good vibe," Matyas expressed.
Dos Amigos
"I'm 59 years old. Maybe I waited too long to do this, but then again, I would've lacked the experience to do this when I was younger," Sergio Casillas, the owner of Dos Amigos restaurant, recently reflected.
That experience he gained spanned from when he first started working at 13 years old as a dishwasher, to nearly two years ago, when Casillas and the restaurant's co-owner, Oscar Garcia, opened Dos Amigos on Rockland Road.
Casillas and Garcia knew each other for 20 years prior to Dos Amigos' opening. They met through working at a bakery-deli restaurant called Once Upon a Bagel, located in Highland Park.
The inspiration for the restaurant's name stemmed from the relationship that the co-owners have.
"Dos Amigos just represents me and him: two friends," Casillas said.
Casillas described the importance of having his 15 full-time employees; he expects his employees to positively interact with the customers, as they represent the business. Casillas and Garcia carry these expectations into all of the employees, especially those who work in the kitchen and prepare food.
Mr. Casillas said that a customer getting sick would be caused by a careless cook, adding, "it will ruin the business."
Procedures and sanitation are among Casillas' greatest concerns. Casillas starts almost every day at 5 a.m. to prepare the kitchen. Casillas stated that he cares deeply about this part of this business, not only because it is important to conform with the health code, but also as it is the proper thing for a restaurant to keep its customers who eat there safe.
"When you drive through the neighborhoods [in Libertyville], you can see the architecture, how old they are and how well-maintained they are. You also see new construction that matches up with any other places of the North Shore. To me, this is a good mix of people — nice people, hard-working people. Being here, I see that in the customers," Casillas said.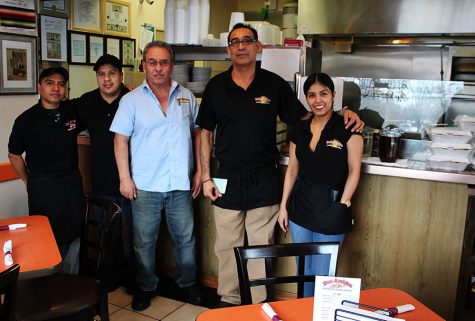 Casillas and Garcia dream of owning a bigger and more efficient restaurant while keeping the current location. More efficiencies include a double door so that the restaurant and customers will be at a more comfortable temperature during the winter months. A separate work station for parties and catering is also a priority in another location. While they would like to have those aspects of a restaurant, they would also like particular things to remain the same, including an open kitchen.
"I like that people can hear when I throw the meat on the grill and people can sometimes see the smoke coming up. When you walk in the door, you can smell it. Importantly, you can see the cooks working their butt off to get the food out," Casillas stated.
Serendipity
"'Serendipity' means the lucky tendency to find interesting or valuable things by chance. We knew with opening up a store, we didn't want it to be limited to just clothing. We wanted it to be just anything really. That way, with Serendipity, you come in here, you get [gifts and jewelry], and it really is the lucky tendency to find an interesting or valuable thing by chance," said current owner Ms. Kendra Dean.
The idea for the store name first came about when the Dean family bought a barn door with the definition of serendipity inside of it.
The store first opened in March 2006. Since then, the store has been run by three generations of women. Ms. Dean works closely with her grandmother, mother and sister, especially with their in-house jewelry brand, 3 G's Jewelry. The three G's stand for God, giving and gratitude, as well as their three generations of family.
Ms. Dean took over the business from her mother after graduating from the University of Kentucky with a degree in fashion merchandising almost three years ago.  She moved the store from across Liberty Theater down Milwaukee Avenue near Mickey Finn's, which increased sales by 400 percent, she said. Other improvements followed, like better parking, foot traffic and a bigger space; it also transformed the store from previously being a destination spot.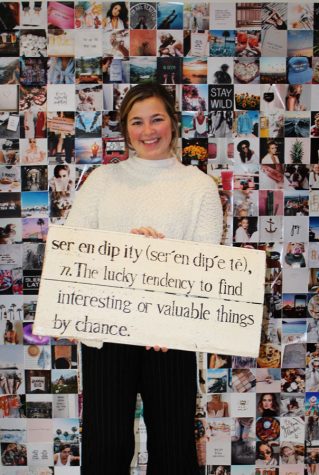 Due to their separate websites for 3 G's and Serendipity, along with their social media presence, their business has been noticed across the country. Ms. Dean said that she receives the majority of her orders from Libertyville and Chicago, but also about 40 percent from Dallas, TX. Recognition outside of the Chicagoland area has also been helped by more than 20 brand ambassadors. After going through an application process and being selected, these ambassadors are attached to their brand name.
"[The ambassadors let] their family, their followers, their friends know about the product and where they can find it," Ms. Dean said, adding that she will be having clothing ambassadors in 2019.
Although Ms. Dean faces challenges on a daily basis, she called this her "dream job."
"I wouldn't necessarily call it work. I'm lucky in that aspect, but the work-life balance is difficult," she said.
Ms. Dean described that she hopes to expand her online presence, eventually hoping to have a warehouse that ships online orders, as opposed to orders being shipped in-store.
Luminous Nails
Mongolia, a country located between Russia and China, is home for Ariuntsetseg "Ari" Bataa, owner of Luminous Nails and Beauty.
Bataa and her business partner, Amy Batkhuyag, opened the salon in June 2016.
"I found a couple of different locations and this place has more space than other places. I liked the hair salon, the Dunkin' Donuts and Chipotle, but most importantly, the parking," Bataa said.
While growing up in Mongolia, Bataa had experience in this particular line of business. In high school, she worked at her mother's nail salon.
Now an esthetician, after getting her degree from Estelle Spa in Skokie, Bataa does nails as well as facials. An esthetician is someone who performs facials, waxing and other skin care treatments. In her salon, she does more manicures and pedicures than facials, and she expressed that she prefers the latter.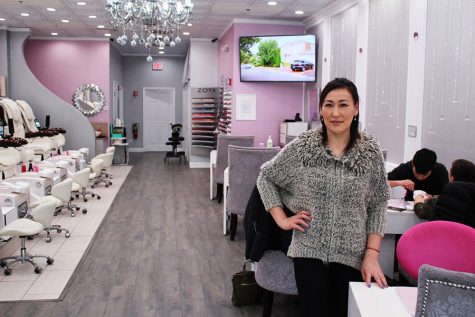 Luminous Nails takes sanitation and the safety of their customers seriously, as described by Bataa. Precautions such as the installation of individual ventilation systems along with using different nail files and replacing gloves are put in place.
Of equal importance to Bataa is the use of less-toxic nail polishes like Zoya and Be Bio. Both polishes were selected because they do not stain or weaken the nails, unlike some other nail polishes.
Bataa further expanded on her future intentions for the business, explaining that she would like the nail salon to develop into a common place where customers can engage with friends and family amidst a relaxing environment. While Bataa enjoys the Libertyville location, she added that she wants to open different locations.
Leave a Comment