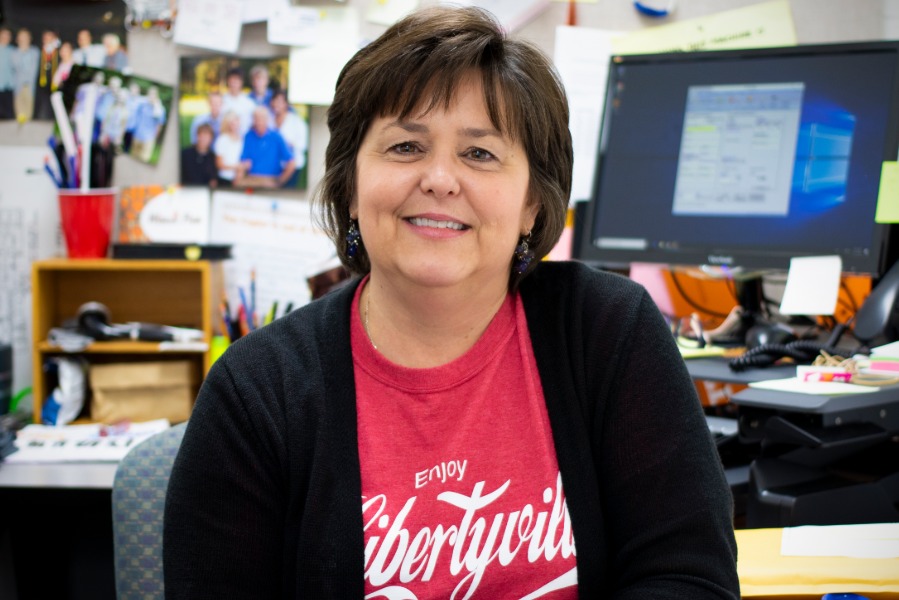 Mrs. Cote
Mrs. Sherri Cote began working as a teacher support clerk in the Teacher's Center because of her connection to the community and proficiency in customer service. This is her sixth year at LHS, and her interest in the job spiked after being a stay-at-home mom for the previous 21 years.
During that time, Mrs. Cote spent a lot of time volunteering at Highland Middle School and LHS, volunteering with Parent Cats, the main parent group at LHS; she has been a board member of Parent Cats since 2007. "Working at a school just seemed the right place to be," she expressed.
Mrs. Cote has had four kids graduate from LHS, and her fifth child, Jillian Cote, is a current senior. When she went in for the job interview in the summer of 2013, Mrs. Cote was sure to keep an open line of communication with her kids about her potential job at the school.
"They were a little apprehensive at first," she admitted. "[But] we came up with this agreement that what happens at home stays at home [and] what happens in the Teacher's Center and with the staff stays here in the building." This includes times of fire drills, updates on a particular person in the building or any other information that doesn't relate to her children outside school.
Over time, Mrs. Cote recalled that her kids began to see the benefits of having a parent who works in the school. When they are in sports, her kids can drop off their sports bags in her office. If they forget money for lunch, all they have to do is stop by and ask.
Mrs. Cote's position at the school is convenient in other ways as well. "[Working here is] a really nice fit because I don't have a lot of interactions with the students and their friends, so [my kids] were like, 'Okay, you can be in my building as long as you stay in the Teacher's Center,''' she laughed.
Working in the Teacher's Center gives Mrs. Cote the opportunity to help teachers with their printing. Her job responsibilities are to control incoming and outgoing mail and to monitor the copy machines, assisting teachers that drop by or have copy requests. "I really think of this job as a customer service job; I really enjoy the interaction with the staff."
Mrs. Audrey Glenn, the substitute teaching coordinator at LHS, works in the same office as Mrs. Cote.
"She's a pleasure. She really always puts everybody else's needs in front of hers," Mrs. Glenn said. She added that sometimes she tries to get Mrs. Cote to focus more on herself and leave on time at the end of the day. "'No no no, [it's 5 p.m.], you should go home!'" Mrs. Glenn said, imitating herself with a laugh.
Mrs. Cote expressed that there's something to be said for learning how to interact and deal with people. She moved to different towns and schools a lot when she was younger, but her family settled down after second grade. "[Moving around a lot] taught me I have to walk into a room where I may not know a lot of people and just kind of go for it," she shrugged. This helped her delve into customer service as an adult.
"It's really important that I like the people that I work with; I wouldn't stay if I didn't," Mrs. Glenn disclosed. Since she and Mrs. Cote are in close quarters for much of the day, Mrs. Glenn stated the two have become close after their years working at LHS.
This year, Mrs. Cote revealed, "There's a lot going on in the Cote household and here at school." Her youngest of five, Jillian, is graduating high school and will be heading off to college, and another one of her kids is graduating college this year.
"It'll be interesting to see how [Jillian's] transition is different from her brothers'," Mrs. Cote said.
An important lesson Mrs. Cote believes all young people can learn is to "be open to new experiences [and] to try things to step out of your comfort zone a little bit." Mrs. Cote herself didn't go to college the traditional way ("if there is a traditional way," she added).
She worked full time while attending night school at Roosevelt University, graduating in 10 years. It gave her a new perspective when her kids were talking about college and further schooling. "[My kids asked], 'What are [fraternities] and sororities like?' I was like, well, they don't really have frats and sororities at night school…" she said with a laugh.
Mrs. Cote said this prompted her to realize people should take advantage of the chances and experiences when they can. "When you have that opportunity, take that," she said. "Take advantage when you're away at school go see a guest speaker, go see the play, reach out and talk to people that have had different experiences from you."