New changes coming to LHS next year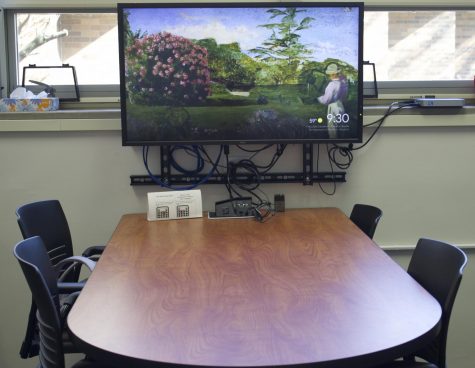 At the start of the 2018-19 school year, LHS will experience changes within the curriculum and the building itself.
Many physical classrooms themselves will change. The PAWS room (007) will be moved and that space will be converted into a casual study center for students. Before and after school, teams and clubs will be able to use the space as well.
This summer, LHS will be modernizing the computer lab in room 122 and the FLEX lab (151) and Drop-in Lab (150) will be changed.
"The DIL and the FLEX rooms are going to be converted into student innovation and collaborative rooms so any teacher can bring any class down to use that room," said Principal Dr. Thomas Koulentes. "It's going to have a lot of technology and a lot of comfortable furniture. It's kinda gonna look like a Google office."
In addition to the new furniture in the resource centers, there is also some being added in certain classrooms. Dr. Koulentes stated that this furniture will be there to enhance the comfortability of students, which can help improve their academics, too. Some of the furniture will include couches, booth-like seating, high tops, and more modernized seating.
Another improvement will be a new heating and cooling system on the second level to help prevent the extreme temperatures in the upstairs classrooms, according to the school board minutes for the March 24 meeting.
The press box by the football field will also be getting a makeover, with new siding. In the parking lot and some classrooms, new LED lights will be installed as well.
A big change could be the school start time being moved up. The district has recommended a later time for school, but the teacher contract for next school year hasn't been finalized, which affects if this will be implemented.
The D128 board meeting minutes from the end of March state that "Several important components regarding the recommended schedule are subject to the collective bargaining process, which is currently ongoing. When an agreement is reached, it will become part of the final agreement. The [teacher] Union is a full collaborative partner in this discussion."
On a curricular level, one change will be the addition of the AP Research class. In the class, students will pick a topic they have an interest in to do a yearlong research project. The project includes a 4,000-to-5,000-word paper and a presentation.
AP Research's prerequisite is AP Seminar. If students take both AP Research and AP Seminar, they are eligible to receive AP Capstone certification. According to College Board's website, "AP Capstone™ is a College Board program that equips students with the independent research, collaborative teamwork, and communication skills that are increasingly valued by colleges."
Another change to the AP courses includes the switch of AP Psychology from being one semester to a full year and AP Macroeconomics being changed into AP Economics. In AP Economics, the class will cover both the AP Macro and Microeconomics material in a yearlong class instead of a semester of AP Macroeconomics.
LHS is also offering blended Algebra Two and Chemistry classes as well as a pilot Rape Aggression Defense training for some sophomore girls in P.E.
The P.E. department will be adding advanced weightlifting and advanced CrossFit due to high demand.
Sophomores will also be able to exempt from P.E. class if they are on any level of LHS athletics next year. In previous years, only seniors and juniors could exempt, but the 2016-17 school year was the first year that upperclassmen could exempt if they were on a JV sport.
"Expanding the opportunity to…sophomores as well would be beneficial. A student-athlete is already getting their physical activity through the sport they are in," said freshman athlete Morgan Spaulding. "Being in a sport, you have less time to study and do homework outside of school, so when gym is replaced with a study hall, I think that helps out a lot with the balance of school and sports."
View Comments (1)