Juuling: The Cigarettes of This Generation
Editors' Note: Although the topics of Juuling, both on and off school property, are mentioned in this article, Drops of Ink does not condone or promote the behavior discussed here, given that, for all students under the age of 18, such activities are illegal. The students pictured within this story are of age, off-campus, and not involved in any school activities that subject them to the Code of Conduct. We as a staff believe that it is our duty to report on events and experiences that occur in high school and are aware that while not every student engages in these acts, there are some who do, making this a relevant and worthy topic to discuss. If anyone is negatively affected by this article, we encourage you to seek help from your counselors and/or LST. Since illegal activities and actions that go against the Code of Conduct are discussed in this article, all individuals interviewed were granted anonymity, aside from their grade and gender. Pseudonyms are used to help identify the students interviewed.
It's fifth period lunch. Getting the sudden urge, a student scurries to the nearest restroom, locking the stall behind them. A different student, washing their hands, takes a quick glance in the mirror and sees a smoke cloud drifting upwards from the stall: someone is Juuling.
This is becoming such a common occurrence that it doesn't even phase the student washing their hands. Juuling is the cigarette of the 21st century.
What is Juuling?
According to the Juul brand's official website, Juuls were created as an alternative to cigarettes by a company called Pax Labs. It's important to note that a Juul is a specific brand of electronic cigarettes. The Juul vaporizer has regulated temperature control and uses nicotine salts found in the tobacco leaf, unlike free-base nicotine, which is used in standard e-cigarettes.
The intended purpose of the Juul is to accommodate cigarette-like nicotine levels to meet the standards of smokers looking to switch from smoking cigarettes, according to the Juul Vapor company. The body of the device contains a battery that has a temperature regulator and a set of sensors to give readings on the device's charge level and to sense when one was Juuling. A Juul looks like a flash drive and, likewise, can be charged by using a computer.
A Juul pod is an interchangeable part of the Juul and contains nicotine among a dozen other chemicals. The pods can come in various different flavors, however, they all have the same chemicals present because the company has not created any nicotine-free pods, as stated on their website.
The effects of Juuling
Smoking one Juul pod is the equivalent of smoking one pack of cigarettes, in terms of their nicotine amounts, and it provides 200 puffs from the Juul.
The Juul Labs' website stresses that the Juul is intended to help adults recover from smoking addictions, but it ultimately weans one off of cigarettes onto another product that contains nicotine. In addition, their website states that, "No tobacco or e-liquid product should ever be considered 'safe.'"
Due to the contents in Juuls, the short-term effects of hitting a Juul can include an increase in heart rate, which raises the risk of heart attack and stroke. The U.S. National Library of Medicine-National Institutes of Health states that absorption of nicotine can change the normal functions in the hippocampus and cerebral cortex in one's brain, changing its development.
According to the Encyclopedia for Men's Health, "Nicotine binds with dopamine receptors in the brain, stimulating the brain's mechanisms for perceiving pleasure." Thus, from the moment nicotine enters the bloodstream, it creates a "buzz" that some teenagers crave and can become addicted to.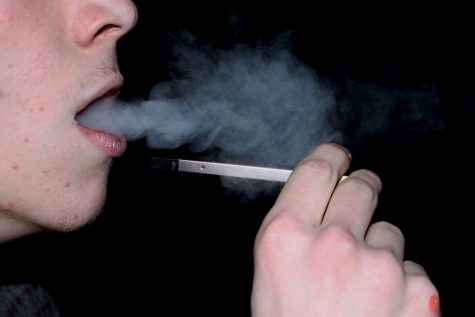 The increasing popularity of Juuling has grown in such a short period because of its addictive component: nicotine, which the Centers for Disease Control and Prevention classifies as Immediately Dangerous to Life or Health. Continued use of nicotine increases tolerance, making an individual require more and more of the substance to recreate the desired effect.
There is great reason to suspect that Juuling does have some serious, long-term health effects similar to smoking because of the acting nicotine agent. Mr. David Kreutz, a science teacher at Libertyville High School, said that, from his own research, while a Juul or an e-cigarette is definitely a better option in comparison to cigarettes for smokers, that doesn't mean it is ideal for those who aren't already addicted to nicotine.
LHS' School Resource Officer, Mr. Dusan Racic, expanded on why Libertyville High School and local law enforcement respond with such severity when individuals are found guilty of Juuling under the legal age, which is 18: "We still don't know the long-term health effects of using these things."
"
"I would have never taken myself to have [a Juul] a year ago. I always thought that it was stupid. But now, as more and more people got one, I thought, 'Oh, maybe I should just get one.' So I definitely think that the [peer pressure] is catching on in our society and at Libertyville too."
— Noelle, senior
Juuling in Our Community
In the LHS community, Juuling has become a popular pastime among some of the student population. The 2016 Illinois Youth Survey revealed that about 6 percent of freshman, 11 percent of sophomores, 19 percent of juniors and 20 percent of seniors said they used e-cigarettes in the past 30 days.
While some may think that the numbers will be higher in the upcoming year, Dr. Nelson, who is the prevention and wellness coordinator at LHS, believes that "Juuling and vaping are getting a lot of attention in public health and law enforcement circles right now, so I suspect that's a sign that use is rising. Whether actual rates of use among LHS students is rising would be speculation on my part," Dr. Nelson said over email.
Some students admit that they were inspired to start Juuling as more students at LHS started using it.
"I would have never taken myself to have [a Juul] a year ago. I always thought that it was stupid. But now, as more and more people got one, I thought, 'Oh, maybe I should just get one.' So I definitely think that the [peer pressure] is catching on in our society and at Libertyville too," stated Noelle, a senior.
During interviews for this story, one theme that remained constant was that a majority of the students who Juul are upperclassmen. This can partly be attributed to the legality of Juuling because people who are 18 years of age or older can legally buy a Juul in Illinois. Although, according to the Chicago Tribune, Lake County is one of the first counties in Illinois to raise the minimum age to buy cigarettes, tobacco products and electronic cigarettes to 21, this law only affects unincorporated areas, so it doesn't have a widespread effect. While individual towns like Vernon Hills have raised the age to 21, Libertyville Mayor Terry Weppler told the Tribune that "he isn't planning to schedule a discussion because his community doesn't have the authority to make that regulation."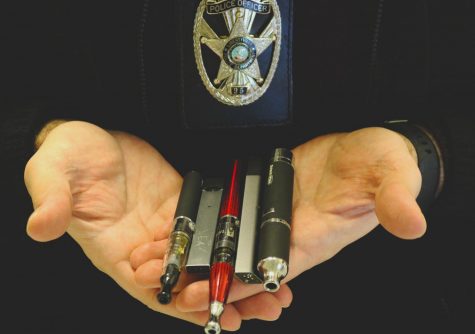 Despite the age restriction, Bea, a junior who is 17, still manages to Juul and believes that upperclassmen have "an advantage" because they are old enough to buy Juuls themselves. Bea said she gets her Juuls and Juul pods from older friends who can buy them for her.
"It was really hard at first [to find someone to buy a Juul from], but now," there are many people who know someone that she can buy from. She expanded that "it's not as hard as it was back then."
When Noelle was asked why she decided to take on Juuling, she essentially boiled it down to one factor: peer pressure.
"Everyone kinda does it now, so it's more of a normalized thing. Plus, you get a really good buzz from it," she said.
For others, Juuling is an alternative to drinking or smoking weed, as one will still get a "buzz," while still remaining in control of their body.
"I don't like being out of control. So when you're using a Juul, you don't lose any control. It's not like you're high or drunk. It's nothing like that. You're totally fine… you have total control of yourself," Bea stated.
In the case of Juuling at Libertyville High School, if one is caught, they receive a Code of Conduct violation. Although those students legally can be in possession of their Juul, they still attend LHS and cannot use it on school grounds, as stated in the Student Handbook. A code violation of any kind can negatively affect a student's reputation within the school, as well as cause repercussions outside of the school.
While many students are aware of the potential consequences that can ensue if they are caught Juuling, factors like addiction cause them to use it at school.
"It was curiosity at first, but now I [Juul] because I'm basically addicted…I [smoke] a couple periods a day. If I don't, I guess I just get more tired. It helps me wake up too,'' stated Bradley, a senior.
To keep up with his habit, Bradley chooses to smoke in the school bathrooms.
"I just go in the bathroom. First off, I [try to] use the all-gender bathrooms because you're the only one in there and you don't have to worry about the smoke. But if not, I just go in a stall in a regular bathroom and then you have to hold the smoke in if there's anyone else in the bathroom. If there is no one else there, then you can blow it out,'' Bradley disclosed.  
Some people who Juul are aware of the consequences of addiction, so they try to limit their consumption.
"I definitely just use it more at parties. I never bring it to school. I do it maybe once or twice at home, but I never bring it to school. The biggest thing for me is not to get addicted to it or feel like I need to do it, so I really try to limit how much I use it," said Noelle, a senior.
She further elaborated: "I've definitely heard of people who use it in school because they feel like they need it [or] they're addicted to it. I don't think it's a good choice because I've heard of people who've brought it to school and have been caught. I would never bring it to school."
Since Juuling is such a growing phenomenon, some may wonder how more students don't get caught.
"I know that the security guards are really strict on the guys. They have seperate rotations. Someone is always in the bathroom getting caught Juuling. But they don't really think that girls do it, so they kind of back off," Bea said.
When it comes to the health effects of Juuling, some students who Juul admit that they are unaware of the effects of Juuling but continue to do so without knowledge of its potential consequences.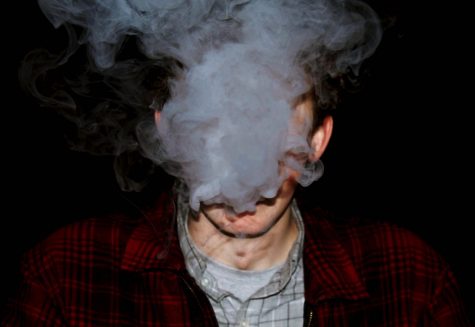 "I'm not really educated on [the health] aspect. I haven't heard of anything that's bad other than the chemicals in it. But I'm not really as educated as I should be," Noelle revealed.
However recent Juuls are to the market, electronic cigarettes have been in existence since the 1960s, according to research collected by Mr. Kreutz. They now have become a big business for many companies; according to the CSP Daily News, a publication that reports on, among other things, convenience store retail sales, global profits from e-cigarettes will reach $27.7 billion by 2022. This number is small when compared to traditional cigarettes' global revenue of $816 billion in 2016, as reported by a clinical research company, IMARC.
According to Officer Racic, the popularity that has surrounded Juuling in Libertyville alone has grown in the past year. Before Juuling, there were alternative ways that students were smoking, like vaping. But at least 10 Juuls from this current school year have been confiscated by Officer Racic, he said.
As more students become aware of the dangers of cigarettes, the amount of students smoking them is at an all-time low; however, Juuling is on the rise. Officer Racic has certainly noticed the devices' rising popularity at LHS: "Most definitely [Juuling has grown in our community in the past year]. I've been encountering them more and more as this year is progressing."
That serves as further proof that Juuling and e-cigarettes have become the cigarettes of the generation.  
View Comments(1)