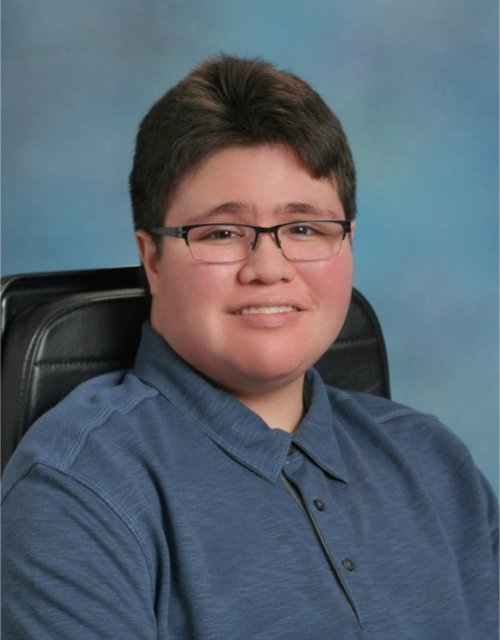 Zachary Neir
When a person passes away, people remember them for many different reasons. It could be for their personality, their hobbies or their effect on the people they met. Zachary Neir will be remembered by many as a kind friend, someone who was accepting to everyone and everything.
On Friday, Nov. 25, Class of 2016 graduate Zach Neir, who attended the College of Lake County, died at his home due to complications with duchenne muscular dystrophy. He was 19 years old.
Neir began his time at LHS being right alongside LHS special services worker Kathleen Geryol, who was the main person in charge of accompanying Neir to all his classes. When he was a freshman, he was a little afraid of being in the halls: "I'd say to him, one of these days he's gonna be the mayor of these halls," said Ms. Geryol.
During his time at Libertyville, Neir enjoyed many aspects about the school, one of those being graphics class; he took four graphic classes. "[Zach] and Mr. (Jeremy) Gerlach (graphics teacher) had a good relationship, and it was just a fun environment," said LHS special services worker Mr. Kevin Gorell, who accompanied Zach to the class. "Like every other kid taking the class, he enjoyed taking something home that he made."
At CLC, Neir was taking a graphic design class, one of his favorite things to do, while also going through a transition program through LHS. The program was helping him transition from high school into college.
Neir often enjoyed spending time with the teachers of a class more than the subject itself. "[Zach] loved the teachers that were funny, the teachers that made him laugh," explained Ms. Geryol. "He knew they were going to make him laugh. They were fun to be around and not real strict."
Duchenne muscular dystrophy is a genetic disorder characterized by progressive muscle degeneration and weakness; it is one of nine types of muscular dystrophy.
According to his brother, sophomore Ethan Neir, Zachary began to have trouble walking in sixth grade and was placed in a wheelchair while he was in eighth grade. Then, in the 2015-2016 school year, he began to have breathing and heart issues.
"He made us thankful for the little things in life, as little as walking," expressed Ethan in an interview over text message.
LHS special services worker Alice Leafblad, who worked with Neir his junior and senior years, added, "He sometimes wouldn't be able to write for a certain amount of time, like his muscles would get weak and not be able to feed himself." .
Outside of school, Neir enjoyed playing videos games: "If a game was coming out the next day, he would get it, and I know he'd go home and play the entire weekend," said Mr. Gorell. "His graphics projects were stuff from different games: 'Halo,' 'Destiny,' stuff like that."
Ethan shared a passion for video games with his brother; Ethan recalled his favorite memory with his brother was when they played "Halo 3" all day to try and beat the game for the second time. Their goal was to try and unlock the secret level of the game.
Ethan bonded with his brother due to their love of video games: "I wish he was here to play 'Mass Effect Andromeda' (Zachary's favorite game) with me," expressed Ethan.
Overall, Neir was an easy going, fun-loving kid: "He was everyone's good friend, he had no enemies," explained Ms. Geryol.
Neir always wanted to do the right thing, and above all, he wanted to follow the rules: "He didn't know if he could chew gum, coming from eighth grade," expressed Ms. Geryol, laughing. "The fact that he always did the right thing always inspired me."
Ms. Leafblad said that her favorite part about working with Neir was that "he wasn't an easy kid to get laughing, so every time I got him to get laughing, it was a personal victory of mine."
Neir was ready to talk to anyone and was open to anyone. He was a normal teenager; he enjoyed not receiving homework, and he enjoyed "teasing me about the kind of music I liked, and we can go on recording saying that I love the Beatles, and he used to tease me about the Beatles," explained Ms. Geryol.
Above all, Neir just wanted to have fun and enjoy life. "I loved his smile, I loved his humor," expressed Ms. Geryol. "I loved the conversations we had."
Neir had a really good relationship with everyone he worked with: "[Zach] was caring. He'd ask about what we had going on. I mean being there with him, we'd know what was going on with him and he knew a little bit about what was going on with us," said Mr. Gorell.
Ms. Geryol said if she had one word to describe him, it would be "amazing."
Ms. Leafblad, through tears, mournfully added: "He had a pretty deep impact on me as a teacher, and how I view kids with this disability, and I'm happy that I had my time with him and I'll never ever forget him."