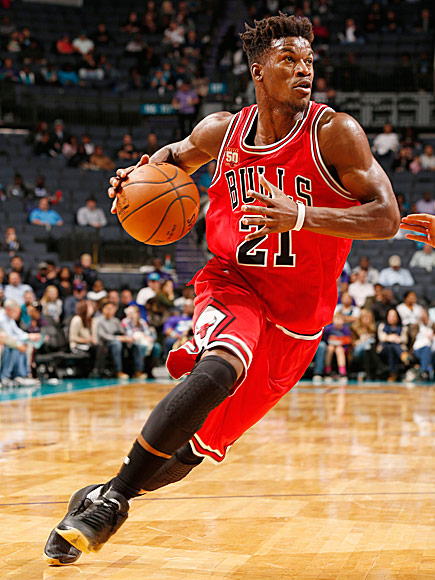 Photo from Wikimedia Commons /CC
Season Prediction
Brandon:
Coming off a disappointing, injury filled year, the Bulls made moves this offseason that they think will boost them into the playoffs. However, I don't see that being the case. The signings of Rondo and Wade were good in theory, but their playing styles do not mesh well together with Jimmy Butler's. Rondo led the NBA in assists last year, but he needs the ball in his hands to do so. Butler and Wade are both great isolation scorers, but that also requires the ball in their hands. There are simply not enough basketballs to go around. Also, the current NBA playing style is all about spacing and three-point shooting. The amount of three pointers shot last season was at an all-time high in the NBA. However, none of these players signed are good spot-up shooters, which will make it difficult to play together. Coach Fred Hoiberg's best option might be pairing Rondo and Butler with Doug McDermott to provide more shooting. Staggering the minutes of these three could provide scoring for a weak offensive bench and Wade could have plenty of isolations to score. But, the Bulls aren't paying Wade $47 million to come off the bench. With Eastern Conference teams like the Pacers, Hornets, Knicks and Pistons rising, a dreary outcome could be on the horizon for the Bulls this year.
TJ:
During the offseason, GM Gar Forman attempted a roster overhaul but failed to make any strides towards improving the Bulls for the upcoming season and for the future. Forman had a few options when deciding how he wanted to change the underwhelming performance the roster from last season put together, but he just recreated the same issues…just with new players. First of all, after trading Derrick Rose, Forman could have followed that up by trading Jimmy Butler as well so that he could begin a full-blown rebuild of the entire team. Despite the great opportunity, Forman opted to not rebuild, so many speculate that the Derrick Rose trade was completed because of supposed rising tensions between Rose and Butler. Coach Fred Hoiberg had trouble controlling the egos of these Alpha males, Butler and Rose, and in signing Dwyane Wade and Rajon Rondo, the same issues are present once again. In addition, Rondo has already had problems getting along with coaches in the past, making this situation potentially worse. Butler, Wade, and Rondo will all need the ball to be successful and based on last season, I doubt Hoiberg will be able to control the clash of these egos and playing styles. On top of that, Forman failed to address the Bulls' major roster deficiencies as they are in need of low-post scoring and three-point shooting. Forman set up the new-look Bulls to fail, and I would be surprised if they finish with a winning record.
Drops of Ink intends for this area to be used to foster healthy, thought-provoking discussion. Comments are expected to adhere to our standards and to be respectful and constructive. As such, we do not permit the use of profanity, foul language, personal attacks, or the use of language that might be interpreted as libelous. Comments are reviewed and must be approved by a moderator to ensure that they meet these standards. Drops of Ink does not allow anonymous comments, and we require a valid email address. The email address will not be displayed but will be used to confirm your comments.