Cats With Companies
For many adolescents, high school is the time to focus on studies, try a new club, become a better athlete, and maybe even tackle a first job. All of these, of course, take dedication and motivation.
But what about starting your own business?
These self-starters know ambition beyond their years and have created opportunities for themselves by starting unique businesses of their own.
Rankin Landscaping
Junior Matthew Rankin began his business outside the home. Literally.  Rankin developed Rankin Landscaping back in the seventh grade.
"I was mowing my family's lawn and then [doing] a lot of planting, trimming, and all types of stuff at my grandparents' house.  Both of my grandparents live a couple blocks down from us so I was always over there doing something," he shared.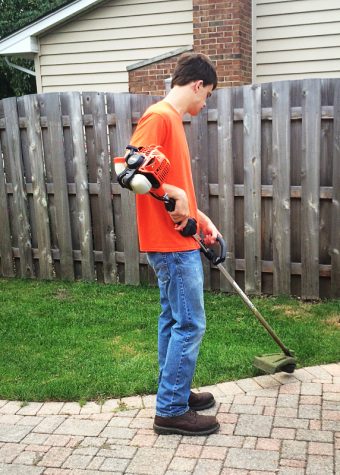 To promote his services, Rankin initially passed out around 2,100 flyers by hand door-to-door.
In the early days, Rankin only had a lawnmower and had no transportation to jobs; he had to "push [his] lawnmower down the street."
Eventually Rankin's mother's minivan became the company car and Rankin acquired more equipment based on the job orders he received.
"I was doing a lot of the work on weekends, sun[rise] to sun-down [both] Saturday and Sunday to fit it all in," he explained.
For Rankin, spring is the busiest season; summer typically brings maintenance work and autumn brings in the leaves.
Rankin offers virtually every lawn maintenance service, everything from simply mowing the lawn to more tedious work, such as weeding or edging.
"[Many] landscaping companies don't really like to do it—it's a time-waster for them and they like to get in, get out, and leave.  I'll take the weeding because I need the jobs."
In order to ensure everything goes as planned, Rankin meets with his customer and gives them an estimate, which is especially important if there are added costs.   For example, a customer may want service in terms of laying mulch down, but they may also need him to buy mulch for the job.
After a stellar spring season this year, Rankin expected that "sales would level out," but according to Rankin, "[the] phones kept ringing."
To his surprise, his success continued into the summer months, which usually tend to be less busy.  Rankin hired a friend of his to work the summer in order to keep up with demand.
"By the time this summer rolled around, [my business] really grew and kind of exploded," noted Rankin.  "I wasn't really expecting it to get as big as it has."
Rankin attributes his newfound mobility (he now can drive himself to jobs) as the major reason for the growth of his company, allowing him to service the whole town.
While hard work is important, Rankin stresses that customer service and communication is key:  "You have to be able to give them a quote and explain where that number is coming from."
When summer ended, Rankin's jobs continued at a steady pace and he found himself working solo once again.  He decided it would be in the best interest of the company to subcontract a few people to help balance the workload and school.  These associates give him an estimate and provide the customer with the requested service, while he still receives a cut of the profit.
At this point, Rankin hopes to expand even further and plans to meet with a local company in hopes in receiving support.
"I would love to grow [the company] but right now, I don't have the resources," he said.
Rankin can be contacted at (847) 845-4933
Kylie's Kakes
Junior Kylie Rodriguez started her own business in the sixth grade, what her peers refer to as "Kylie's Kakes," where she bakes individual goods by order request for birthdays, graduation parties, and other occasions.
For as long as she can remember, she has loved baking–a passion which sprouted from her mother.
"My mom used to always make our birthday cakes and then I got into helping her and I started taking classes," shared Rodriguez.  "That's how I got into more of the professional side of it."
Prior to living in Libertyville, Rodriguez began baking goods to sell after her family suggested that she take advantage of her hobby.
After her move just three years ago, she lost the majority of her previous customers.
During this time, things slowed down a bit, but eventually she began handing out her business cards, which include her phone number and email, to her neighbors.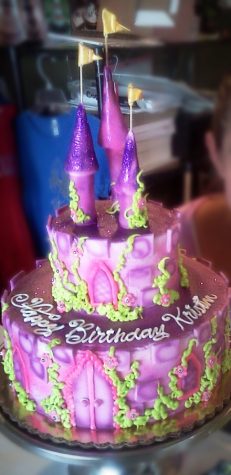 Orders are typically determined through these means and initially the customer will be asked what type of baked good they are looking for, for their desired color scheme, and if there is a theme they would like to encompass in the product's design.
After receiving their specifications, Rodriguez will send over a price estimate to the customer and address their budget.
Rodriguez bakes everything on her own, creating unique items including cakes, cupcakes, and sugar cookies, which all sell for $2 a piece, which, according to Rodriguez, are less costly than local stores.
"The restaurant business is pretty tough…People don't realize how much work goes into [baking].  Sometimes they think it's too expensive," she explained.
According to Rodriguez, the cookies take the longest and "are typically [made] overnight," in order for the icing to dry.  This process usually takes two days, while she tends to finish her cakes in one session.
At one time, Rodriguez will only tackle a maximum of two orders.  Cupcake orders, for example, are typically around 40 servings per customer and more often than not, cakes are usually tiered, requiring more time to decorate.
With school, a job, and her own business, time management is essential.  Rodriguez utilizes the time her creations are in the oven to complete her homework.  While in some instances it can be stressful for Rodriguez, her love for baking never wavers.
Rodriguez can be contacted at (847) 431 -9494
David's Landscaping
Not many people expect teenagers to want to mow lawns, but it's all in a day's work for sophomore David Serrecchia. His business, David's Landscaping, is responsible for the upkeep of numerous yards around Libertyville. However, just like any other small business, Serrecchia has worked hard to get where he is today, and he has another obstacle to balance that many other business owners do not: he is a full-time student.
David's Landscaping has been up and running for around two years now and offers yard maintenance services such as mowing, edging, and hedge trimming, as well as offering snow removal. Right now, Serrechia is running the entire operation all by himself.
"When you step back and look at [a finished job], I like the feeling of looking and saying, 'I did it,'" he explained. Gratification is a large part of what motivated Serrecchia not only to start his company but in continuing to make it successful. He also attributes his ambition to enjoying physical, hands-on work, and this ambition has led to the expansion of his business.
"I passed around some cards and now I'm doing around a dozen yards in my neighborhood," Serrecchia relayed. He maintains all of these yards as well as balancing his homework and classes, a workload not many can say they have.
Serrecchia started out lawn mowing and expanded from there to other maintenance services. He is planning to continue landscaping even after he graduates and goes to college. From there, he hopes to have a crew to help him run the business as he focuses on studying orthodontics.
As for now, he relies on himself and the support of his family to manage his work.
"My dad kind of helped me learn to run a business," he reflected. Serrecchia cites his father for working alongside him on his landscaping jobs as well.
Although David's Landscaping is currently confined to where Serrecchia's four-wheeler can travel (since he is not licensed), he plans to continue working hard to grow his business. He also hopes to have a website in the near future, but for now his contact information is available through a business card.
Serrecchia can be contacted at (847) 977 3611