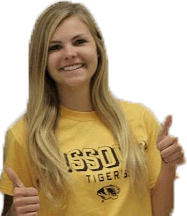 Senior
A majority of senior year is spent filling out applications and traveling from school to school, trying to figure out where you want to spend the next four years of your life. When I finally found out where I was going, it felt like a weight was being lifted off my shoulders; however, it was also bittersweet knowing that four years of high school is quickly coming to a close.
It always just seemed like high school would last forever. This year has by far been the fastest year of high school, and it feels like it all happened in the blink of an eye. While senior year has been the best year of high school, it has also been the saddest. Each season comes and goes and at the end of every event you go to, you realize it is your last: your last homecoming dance, the last Friday night football game, the last WISH project, and your last Turnabout. It starts to sink in that it is your last year walking these halls with all of your best childhood friends.
But, because this is the last year, it's normally spent a little differently. Senioritis is no myth, it is actually a very serious disease. The closer to the end of the year it gets, the less motivation there is to do any of your homework and you start to just leave your backpack in the back seat of your car. It becomes a rare occasion that it makes it inside your house because school nights are no longer dedicated solely to doing homework.
They are for spending every moment that you can with your best friends and your family and doing all the things you love to do together because as the year winds down, you start to realize that nights like those are limited.
Senior year is about living life to the fullest and not letting a moment slip away because there are only so many moments left. As the cast of "High School Musical" sang, "High school wasn't meant to last forever." Senior year is all about enjoying those few final months and making the most of every second!
Drops of Ink intends for this area to be used to foster healthy, thought-provoking discussion. Comments are expected to adhere to our standards and to be respectful and constructive. As such, we do not permit the use of profanity, foul language, personal attacks, or the use of language that might be interpreted as libelous. Comments are reviewed and must be approved by a moderator to ensure that they meet these standards. Drops of Ink does not allow anonymous comments, and we require a valid email address. The email address will not be displayed but will be used to confirm your comments.