Libertyville Soccer Dominates in Playoff Opener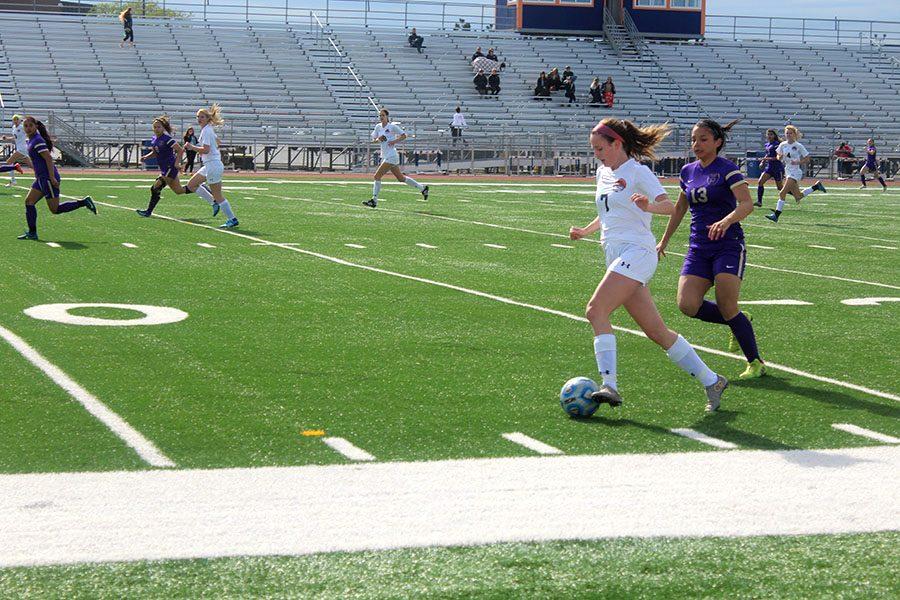 Max Friedlander, Staff Writer
May 18, 2016
On Tuesday, the girls' varsity soccer team started off the playoffs in dominating fashion, defeating Waukegan by a score of 10-0. The Wildcats hold the number two seed in the regional tournament and proved worthy of that ranking after the opening game.
The Cats put forth a strong all-around team effort, finding contributions from every member of the team. Each player played extensive minutes, something uncommon in playoff soccer.
Libertyville came out quickly, looking to put points on the board early and often. They did just that, as senior captain Annie Thompson scored off a pass from midfielder Jacqui Widmark just three minutes and 28 seconds into the match. Thompson quickly returned the favor, assisting on Widmark's goal just two minutes later.
Widmark wasn't done just yet, as she netted her second goal off a pass from junior Maddie Olson with 31 minutes still remaining in the first half. A mere 23 seconds later, senior captain Danielle Pacholski maneuvered her way around the defense to put in an unassisted goal. This was instantly followed by Thompson putting her second ball into the net, which gave Libertyville a 5-0 lead less than 11 minutes into the action.
Waukegan tried to push the ball into attacking territory but was continuously shut down by the Wildcats' suffocating defense, led by starting center backs and captains Ellie Daugerdas and Julia Neiweem. Daugerdas and Neiweem, along with outside backs Morgan Verbeten and Allison Tong, didn't allow a single shot on target in the first half.
The initial onslaught of goals was just the beginning, as junior Taylor Underwood soon scored on Olson's second assist, followed by a goal from outside midfielder Makenna Yoor. Yoor's goal was assisted by freshman Savannah Winiecki, one of four freshman who played ample minutes.
Head coach Andy Bitta emphasized that being able to get every player into the game is very beneficial for his squad, as it increases the team's spirit.
"[Everyone contributing] is good for team moral," Bitta said. "Next practice, everyone wants to work hard."
As the game pressed on, Libertyville's talented midfielders continued their strong play. The Cats were able to pick apart the Bulldogs' defense, finding lots of space in the middle.
With 21:43 remaining in the first half, junior Leah Sikand assisted on midfielder Gabby Struik's goal. Three minutes later, Struik played a ball to forward Natalie Jaroch, who angled it into the net. Junior Britt Dahlin scored with 7:10 left in the half, giving the Cats an insurmountable 10-0 halftime lead.
The second half started with just 20 minutes on the clock, rather than 40, as the game had been sealed less than 10 minutes in. Libertyville didn't add to their total, but they did show off their passing ability by maintaining strong possession throughout most of the second half.
Coach Bitta added that his team was able to finish their shots exceptionally well, something that has been a problem at times this season. If the Cats can keep this hot streak going, it will lead to some more wins in the playoffs.
Next up for the Cats is Mundelein in the Regional Championship game. The game will kick off at 6pm on Friday, May 20 at Buffalo Grove High School.