Golden Apple for a Golden Teacher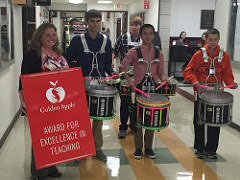 The Golden Apple for Excellence in Teaching, a prestigious award, has been won by one of Libertyville High School's own: AP chemistry teacher Sherri Rukes.
Graduating from the University of Illinois Champaign-Urbana and running the robotics team at LHS, Mrs. Rukes always knew she wanted to be a teacher. Ever since she was a little girl, she knew that teaching was going to make her happy.
The Golden Apple Award was founded in 1986 by Martin J. Koldyke, who believed that great teachers deserved to be recognized for their teaching.  This year, the award was only given to high school teachers. Statewide, 10 teachers who stand out were rewarded with this award, with Mrs. Rukes being one of these teachers.
The people of Golden Apple came to school last month to surprise her and tell her that she had won. Her parents and other faculty members were in on the surprise. The day she was surprised, Rukes was scheduled to go on a field trip. One thing led to the next and the Golden Apple people were there congratulating her on winning. Mrs. Rukes explained that the process was not an easy one to go through.
"In November, I was nominated for the Golden Apple. I filled out the forms and all the stuff. It was very hard because you couldn't identify yourself in any way. You couldn't say your name, you couldn't say any little tidbit that anyone reading it could [use to] identify you. You couldn't even say the high school's name in any of the essays," she said.
Although Mrs. Rukes doesn't know who nominated her, she said she wishes she knew.
Each of the 10 winners gets a tuition-free, spring quarter sabbatical to study any class at Northwestern University, and they receive $5,000 cash.
"You always hope that your students like you and think you are doing a great job. I think that's what it means the most to me. I know that people listening to what people have said about me and seeing my students that I put my whole heart into my job and they do appreciate it and they do care for me. Sometimes it's very nice to hear that," said Mrs. Rukes.
The people who pick the winners are previous Golden Apple winners, retired teachers, college professors, and others who have something to do with the education system.
Two Golden Apple representatives come out to observe the way the nominated teachers interact with students, other teachers, parents and the administration. They do this to get a feel for the teacher as a person not just the way the teacher writes an essay. The individuals who come out help the main judges by writing a little bio about each person without giving their name or too much about that teacher. That then goes to another group, who determine the winners.
Not only is Mrs. Rukes a Golden Apple winner of Illinois, but she is also a finalist for the presidential award that Golden Apple also presents.
The award that Mrs. Rukes has already won recognizes only teachers from Illinois. The presidential award recognizes the finalists and winners from each state.
Mrs. Rukes is not only being recognized by the school and the people of Golden Apple. She was also recognized by Congressman Robert Dold, among others. Dold, who represents the Congressional district that includes LHS, spoke of Mrs. Rukes at a meeting at the U.S. House of Representatives in April, congratulating her on her accomplishment of becoming a Golden Apple winner.