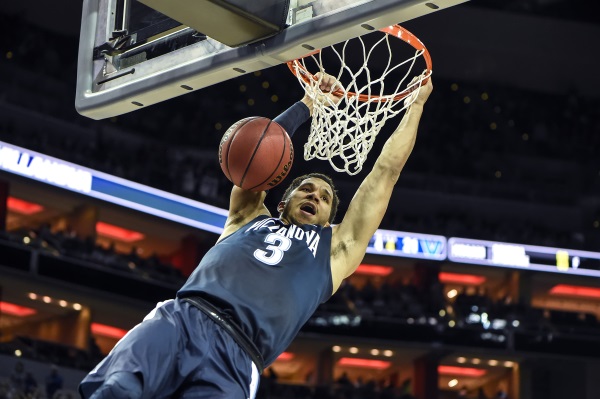 Photo taken by Shane Keyser of MCT Campus
2016 South region champions – Villanova
How they got here:
For most of the season, Villanova was regarded as a potential number-one seed in the tournament. But after getting upset in the Big East conference title game, they fell to a two seed. The Wildcats set out to prove to the selection committee that they deserved a higher ranking and that one game would not define their season. Villanova's road to the Final Four started when they easily advanced to the Elite Eight by winning their first three games by a total of 72 points. Even after the impressive showing in the first three games, many still expected Villanova to fall to the mighty Kansas Jayhawks. But the Wildcats started off quickly, with a seven-point lead at halftime, and never looked back, using that momentum to pull off a 64-59 upset of the top-seeded Jayhawks.  
Player to watch:
Josh Hart
Headlining the well-rounded core for Villanova is junior guard Josh Hart. As the Wildcats' leading scorer, Hart averaged 15.3 ppg in the regular season. He is one of the best two-way guards in the nation thanks to his valuable combination of scoring ability and lockdown perimeter defense. On top of that, Hart has a high basketball IQ and is a great teammate who's always willing to make the extra pass. Hart is also an exceptional rebounder for a guard, averaging 6.7 rpg, ranking second on the team. Hart has continued to play well during the tournament, especially when he dropped 19 points on Iowa, shooting 7-for-11 from the field. In order for Villanova to defeat the Sooners, Hart will have to shut down the elite shooting backcourt of Oklahoma.
How they can win it all:
Villanova is going to have to continue to play as a team in order to be crowned champions. They have five players averaging at least 9.8 ppg, demonstrating their depth and teamwork. Along with that, the Wildcats rank in the top 50 nationally in total rebounds and three pointers made. However, the Wildcats' biggest strength is their team defense. Head coach Jay Wright has formulated a sturdy team-oriented defense that ranks 15th in the nation in scoring defense. For the first stop on the road to being champion, Villanova will square off with a mighty Oklahoma team. The Wildcats will need their defense to continue its strong play in order to stop the dominant Sooners offense led by superstar guard Buddy Hield. Stopping the National Player of the Year frontrunner Hield will be a tough task for the Wildcats' defense and guards like Hart will need to be up for the challenge.
Beating Oklahoma will be a tough task for Villanova considering they were destroyed by them, 78-55, back in December. But a more promising sign is that Villanova is playing much better now, as they just knocked off Kansas, who the Sooners are 0-2 against this season. Although the fact that Villanova was able to defeat Kansas has no direct effect on their matchup versus Oklahoma, it gives the Wildcats a base for their gameplan in their rematch against the Sooners. If the Wildcats beat the Sooners, they will face the winner of Syracuse and North Carolina. Syracuse is the first 10-seed to ever make the Final Four, led by a formidable zone defense. North Carolina is the favorite to win the title after cruising their way to the Final Four. Either matchup would be tough for Villanova, but they will have to rely on their depth and defense to win the title.
Drops of Ink intends for this area to be used to foster healthy, thought-provoking discussion. Comments are expected to adhere to our standards and to be respectful and constructive. As such, we do not permit the use of profanity, foul language, personal attacks, or the use of language that might be interpreted as libelous. Comments are reviewed and must be approved by a moderator to ensure that they meet these standards. Drops of Ink does not allow anonymous comments, and we require a valid email address. The email address will not be displayed but will be used to confirm your comments.