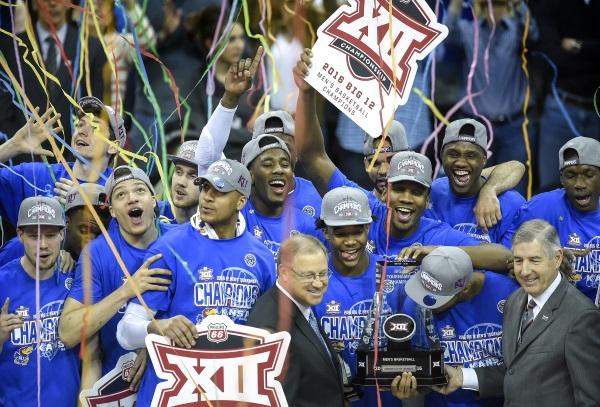 2016 March Madness – South region
 (1) Kansas vs (16) Austin Peay:
After winning their 12th consecutive regular season Big 12 title, along with the conference tournament title, the top-seeded Jayhawks look to continue their dominance and cruise through the first round. Led by bigman Chris Horton (18.9 ppg), the Ohio Valley champion Austin Peay Governors look to pull off the biggest upset in tournament history. But Austin Peay's 121st-ranked defense will get shredded by Kansas's star power. Winner: Kansas
(8) Colorado vs (9) Connecticut:
UConn's magical season continues after their AAC championship victory, which included a dramatic 4-OT win vs. Cincinnati in the quarterfinals. UConn is a well-rounded team, with all of their top four scorers averaging at least 12 ppg. Colorado received an at-large bid after finishing 22-11 and leading the Pac-12 in rebounding. Colorado's size might create a problem for UConn, but I expect the Huskies to ride their momentum and defeat the Buffaloes. Winner: Connecticut
(5) Maryland vs (12) South Dakota State:
Heading into the season, Maryland was widely regarded as a title contender, but they have underachieved despite having one of the most talented rosters in the nation. In the preseason, guard Melo Trimble was picked by many to win player of the year, but he too underperformed and only averaged 14.4 ppg. South Dakota State enters the contest winning 10 of their last 12 games and are the top rebounding team in the Summit League. The Jackrabbits look to ride their hot streak and I predict that they'll upset the dysfunctional Terrapins. Winner: South Dakota State
(4) California vs (13) Hawaii:
The Rainbow Warriors have dangerous upset potential, as they head into the tournament as the regular season and tournament champions of the Big Sky conference. Led by freshmen Ivan Rabb and Jaylen Brown, California is an elite rebounding team with depth at all positions. The Golden Bears rank 16th in RPI and are a sleeper team to make a deep run in the tournament. Winner: California
(6) Arizona vs (11) Wichita State:
Arizona is back in the tournament after making the Elite Eight in each of the last two seasons. The Wildcats make a strong case to climb back to that familiar territory: they rank 7th in the nation in rebounding margin and 21st in offensive efficiency. Wichita State is a solid rebounding team and is ranked first in scoring defense in the nation. To go along with the stifling defense, the Shockers are carried by an elite backcourt, led by seniors Ron Baker and Fred VanVleet. Led by double-double machine Ryan Anderson, Arizona should have enough to knock off the Shockers thanks to their formidable frontcourt. Winner: Arizona
(3) Miami vs (14) Buffalo:
Miami's backcourt of Angel Rodriguez and Sheldon McClellan will look to boost the Hurricanes to a deep tournament run. Both Miami and Buffalo have depth, boasting lineups that include four players that average at least 11 ppg each. Buffalo has some upset potential against Miami since the Hurricanes have struggled all season on the glass while Buffalo ranks 17th nationally in total rebounds. However, Miami is 8th in the nation in RPI and likely will come through on top. Winner: Miami
(7) Iowa vs (10) Temple:
Iowa started off the season as one of the hottest teams in college basketball, as they defeated Michigan State twice and once even climbed as high as No. 3 in the AP poll. But as of late, the Hawkeyes have dramatically collapsed, losing five of their last six games. In order to turn it around, Iowa needs stars Jarrod Uthoff (18.9 ppg) and Peter Jok (16.2 ppg) to step up and carry them, along with contributions from the bench. Temple's senior guard Quenton DeCosey looks to counter Iowa's star power with his 15.6 ppg and 6 rpg. The Owls won the AAC regular season title and will try to take advantage of the struggling Hawkeyes and advance to the Round of 32. Winner: Temple
(2) Villanova vs (15) UNC Asheville:
Villanova was projected by many to be a number-one seed until they lost to Seton Hall in the Big East championship game. The Wildcats boast one of the best defenses in the nation, as they rank top 30 in both scoring defense and opponent field goal percentage. A key contributor for the Wildcats is former LHS rival and Stevenson High School star Jalen Brunson, who is fourth on the team in scoring, averaging about 10 ppg. UNC-Asheville is one of the smallest teams in the nation and will have a great degree of difficulty against the mighty Wildcats, who are fourth in the nation in RPI. Winner: Villanova
Team that will disappoint: (3) Miami
Despite being a three seed in the South region, the Hurricanes will have difficulty advancing deep in the tournament. Miami's backcourt is filled with talent, but it is their frontcourt that creates potential issues. As a team, Miami ranks 219th in the nation in total rebounds, which will create a major matchup problem against their first-round opponent, the elite rebounding Buffalo Bulls. Even though I predict Miami will be able to squeak by the upset-minded Bulls, they might not advance past the next round. The Hurricanes have a potential second-round matchup against the six-seeded Arizona Wildcats. Like Buffalo, Arizona is also outstanding when it comes to crashing the boards. The Wildcats are 18th nationally in total rebounds, courtesy of senior bigs Ryan Anderson and Kaleb Tarczewski. Miami will struggle with matchups in the early rounds and is in danger of not advancing to the Sweet 16.
Sleeper team: (12) South Dakota State
Watch out for the Jackrabbits to pull off the first-round upset against Maryland. The Terrapins head into the tournament winning a mediocre seven of their last 12 games to round out their disappointing regular season. South Dakota State enters on the opposite side of the spectrum as one of the hottest teams in the field of 68. They rolled through the Summit League, losing only four conference games all season followed by a conference tournament win. The Jackrabbits are also extraordinarily deep, with three players averaging at least 14 ppg. South Dakota State has a lot going for them as they head into their matchup vs. Maryland.
South region champion: (1) Kansas
Kansas is my pick to not only win this region, but also to win the National Championship. The Jayhawks are fueled by their stars Perry Ellis, Wayne Selden Jr., Frank Mason III and Devonte' Graham. On top of being solid defensively and on the boards, Kansas ranks 16th in scoring offense and second in three-point field goal percentage. The red-hot Jayhawks have won 12 in a row and are first in RPI. Their 12-3 record in Big 12 play is quite impressive considering its grueling schedule, game-in and game-out. Beating West Virginia and Oklahoma two times each highlight the Jayhawks' extraordinarily impressive resume. Legendary head coach Bill Self looks to qualify for his third career Final Four and win his second championship as the Jayhawks enter play as the favorite to win it all.
Drops of Ink intends for this area to be used to foster healthy, thought-provoking discussion. Comments are expected to adhere to our standards and to be respectful and constructive. As such, we do not permit the use of profanity, foul language, personal attacks, or the use of language that might be interpreted as libelous. Comments are reviewed and must be approved by a moderator to ensure that they meet these standards. Drops of Ink does not allow anonymous comments, and we require a valid email address. The email address will not be displayed but will be used to confirm your comments.