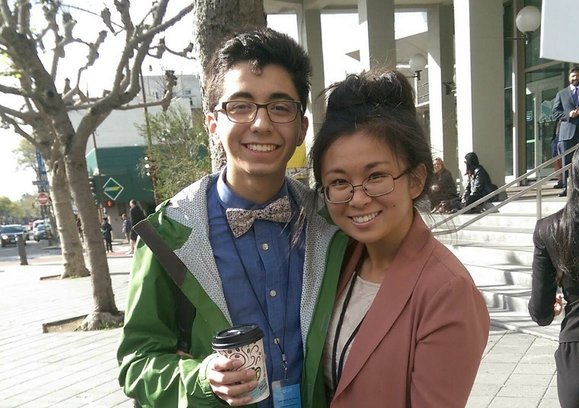 Photo courtesy of Alo Garcia-Escobar
Alo Garcia-Escobar
Disclaimer: In order to remain as transparent as possible, please note that Alo is also a part of the Drops of Ink staff. However, in order to maintain objectivity, the questions for each candidate were the same for everyone, and he was not given access to this story as a result of his place on staff.
Q: What do you want people to know about you?
A: I would want people to know that I have five birds, I love to read and write in my spare time (which is not so existent because of homework), and I genuinely enjoy school because I get to see all my friends and hopefully make new ones along the way.
Q: Why are you running for Exec Board and what are your plans if you are voted on?
A: I'm running for Exec Board because I'm loving every second of being on it this year. I'm surrounded with the most tenacious, driven, and friendly people, and we all work together as one unit in trying to achieve success — whether that be TB, HOCO, Color Run, Prom, Canned Food Drive, we all throw in our everything, and I love that feeling. My plans for next year, if I'm lucky enough to keep my spot, would be to continue the cohesiveness of Exec Board and ensure people feel included enough to throw in their ideas, thoughts, and opinions. I personally would love to see more participation, outside of just STUCO kids, in the Canned Food Drive.
Q: How long have you been a part of Student Council?
A: I've been in Student Council since my days as a young lad. I ran freshman year and lost, and then I ran at the end of freshman year and won a spot on the sophomore board, and finally ran at the end of sophomore year and got elected on the Exec Board.
Drops of Ink intends for this area to be used to foster healthy, thought-provoking discussion. Comments are expected to adhere to our standards and to be respectful and constructive. As such, we do not permit the use of profanity, foul language, personal attacks, or the use of language that might be interpreted as libelous. Comments are reviewed and must be approved by a moderator to ensure that they meet these standards. Drops of Ink does not allow anonymous comments, and we require a valid email address. The email address will not be displayed but will be used to confirm your comments.