LHS Takes Theater To A Whole New Level.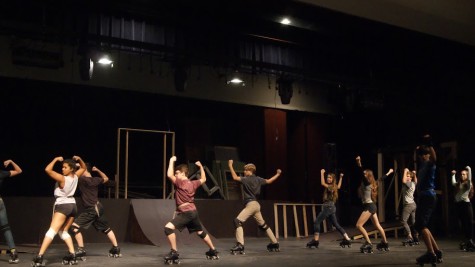 The LHS drama and theater program wowed the audience with their amazing performance of "Starlight Express" on Thursday, Friday, Saturday, and Sunday. I surely was impressed on many levels.
The month of November was introduced in a flashy way as Rusty (played by Sophomore Jack Miller) overcame trials of rivalry trains, love quarrels, and racing with a little help from the Starlight Express.
The costume crew did not fail to take the extra step and bring the characters to life. Electra (AJ Milunas) looked fantastic in his costume. The flashing lights on the costume really stood out to the crowd. Heather Jones and David Lundholm did a wonderful job on makeup and helped the characters express themselves in a whole new way.
The choreography (done by Mrs. Eryn Brown) proved to be elementary enough for the cast to perform on roller skates, but definitely captured the audience's attention. The tricks performed did not fail to catch my eye. One could tell that there was a lot of effort put into learning the choreography.
I must give credits to the director, Mr. Christopher Thomas, who put together an amazing show. "Starlight Express" served its purpose and entertained the audience to no end. This wouldn't have been possible without the help of many contributors, such as the orchestra accompanying the lovely singing voices, and the many seamstresses and costume coordinators who gave each character a sense of style. Andrew Lloyd Webber (the composer of this show) would be very proud of the performances the LHS theater department displayed.