Libertyville girls' volleyball finishes the season as Regional Champions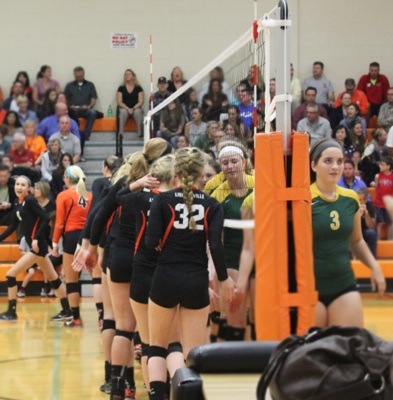 Thursday night, the girls volleyball team lost to Stevenson, ending their season. The Cats were the number-one seed for the Libertyville Sectional.
With a score of 25-23, Libertyville took the first game. Stevenson won the second game with a score of 25-18. The third game finished with a score of 25-22, clinching Stevenson's victory.
Stevenson started off the first game with a spike that Libertyville couldn't get to. The first timeout of the game was called by Libertyville with a score of 8-4, the Cats ahead. Later in the game, Stevenson received a hard spike, causing the ball to hit the ceiling, giving Libertyville another point and a 15-8 lead.
The second time out of the game was called by Libertyville after a close call that did not go in favor of the Cats. A ball was hit right near the line on the Wildcats' side. It could have landed right outside the line, but the referee awarded the Patriots with a point. Libertyville stayed in the lead when a player from Stevenson touched the tape. However, Stevenson made a comeback and tied the score at 22. Libertyville was back in the lead after a hitter from Stevenson tried to spike but the ball didn't make it over the net, and the Cats held on, 25-23.
Libertyville started off the second game with a spike to the corner that nobody from Stevenson could get to. The score was all tied up 2-2 after a couple plays, and the Patriots took the lead with a score of 9-8. Stevenson continued to power through with a lead of 20-16 after Libertyville spiked the ball and it landed in foul territory. A timeout was called with a score of 22-16, the Patriots still in the lead. Stevenson taok the second game 25-18.
Stevenson started off the third game with a point, but Libertyville tied it up the next play. The game was back-and-forth throughout its early stages, with Libertyville eventually leading 11-8. Stevenson had a great save after the ball was bumped to the setter but went far out and almost landed in the bleachers; Stevenson's right-side hitter ran and got to the ball just in time, but Libertyville still got the point. The score was now 15-11.
Four points later, though, the score was tied up at 15 when Libertyville bumped the ball too far out of bounds. There was a Libertyville timeout with the score 23-21. Soon after, Stevenson took the win after a spike fell through on Libertyville.
The season for Libertyville is now over but not without a fight. The girls finished the season being the Regional champions with a record of 33-6; they had won 21 straight games before this loss.