New Clubs arrive at LHS
Outdoor Ed Club
Outdoor Ed Club, started by senior Jack Meyer, is another new pilot club that Libertyville High School will be testing out this year.
The club is still in its beginning stage, as details such as when and where the club will meet have not yet been decided on. The main activities that the club hopes to work into its agenda will be away from school grounds — the club plans on going into the wilderness to test the skills they've learned on weekend camping trips.
Mr. Robert Kelch, an auto teacher at LHS and the faculty advisor for the Outdoor Ed club, hopes to see the club do a wide variety of activities pertaining to the outdoors, ranging from the basic skill of setting up a tent, to more advanced things such as rock climbing and even making snowshoes.
A club that goes on big trips such as this one is hard to get rolling, so Meyer and Mr. Kelch hope to collaborate with Lake Forest's Outdoor Ed Club and combine the LHS and Lake Forest trips.
Coding Cats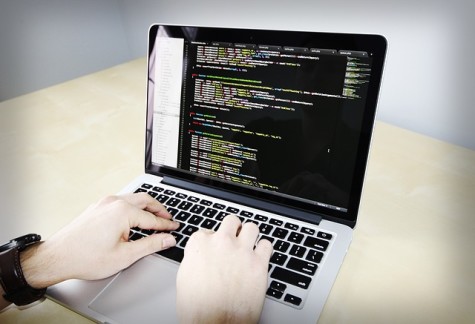 A newly introduced club this year is Coding Cats, a club for those interested in coding.
"Coding is writing programs by inputting commands for the computer to interpret and analyze," senior Brian Vickers, one of three founders of the club, explained.
Club members are planning on using their coding abilities to create apps, games, and other programs that they have ideas for.
Looking ahead, Coding Cats is looking into doing competitions and perhaps doing an outreach program for junior high students, Ms. Teresa Elmore, the club sponsor said.
While most members have already taken computer classes and have knowledge on how to code, anybody is welcome to stop by or join Coding Cats. The club meets Mondays after school in room 122, a computer lab.
If interested in learning how to code, you are welcome to stop by. New members can be paired up with someone with coding knowledge, and they would help you learn how to code.
"We are glad to have new members any time, any age, no experience required," stated Vickers. "If you come in, we'd be more than willing to help you."
Comic Book Club

The Comic Book Club is a new club for people interested in reading and discussing a variety of comics with other people.
"Students bring in comic books of their own to share with everyone, and then the group of attendees have discussions on the comic, including certain aspects of it, such as the main characters," club sponsor Mrs. Kim Jansen explained.
During a typical weekly meeting, club members have their group discussions on that week's topics, then decide how the following meeting will be structured. The Comic Book Club meets on the second Tuesday of every month after school in room 124.
The number of those attending each meeting has been fluctuating because some of the people interested are currently participating in fall sports.
"We had four [people] at the first meeting," stated club founder, senior Keegan Hurley. "It's just difficult to find people in general."
Engineering Club
A hands-on and innovative way to show your passion for engineering has presented itself in Libertyville High School's Engineering Club.
This club, although attempted in years past, is new to LHS this fall.  Although students in engineering classes are highly encouraged to attend meetings, all students are welcome. The group's goal is to get as many people interested in engineering as possible involved, explained the club's founder and president, senior Tyler Laroi.
"My favorite part of the club is seeing someone's project work. Even if only one out of all of the projects works and the rest fail, it is the best seeing someone else's efforts succeed and being able to see your work come to life," Laroi said when asked of the club's values.
The group has many bright ideas of fun projects and on how to fundraise but is open to working around the members' ideas and interests.
"I want people to learn and develop their own skills through their own projects and teams, making this a hands-on and team-based experience," Laroi explained.
Engineering club meets Thursdays after school in the engineering room. Questions can be directed to the club's sponsor, Mr. Thomson.
Unicef
If you love giving back and making a difference in the community, Unicef is the club for you.
This year, a small feeder into the main Unicef organization has been founded at LHS. Although new to the school, Unicef is setting big goals this year, hoping to raise $500. This money will go to the main organization and will be used to provide vaccines and meals for underprivileged students.
Having already raised $250 this fall, senior member Nia MccLendon feels the group is already striving. The first couple of months will focus on raising money and getting the group started, and later will shift to gaining more members. This group is based on teamwork and it needs people willing to make commitments.
The club was started by junior Mariam Tolba. Unicef is student-led and Tolba holds many responsibilities, the club's sponsor, Mrs. Jennifer Uliks, explained.
"It was a topic she was very passionate about bringing to the school," Mrs. Uliks said|."
Unicef meets on Thursdays after school in the teacher conference room.