Slant of Light Hopes For a Revival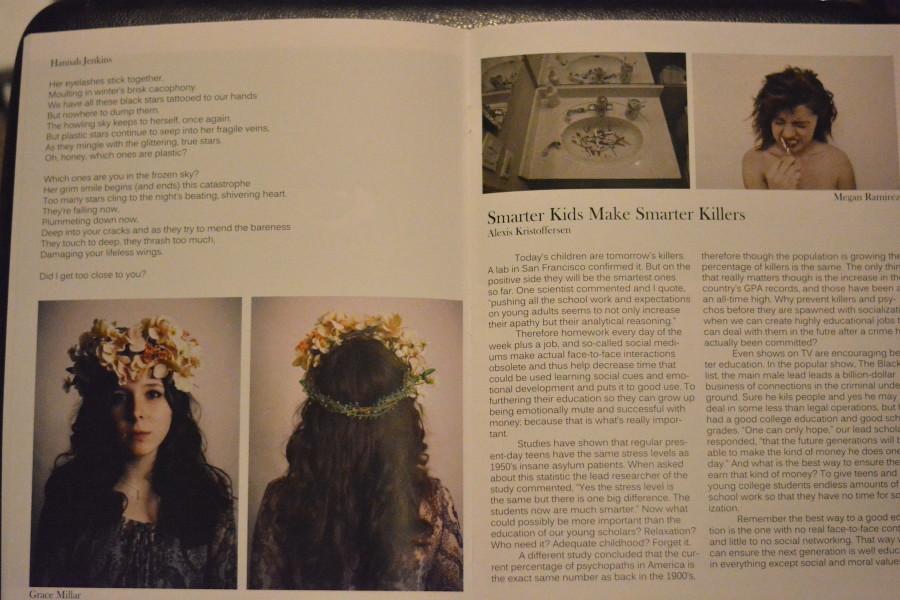 The LHS literary magazine, Slant of Light, remains unknown to many students, but this year plans to revamp its image.
"The purpose is to showcase and celebrate, I'd say, the literary and artistic works of students at LHS. It's great to publish things for the artists/authors, and it's great for other students to see (and, in a way, own) top-notch work that their fellow students have created," Slant of Light adviser Mr. Matt Tooley stated.
There have been discussions with Mr. Tooley and Mrs. Jennifer Uliks, student activities director, regarding the possible end to the long-established Slant of Light because of its lack of student interest over the past years, deficiency of copies sold, and shortage of visual artists submitting their work, according to Mr. Tooley.
"I feel like it shouldn't end. There are copies from the 90s, so you have to keep the tradition going. You might have to change part of it or make people more aware," senior Slant of Light member, and contributor, Luke Whartnaby stated.
The fluctuating $3 cost of Slant of Light may sway people away from purchasing the magazine.
"I wouldn't [buy it] because the work doesn't interest me enough and the money doesn't even go to the artists themselves," sophomore Avryl Johnson stated.
The Slant of Light magazine costs money to buy, and people may wonder how clubs/class funds are distributed.
"The majority of the clubs at LHS are self-supporting, meaning that they must fund raise money for things that they would like–such as t-shirts, trips, etc. Slant of Light was given a certain amount of money with approval from the Board [of Education]. The money goes to cover the cost of printing the booklets.  Depending on the scope of the book and the printing costs, the monies budgeted for that group may not cover the entire cost of the magazine, and therefore, the club must pay for the cost of printing–so they may charge a couple of dollars for the booklet," Mrs. Uliks stated.
This year, Slant of Light plans to co-operate with Writers Week in hopes of discovering the best student writing.
"It's a natural pairing. We've been tied to Writers Week a little bit over the years, but we've never fully cooperated. Slant of Light and Writers Week will still be independent entities, but we're teaming together to get the best student literature (and art) showcased to other students. Anything that is submitted to Writers Week will be submitted to Slant — and vice versa. Slant of Light will also be sold during Writers Week this year, as opposed to the end of the year," Mr. Tooley stated.
While Writers Week will help showcase the best student writers at LHS,  Slant of Light has specific plans to inform people of their existence, recruit new members, and promote their work.
"We had a few plans before the year even started in terms of having a more online / electronic presence, pairing with Writers Week, etc., but our first meeting generated other ideas as well. We have a Facebook page, which we'll utilize more; we're going to start a Twitter account and maybe even a blog too. We'll see. I expect there will be some sort of 'Poem of the Week' or 'Photo of the Week' thing that we start at some point. And we'll be trying to broaden our audience too, getting student work even more visibility in the community. It's all in the works," Mr. Tooley stated.
Slant of Light is a creative outlet for students to not only view their own artwork, but discover hidden artistic talents from their own peers.
"I think it's a great magazine and a perfect place for high school students to get published. I'm always amazed every year at the writing and artistic talent we have in this school, and Slant of Light hopes to showcase it as much we can," Mr. Tooley stated.