A Walk For Cancer
On Sunday, May 17, "Voices Against Brain Cancer," of which Freshman Maddy McInerney is a part of and sponsored by Darren Port, will hold a walk in Chicago to raise money for those living with the disease.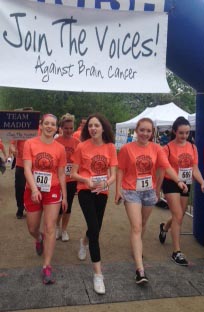 Darren Port is the CEO and founder of Powered by Professionals, which sponsors 11 charity organizations, including "Voices Against Brain Cancer." He has been fundraising for 20 years and has helped millions of people get through diseases, natural disasters, and other tragedies
McInerney, who was diagnosed with a tumor in November which became a diagnoses for brain cancer in December, will be one of the honored guest speakers at the run. She herself will walk the 5k (3.2 mile) route. Most of her family, including two of her four siblings as well as her parents, will also be taking part in the event with her. She will also be on Windy City live on June 16th, speaking about her radiation.
One of the first people she contacted once she was diagnosed was her friend since second grade (but not good friends until fourth) Sarah Schiebler. "I remember her constant migraines and she always told me she felt dizzy so of course I suspected something and at one point I told her I think she should check it out or get an MRI scan I was worried for her," Sarah told. She herself had a second connection to what McInerney was going through because of past experiences with the same neurosurgeon.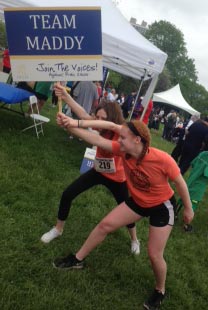 McInerney recently went through a relatively new form of radiation therapy called proton therapy. She began New Year's Eve and participated in the therapy five days a week until it ended on Feb. 17. According to McInerney, the radiation facility was in Aurora, one of the few in the U.S. People from other countries come to participate in the program because it has become more effective and less dangerous than photon therapy.
"Proton rays increase in strength when they encounter tumors, unlike the more popular photon rays which travel through the entire body," Maddy explained. "The rays can be manipulated to be stronger at certain points. This affects less of the body that photon therapy."
McInerney woke up at 4 a.m. in order to get to Aurora. She would get back around 8:30 and would have to get ready for school by then. Because of this, her schedule, unlike most students, begins with third period.
Migraines had always been a part of McInerney's life. She could be in the hospital most weekends yet doctors still couldn't figure out what was wrong with her. The neurologist she saw would only give her prescription drugs to dull the pain.
Eventually, she switched neurologists. The new one noticed McInerney couldn't see out of the side of her eye, a clear sign of a brain tumor. She was sent to an oncologist to get an MRI and that was when they discovered a tumor. She was diagnosed Dec. 2 but couldn't start treatment until New Year's Eve because after the surgery on her brain, it was swollen, so treatment had to wait.
When asked if McInerney was a good student, her Lit teacher Mary Kate Schoenbeck responded "Oh God yeah, there's never a problem with Maddy. She's super friendly, she's friends with everyone. She's never a problem in class. In fact, we wish we had a hundred of her in class."
Currently, she enjoys baking and is starting up golf. Her former sport was cheer but she had to stop because should she fall or hit her head, her brain would bleed. Choir was also something she took part in but because she missed the first two periods of school because of treatment, her whole schedule was switched around as choir wasn't something that could be fit in.  She also spends time doing normal activities such as homework and watching tv.
McInerney has raised over $150 because of bake sales at LHS alone. In all, she has raised $9,787.64. This money has gone towards helping brain cancer. Radiation treatment and surgeries are very costly, especially for families with not a lot of money. She and her team have goals that they attempt to reach through sponsors, donations,  and bake sales alike.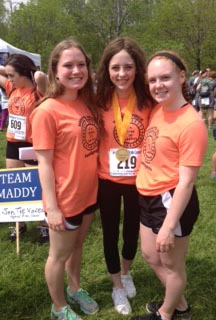 McInerney is now setting out to be an oncologist or epidemiologist.  She met her oncologist after surgery and became interested in the line of work. This is a change from her former goal of becoming a lawyer. "I want to give back to Laurie's because they gave me back my life."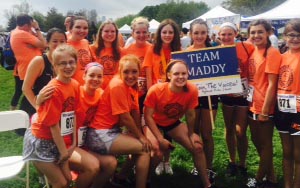 Drops of Ink intends for this area to be used to foster healthy, thought-provoking discussion. Comments are expected to adhere to our standards and to be respectful and constructive. As such, we do not permit the use of profanity, foul language, personal attacks, or the use of language that might be interpreted as libelous. Comments are reviewed and must be approved by a moderator to ensure that they meet these standards. Drops of Ink does not allow anonymous comments, and we require a valid email address. The email address will not be displayed but will be used to confirm your comments.