You Know #TheDress, Now Learn the Story
One night. One post. One dress. Two colors. Millions of confused people.
When Tumblr user "swiked" uploaded a picture of a dress with a plea for help, little did she imagine what would happen.
"Swiked," also known as Caitlin McNeill outside of Tumblr, came across the photo when her friend Grace showed it to her. Grace's mother sent her three dress options for Grace's upcoming wedding, when the question that broke the internet came between them: what color was the dress? Blue and black or white and gold?
"We had been arguing about this for weeks," Caitlin explained during an interview on "The Ellen Degeneres Show" last week. "It was tearing the community apart."
The image was originally posted on Feb. 25 and became an internet phenomenon just a day later. The dress expanded from Tumblr to Twitter, Facebook, and virtually every other source of media or news. According to a post from the Tumblr staff on March 2, the original post had 73 million pageviews.
Twitter Data released that at its peak, #TheDress was tweeted more than 11,000 times per minute on Thursday night, Feb. 26. The dress itself was tweeted about 11 million times.
The photo blew up because of the varying opinions on color. Actually blue and black, the lighting of the photo caused some people to see different colors.
Wired.com was one of the first websites to offer an explanation: it depends on the lighting of the background.
"The point is, your brain tries to interpolate a kind of color context for the image, and then spits out an answer for the color of the dress," the article explained. While some people saw a blue dress with white lighting reflecting on it, others saw a white dress with blue lighting reflecting on it.
For the LHS population, the results were just as diverse. Junior Lupe Montoya saw white and gold, and even in edited pictures she still saw "white and gold, just in a different lighting."
Will Engfer, also a junior, saw the opposite of Montoya and commented on the fact that the nation decided to focus on a single dress for so long.
"I saw black and blue," he offered. "But I think it's kind of ridiculous that in America the number one thing we've become obsessed with is a dress, as opposed to actually solving an issue like education and women's rights."
However, some student opinions were not as straight forward as just two colors. Sophomore Charlotte Jarrett said that she saw the colors "black and gold," providing a color combo that not many other people saw when they looked at the picture.
As well as a different set of colors, junior Lindsey Scholz was among a small amount of people who actually saw both color combinations at one point in time. While at her friend's house, she saw the picture of the dress popping up continuously on Twitter. After asking her friends why everyone was freaking out about the blue and black dress, she found that they all saw white and gold.
"I saw blue and black," she explained her confusion. "But then, later, I looked at my phone and it was white and gold. But then it changed blue and black, and it has never been white and gold again."
McNeill herself did not see the blue and black. "I saw white and gold, even after seeing the dress in real life at the wedding, and I still see white and gold today!"
Since the initial debate began at the end of February, the dress has become a meme across the internet for the good, the bad, and the funny across social media.
These posts include various humor posts and marketing strategies.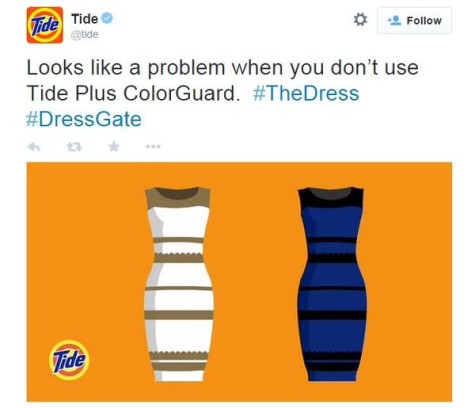 One man even when far enough to get the dress tattooed on his leg (in blue and black).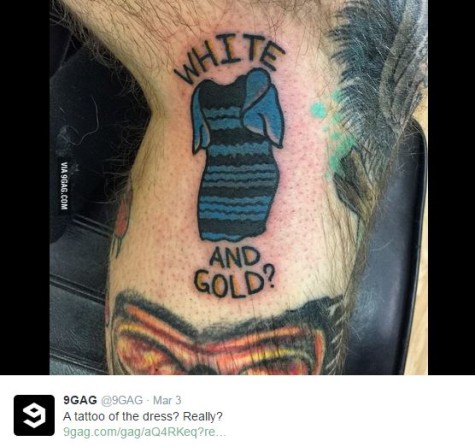 However, the dress has also been used for something beneficial. The Salvation Army recently released a campaign for domestic violence awareness that features the dress. The images depict a blond model wearing the dress in white and gold; her body is covered in black and blue bruises. The title reads "Why is it so hard to see black and blue?" commenting on the lack of awareness regarding domestic violence.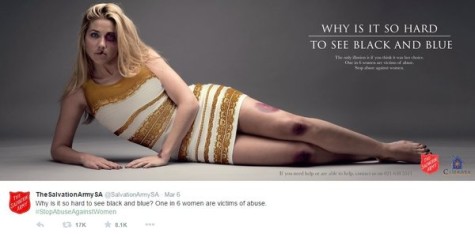 Along the same lines, Roman Originals, the dress company that created the black-and-blue dress, recently designed a white-and-gold version to be auctioned on eBay. The proceeds from the auction will go to Comic Relief. A UK-based foundation, Comic Relief raises money to rid the world of poverty.
While McNeill does not fully agree with certain aspects of the Salvation Army's policy, she feels they have done a nice job promoting the campaign's awareness, and she is enthusiastic about the white and gold dress auction.
"I think that the fact that it's been put to good use for charity is fantastic!" she said. "I hope it can do some good."
Q&A WITH CAITLIN MCNEILL VIA TUMBLR
How fast did your post blow up?
Ok so after I posted the picture on tumblr, it got around 500-700 notes in the first hour, and for me that was quite a big deal! Anyway then some of my friends posted it on twitter, all asking the same question, like "what is going on here!?!?!?" and then within about two hours there were thousands of mentions of the dress on twitter and the tumblr post was in the tens of thousands of notes. After that it just continued to spiral out of control!
What was your reaction to how fast it blew up?
On Friday afternoon someone said the dress had been mentioned 21 million times and I had to sit down for a minute after that!
I actually turned off my tumblr notifications because my phone was freaking out, so maybe friday afternoon I logged in to tumblr and saw that I had about 5,000 messages. I then checked the original post and it was at about 350k notes. It didn't seem real!
Which colors did you see?
I saw white and gold, even after seeing the dress in real life at the wedding, and I still see white and gold today!
Any negative comments of backlash?
There's been a few negative comments but I understand where they come from. As an internet consumer, I know that when these things get big you usually sit there like "Why are people going so crazy over something so stupid?" but it's not like you can engineer viral things like this, it just happens!
What was it like to be on Ellen?
It was a fantastic experience to be on the Ellen Show. I'd never been to the States before so the whole experience was completely new and crazy to me! It was a once in a lifetime opportunity and I'm very, very grateful for it.
What's your opinion on the wide ranging effects that the post has had? Especially the Salvation Army campaign, and other charities?
I think that the fact that it's been put to good use for charity is fantastic! I don't think the Salvation Army are the best charity in the world as there have been problems in the past with them turning away LGBT people but in terms of raising awareness they have done a good job with this campaign. The dress company have also auctioned a special white and gold version of the dress for Comic Relief! I hope it can do some good.