After two months of preparation, the theater department performed "The Drowsy Chaperone," billed as a musical within a comedy, on Oct. 26-28, 2023.
The musical, set in the 1920s, was performed by students from all grade levels in outfits inspired by the cinema of the roaring '20s, tap dancing to tunes played by the pit orchestra.
Sophomore John Zidek played the Man in the Chair, the only character in the show that was not directly involved in the story. The Man in the Chair provided commentary on the musical – which he played using a record player from his chair in his apartment – adding another dimension to the show.
"I got inspiration from the original Man in the Chair, Bob Martin, so I mostly listened to the recordings that he's done," Zidek said. "And then also at home I set up my own chair, table lamp and a record player, so I was able to set myself in the mood and that helped me get into character more."
Senior Louie Perry, who has been involved in theater since middle school, played Robert Martin, the debonair groom-to-be, who is deeply in love with and very invested in impressing his bride, Janet.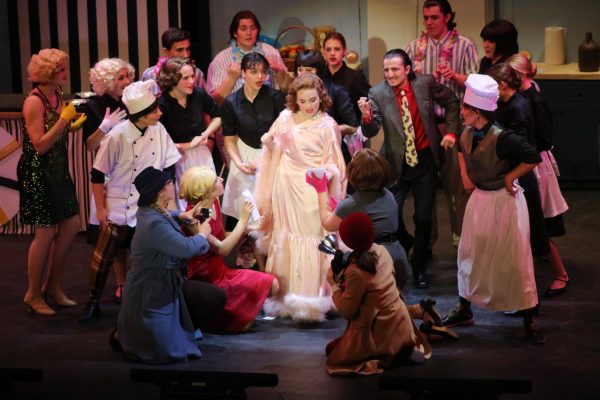 Senior Jordana Block-Terson played Janet Van De Graaff, the star of "Feldzieg's Follies" who is conflicted about giving up her life on the stage to marry Robert Martin.
"Janet is an interesting character," Block-Terson said. "She seems very superficial, she's famous, and she's a diva. She's this very bright, outgoing, bubbly person who knows what she wants. But when she's told to question it, it kind of throws her off and she questions her beliefs."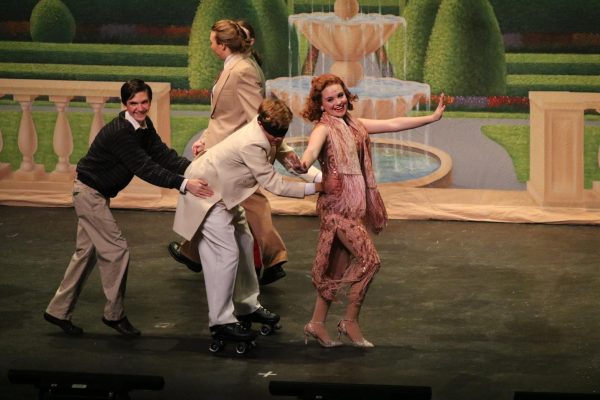 While the plot surrounds keeping Janet and Robert away from each other before their wedding to prevent bad luck (an old superstition), Janet's character arc in particular surrounds choosing between her acting career and marrying Robert, who had kissed whom he believed was a French girl (who was in fact Janet) while blindfolded, thus proving himself disloyal.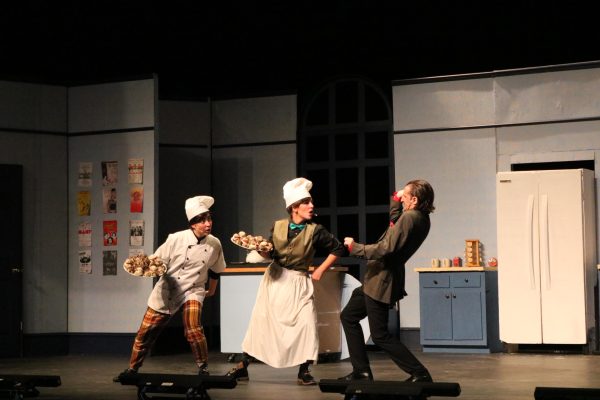 Senior Hope Wagner played Gangster One, a jolly gangster who terrorizes and threatens to murder Mr. Feldzieg, Janet's employer and the producer of "Feldzig's Follies." He does this with an assortment of food-related puns and his partner-in-crime, Gangster Two, played by Eleni Rappa.
"So typically, when you think of a gangster, you think of a Chicago-style mob boss, right?" Wagner said. "But the 1920s gangster is so much more cartoon-y, it's so much more of a fine line between being comical and funny, but also trying to pose a threat to someone."
Behind the scenes of the production was an equal amount of hard work by the crew consisting of almost 50 students, responsible for costume design, lighting, set creation and coordination, among other factors of a successful production. At the forefront of it all was junior Lauren Podlogar, the stage manager for "The Drowsy Chaperone."
"Making 'Drowsy' as good as it could possibly be was a big goal for me," Podlogar said. "I like to make things that look good. I wanted the set to look good. I wanted people to come to this thing that we made as a community and get something from it, because we all put in a lot of effort."
"I wanted people to come to this thing that we made as a community and get something from it, because we all put in a lot of effort."

— Lauren Podlogar, junior
"The Drowsy Chaperone" was the first production that Podlogar was the stage manager for.
"[Being a stage manager] was different from what I have done in the past, because it involved more large-scale things," Podlogar said. "It was a lot of having to figure stuff out on my own, but also having to learn how to work with other people to get things done. I've still got all my other peers doing this show with me that I can fall back on and rely on, so it was also like learning how to make friends with people."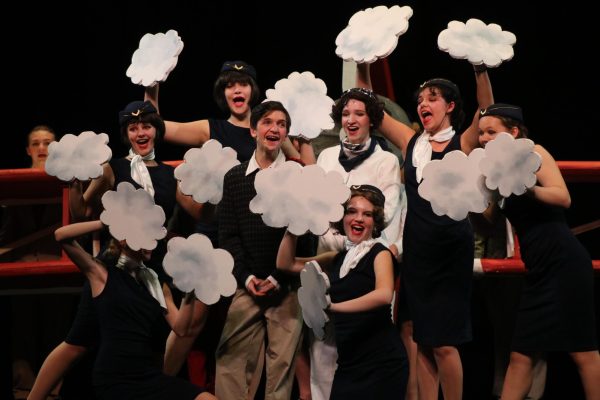 "Theater is very human," Wagner, who is also the president of Stageplayers, said. "And I think that if you just try your best and put your heart into it, you will get great rewards. They always say that acting is just reacting and that's what we do all day long as humans."
The next production from the theater department will be the student-created and student-directed one act plays on Nov. 30 and Dec. 1.