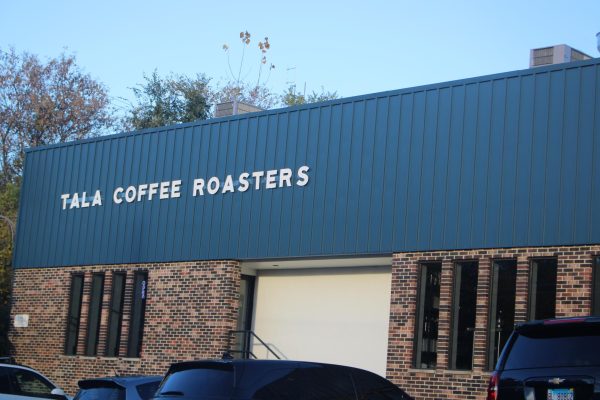 A new coffee house opened its doors this past fall at 834 Liberty Dr. here in Libertyville. Owners Joanna and Stefan Tong, Ryan Hickman and Kieth Lilja have been expanding locations across the North Shore since 2018 after opening its original location in Highwood just 20 minutes from Libertyville. We – Louie and Sophie – will be reviewing Tala Coffee Roasters with a 1 through 5 scale on drink variety, food variety, price, environment, and then an overall score for drinks from each of us. We are by no means experts; however, we have had our fair share of coffee from a wide range of shops around Libertyville, which now includes Tala Coffee Roasters.
Louie's take on the Drink Variety: 5/5
Tala offers traditional to specialty drinks that range from seasonal lattes to their spin on common coffee house beverages. Its menu ranges from fall drinks, specialty drinks and lastly traditional coffee and teas (lattes, drip coffee, pour over coffee, expressos, and anything else you can think of). What impressed me was their variety of teas served both iced and warm. I would drink a cold drink in the middle of winter, so to have the option year round would be incredible. 
Standing out from your local beverage franchise can be hard at times for smaller businesses, but Tala left me excited to come back and try something new. It offers a new take on well known drinks like caramel macchiatos, cold brews and even mixed espresso drinks. Expanding on tradition but also keeping that familiar flavor can be complicated; however, adding these extra components helped this coffee house stand out in drink availability from others in the Libertyville community. 
Louie's take on the Food Variety: 4/5
The pastry selection was another component of Tala worth mentioning. At many coffee shops in the area, there are various food options from breakfast sandwiches to light salads. That was not the case at Tala; however, it didn't take away from the experience. 
Tala offers a large selection of pastries from locally sourced bakeries and shops in the area. The large variety of donuts handpicked from Gurnee Donuts are a fan favorite due to it coming from a well-recognized bakery with multiple awards. In addition, they also offer vegan and gluten free muffins sourced from Mundelein's own Holcomb Hollow Bakery. I had the chance to try the gluten-free seasonal pumpkin chocolate muffin and would never have been able to tell it different from a regular muffin. 
Knowing that Tala isn't a food-focused coffee house and taking into account the small number of pastries and snacks available, I was very impressed with the selection and most importantly the quality of the products available.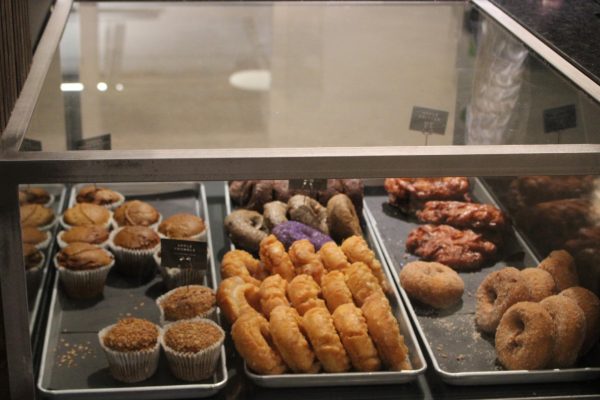 Louie's overall take on the Drinks: 4.5/5
When I approached the menu I was immediately drawn to my usual order, a vanilla iced latte with oat milk. Tala's take on the drink was very impressive. It was that perfect medium between coffee and vanilla flavor with just enough oat milk to make its presence known while not overpowering the drink. Sometimes, with an iced drink it can be very watery but that wasn't the case here. This would be a drink I would order again and again if I were to come back. 
The next drink I tasted was the fall pumpkin spiced latte both iced and hot. Both very smooth but something about the hotter one impressed me more as I could taste the deeper pumpkin flavors. 
One other specialty at Tala is their Mermaid, a take on the caramel macchiato. This was another hot drink that I was weary of at first but was not let down in the end. I like sweeter drinks and this one was just sweet enough that I wasn't overwhelmed. The extra caramel drizzle and whipped cream topping really added another kick to the drink. If I were looking for a warm drink, which is rare, I would most definitely turn to the Mermaid. 
Finally, the last item I tried was the Americano, something I have never tasted before. I had no expectations, and yet I was met with a very strong coffee taste, because that's what an Americano is. This may be someone's go-to but personally it wouldn't be mine. Overall, I was highly impressed with the drinks I sampled and would recommend and most importantly come back to Tala whenever I get the chance. 
Sophie's take on the Price: 5/5
The pricing at Tala is in line with the quality of their menu. Each drink, available in various sizes and types, typically hovers around $5. This flexibility allows you to choose beverages that benefit your preferences and budget – and could even save some cash for a sweet treat. Their donuts and other case food items are priced at just a few dollars, making them also fairly affordable, ranging from 3-5 dollars. This balance of affordability and high quality ensures that everyone could enjoy something at Tala.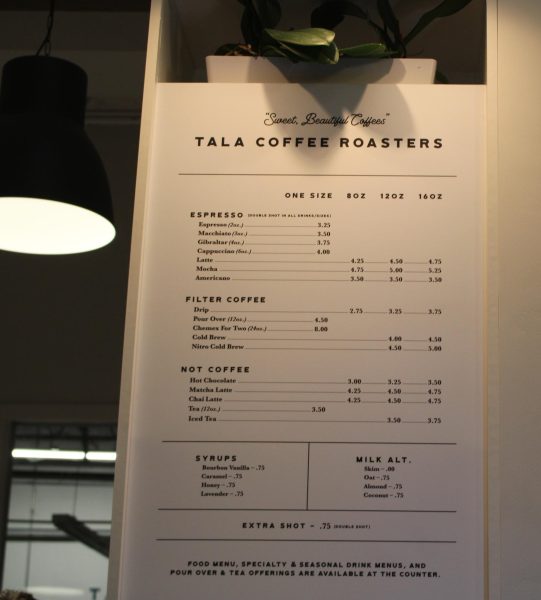 Sophie's take on the Environment: 4.5/5
Located in a secluded spot, Tala's setting gives visitors a serene environment to talk, work and relax. Tala is located just outside of downtown, taking you down a short, not crowded road near Lake Minear, making the environment more private compared to chain coffee shops. Despite being somewhat warm and humid, Louie and I found the overall environment to be issue-free. What stood out was the music and atmosphere, which contributed to a decidedly positive ambiance. 
Inside the shop, indie-folk music, from bands such as Caamp and The Lumineers, played. The abundant greenery and minimalist decor matched the vibe of the interior and the overall environment. The simplicity of the interior and exterior of the shop makes Tala a comfortable place to enjoy their wide variety of handcrafted coffee.
Sophie's overall take on the Drinks: 5/5
The drink variety offered at Tala Coffee Roasters would leave most customers satisfied. From the original Americano, to their specialty the Mermaid (their take on a caramel macchiato), each drink is crafted to perfection. I was pleasantly surprised to find that no sweetened drink was too sweet for my liking, and no simple coffee too bitter. The Mermaid is perfectly satisfying, and I can guarantee that I will order it again. 
Another impressive sip at Tala is their Americano. I tend to order Americanos frequently, so I can say with confidence that Tala's Americano is perfect. Other drinks, such as their seasonal fall drink the Pumpkin Spice Latte, is unbeatable. Tala's Pumpkin Spice Latte is a perfect mix of spice and sweetness. Tala also roasts  their coffee locally, ensuring freshness with each brew.
From the delicious coffee, satisfying Gurnee Donuts, fair prices and relaxed atmosphere, Tala is a coffee shop for everyone.