On June 9, 2023 a flashy new ice cream shop opened up on 107 W. Church St. Taking the place of a liquor store that had gone out of business, Sugarville is a family-owned business that is run by Elizabeth and Brian Smith. Sugarville, with its bright colors and whimsical designs, instantly brightened Libertyville downtown. They are open daily from 11 a.m. to 9 p.m. but on weekends they close at 10 p.m. The ice cream shop is easily accessible due to its location near Cook Memorial Park. 
The owners of the ice cream parlor wanted to create something family friendly and bring gourmet ice cream to downtown Libertyville. "We wanted something our kids eventually could be a part of," Elizabeth Smith was quoted as saying in Patch. "This will be a family business for sure – no franchise, just us." 
When customers open the door, soft bells jingle to announce their arrival and the cheerful employees greet them as they find a table. Bright lights illuminate the small space and neon lights decorate the wall on flashy neon signs. Colorful decorations dominate the walls that make for a perfect Instagram backdrop and the sugary smell of cookie dough and whip cream lingers in the air. The hot pink chairs and tables, the rainbow sprinkle wallpaper and the checkered floor are a treat for customers' eyes. 
"We get people all the time saying how cute the atmosphere is and I love it," Roohee Patil, one of the employees, said. "The aesthetic is everything."    
In my experience the service is excellent, everything is done in a quick, timely fashion, the process taking about five minutes per customer. All the employees are friendly and helpful.
"Customer interactions are really good," Roohee said. "I feel like I always have a really good connection with customers especially when I find someone I know. I love interacting with the community this way."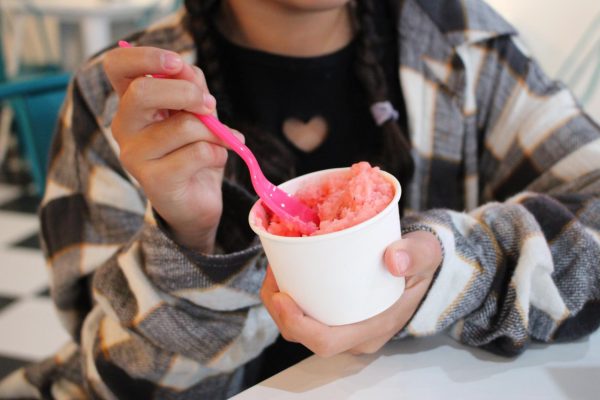 The ice cream itself is sweet, creamy, and rich with flavor. With 40 flavors on their menu, Sugarville highlights 32 unique flavors per day. 
"I like most of the flavors, but my favorites are probably raspberry chocolate chip and heath bar crunch," Roohee said. 
When I visited Sugarville, I followed Roohee's advice and ordered a scoop of Heath bar crunch along with a cup of cookie dough. I thought that the serving size was perfect, not too much and not too little. The flavor was great and I'll definitely be going back for more. There's also a variety of toppings that you can add to your ice cream and a candy shop in the back that will be opening in the future. 
 Overall I feel that the atmosphere really draws you in and the happy employees set a cheerful mood while you eat. The ice cream is flavorful and creamy and they have so many different options it's almost impossible not to find a flavor you like.